11 March – 9 May 2010
Tokyo Metropolitan Museum of Photography
http://syabi.com
by Yamagishi Kaoru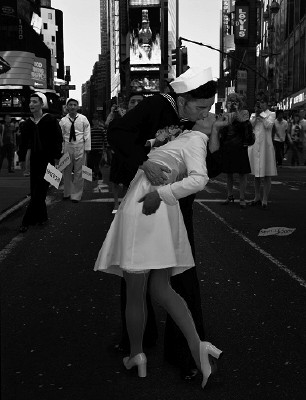 A Requiem: Remembrance Parade/1945, USA 2010
Since the mid-1980s Morimura Yasumasa has explored the possibilities of Japanese artistic expression beginning in the imitation of Western art, via a self-portraiture technique in which he simulates Western paintings, a method that has also seen him masquerade as movie actresses from both East and West to showcase the symbolic visions of womanhood they portray. Now, in the latest of his A Requiem series, the artist takes on the guise of symbolic male figures from 20th-century history as depicted in photographs, from radical revolutionaries such as Mishima, Lenin and Hitler to artists Duchamp, Warhol et al, marshaling for the present images of heroes past.
First to catch the eye at this show was a video of Morimura's performance patterned on the speech given by Mishima Yukio at Japan's Ground Self-Defense Force Ichigaya base in 1970. The last scene, which cuts from the man finished reading his manifesto to, in front of him, instead of an audience the everyday vista of a present-day park, seems to suggest that the very act of speechmaking is futile in itself, and the reality that for those on the receiving end, nothing has changed. Similarly, in another speech-simulating performance in which he plays the part of Lenin, by choosing as his audience day laborers in present-day Kamagasaki Morimura once again accentuates the ineffectiveness of dogma and ideology. In these photographic and video portraits of revolutionary figures, by deliberately leaving obvious evidence of false moustaches and the like Morimura draws our attention to the fictitious nature of photography as a medium, and the contrived manner in which photographic subjects are presented. The historical photo showing American troops planting a flag of victory that forms the basis of Morimura's Gift of Sea: Raising a flag on the battlefield is itself a manufactured image, and in his video version, Morimura masquerades as a common soldier and places firmly at center stage the anonymous men who went on to become the pillars of the post-war world.
The scenes chosen from the vast panorama of the 20th century reflect the artist's personal reality, and as such will not resonate quite as effectively with viewers of different generations to his own. On the other hand however, by overlaying his personal history – for example featuring his parents' teashop – and in the process revealing his own existence with flesh-and-blood immediacy, Morimura gets back to basics, endowing the works here with added intensity. It will be interesting to see what guise Morimura Yasumasa takes next, and what vision of the future he has to offer.
Morimura Yasumasa A Requiem: Art on top of the battlefield
Toyota Municipal Museum of Art
26 June – 5 September 2010
http://www.museum.toyota.aichi.jp/
Hiroshima City Museum of Contemporary Art
23 October 2010 – 10 January 2011
http://www.hcmca.cf.city.hiroshima.jp/
Hyogo Prefectural Museum of Art
18 January – 10 April 2011
http://www.artm.pref.hyogo.jp/
ART iT Interview:Part 1|Part 2
ART iT Picks:Morimura Yasumasa A Requiem: Art on top of the battlefield