A desire to revisit the 20th century, ascertaining something along the way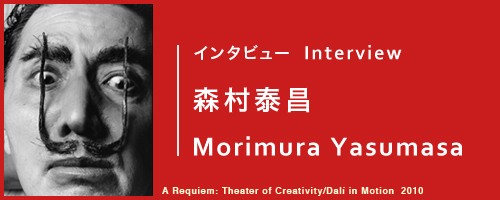 Morimura Yasumasa has carved out an unconventional niche in the realm of self-portraiture that has included embedding himself in some of art history's most famous paintings, and transforming himself into a succession of screen goddesses. In this major solo show, a compilation of works from his latest series, Morimura sets out to retrace the 20th century as he lived it. So where did this photographic pilgrimage confronting the age of photography – a century that saw the famous and anonymous alike parade past the photographer's lens – take him?
Interview/text: Uchida Shinichi
– A Requiem: Art on top of the battlefield is an attempt to revisit the 20th century via your singular style of self-portrait. Unlike your 'Daughter of Art History' series, which also deals with history, but features you inserted transformed into famous paintings, this time you've chosen to transpose yourself on the likes of reportage photos and photographic portraits. Why the difference?
First of all, being an artist, I tend to approach history from a visual angle. In 'Daughter of Art History' this meant choosing painting as the visual medium most reflective of 18th and 19th century history. The 20th century, on the other hand, was the 'age of photography'. Having decided on that approach and started working, inevitably I ended up dealing with reportage photos of political events.
– Apparently the oldest photograph this time in terms of when it was taken is VIETNAM WAR 1968-1991, based on that famous execution image from the Vietnam War.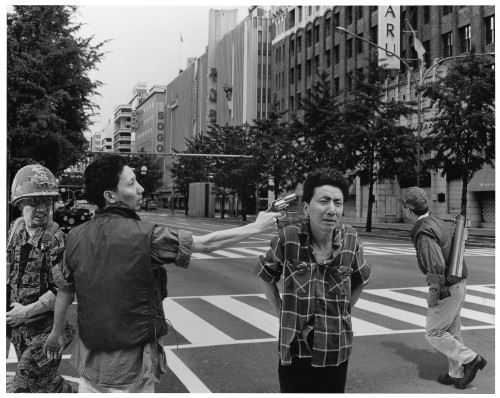 A Requiem: VIETNAM WAR, 1968-1991 2006 Gelatin silver print
That's right. It's one I unveiled at my first solo outing in New York, in 1991. The show comprised mainly 'Daughter of Art History', but the Gulf War was raging and became an additional influence. I exhibited various works on that occasion, including one referencing Goya's painting of the massacre of Spanish resistance fighters, but a work emerged from that Vietnam photo in an attempt to produce a piece of art more directly than by substituting figures in paintings. VIETNAM WAR 1968-1991 was taken on Midosuji, one of Osaka's main arteries.
Although I hoped to follow up on that idea at some stage, when the 21st century eventually arrived, it somehow didn't strike me as an era entirely worthy of affirmation. I like to do things that take a good look at the world now from the realm of art. But rather than rushing ahead, I wanted to turn the clock back an era, and revisit the 20th century in my own way, ascertaining something as I went.
– Word has it the idea of developing a series came to you with the work referencing Mishima Yukio. Seasons of Passion/ A Requiem: MISHIMA shows footage of a performance in which you take Mishima's speech and substitute the word 'art' for 'constitution' and 'Self-Defense Force'.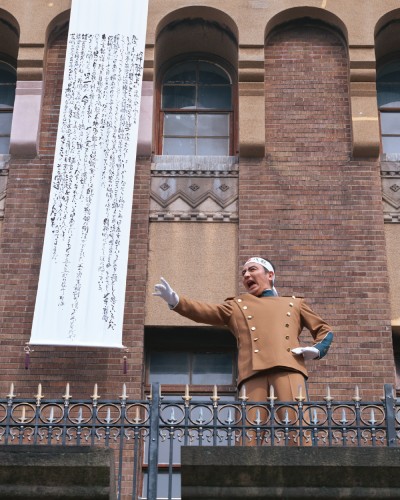 A Requiem: MISHIMA, 1970.11.25-2006.4.6 2006 Chromogenic print
When it actually came to starting a series, there was the issue of how to position my own personal history. As well as an objective critical mindset, I wanted reality, achieved by tying the departure point to me. So I pondered where my personal 20th century might have begun. Mishima committed ritual suicide in 1970, when I was nineteen. This is the age at which we are most impressionable, and the incident left quite a mark on me.
1970 was also the year of the Expo in Osaka, which being a local, I went to see. When I'm attempting to capture Mishima as an artist, these two events still have the power to make me contemplate the meaning of art. As in, what is artistic expression? A national project, the Expo cost a huge sum to stage and attracted record crowds, but it's Mishima that still occupies my thoughts, and forces me to think more deeply. Which is why I chose Mishima to start this journey through my 20th century of the spirit.
Born and raised by Japan's post-war culture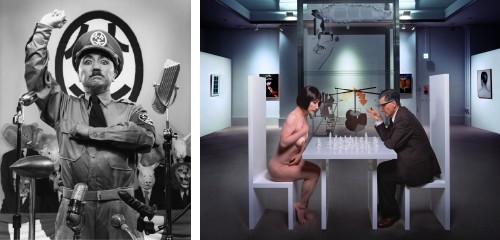 Left: A Requiem: Where is the Dictator? 1 2007 Gelatin silver print
Right: A Requiem: Theater of Creativity/ Marcel Duchamp (Based on the photo by Julian Wasser) 2010 Chromogenic print
– The exhibition consists of four sections, featuring a variety of 20th century figures. 'Seasons of Passion' deals with events such as political assassinations, and 'Twilight of the Turbulent Gods' towering figures like Lenin, Hitler, and Einstein. 'Theater of Creativity' focuses on people who shaped 20th century art, such as Picasso and Warhol. Then in '1945 – A Flag on the Summit of the Battlefield' you home in on the year 1945. From what you've said in the past, 1945 could be described as your spiritual year of birth.
It's from this point onward that America turns up for real and starts doing what it can in order to rule Japan. While born a little later, I did live through the period that started in 1945, and obviously so did my parents, who gave birth to me. Back then, it was seeing that photo of the meeting between the emperor and General MacArthur that I realized what was going on. Quite simply, that picture is a wedding photo of sorts. MacArthur the husband, the emperor the wife. Japan's 'post-war' thus began with the husband wearing the pants for the most part.
One would expect it to be a straightforward relationship of rivalry, of rulers and ruled, but being a marriage of sorts, it defies such facile categorization. Japan embraced and was seduced by American culture. Amid a complex love-hate relationship, things Japanese and things American gradually became entangled in strange ways. I began to see myself in there, progeny of these two 'parents'.
The resulting work, A Requiem: Unexpected Visitors/ 1945, Japan, was photographed at the teashop where I grew up. Thus it's a cross between personal history and history writ large, so to speak. The kind of place we all inhabit, all the time. Reflections of my own thoughts and ideas can be found here and there throughout the series.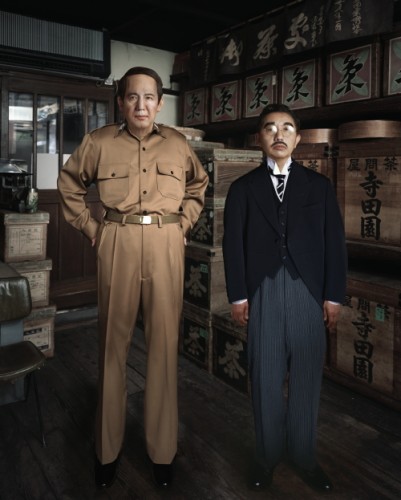 A Requiem: Unexpected Visitors / 1945, Japan 2010 Chromogenic print
1945 was also a crossroads, the year the world started on the path toward the 21st century, yet with elements of the 19th still lingering. What was happening elsewhere during this period? In Germany, in the United States, in India…? By proffering all these simultaneously, my aim was to expand the world a little. This became the final section of the show.
Morimura Yasumasa
Born 1951 in Osaka. Known for a self-portrait technique using his own body to transform himself into various entities. The humor, poignancy and sense of unease running through his work, such as the "Daughter of Art History" series inspired by paintings from history and gender-bending 'Actress' series in which he plays Hollywood stars of the past, have an extraordinary power to undermine viewers' values. Also a prolific author whose writings include the autobiographical essay Geijutsuka M no dekiru made (Making of the artist M).
http://www.morimura-ya.com/
Morimura Yasumasa A Requiem: Art on top of the battlefield
11 March – 9 May 2010 (Tokyo Metropolitan Museum of Photography)
http://www.syabi.com/
26 June – 5 September 2010 (Toyota Municipal Museum of Art)
http://www.museum.toyota.aichi.jp/
23 October 2010 – 10 January 2011 (Hiroshima City Museum of Contemporary Art)
http://www.hcmca.cf.city.hiroshima.jp/
18 January – 10 April 2011 (Hyogo Prefectural Museum of Art)
http://www.artm.pref.hyogo.jp/