2009.3.7 – 4.29
ARTSPACE (Auckland)
by Charlotte Huddleston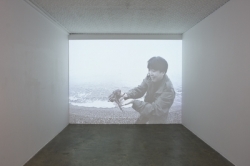 Shimabuku, Then, I decided to give a tour of Tokyo to the Octopus from Akashi, 2000
Photos Sam Hartnett, Courtesy the artists and ARTSPACE
As an exhibition, the chaotic and/or free-ranging cross-cultural mixing implied in the title is not really present – it is more of a polite and controlled translation.
Olof Olsson's idiosyncratic professional politeness characterised the general experience. His Q&A performance Doorknob (2009), where he promised to answer any questions from the audience, had the potential to go in any direction or take any tone. Olsson's interest in speech act theory was put into practice in this format. The artist's gentle but persistent prompting of the audience, mixed with pre-planned topics, comments and insertions – such as the demonstration of the best way to get tomato sauce out of a glass bottle – made Doorknob a polished mix of spontaneity and planning. Olsson was very good in his chosen format; his suit and the pseudo-office setup acted alternately as authoritative and as the straight foil to the comedic and absurd.
Neatness was also present in the work of Detanico & Lain. Over several years of collaboration the artists have worked with a system for translating letters into piles of objects to spell out simple phrases such as 'on the top of' in bricks. The neat stacks of reams of A4 paper, post-it notes, bags of coffee and erasers had a sculptural presence and were appealing as literal translations of one thing into another that required engagement to fully appreciate.
A little more impolite were Shigeyuki Kihara's sepia-toned photographic works In a manner of a woman (2005). Kihara is fa'a fafine – a uniquely Samoan form of transgender. In these works she is posed in tableaux recalling 19th century colonial portraits of Polynesians. Kihara features as both male and female in the images, presenting different manifestations of the archetypal Pacific persona, reworking the 'dusky maiden'.
More anarchic and disturbing was Shimabuku's journey with a live octopus. Taking his catch from the fishing village of Akashi to the Tokyo fish market, on the way showing it glimpses of rural and urban landscape, Shimabuku plays with the idea of travel and transformative experience. That the octopus is inside a plastic bag which is inside of a plastic bin most of the time brings me back to the question at the centre of the exhibition: How much of one culture can be communicated by another culture?
Charlotte Huddleston is Curator of Contemporary Art at the Museum of New Zealand Te Papa Tongarewa.