2009.3.15-30
The Ueno Royal Museum
http://www.ueno-mori.org/
by Donald Eubank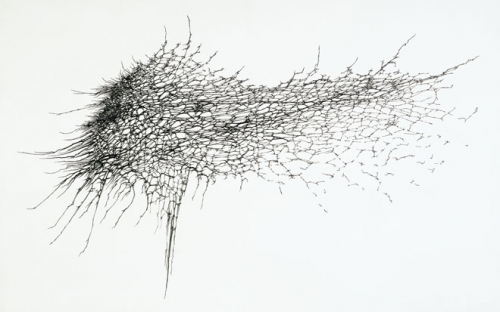 Nawa Kohei Catalyst #11, 2009
Vinyl acetate and polystyrene on acrylic panel
One work in particular stood out at the annual Vision of Contemporary Art exhibition that displays and awards artists under 40 who have been selected by critics, curators and journalists. Nawa Kohei's Catalyst #11 was unusual not only for its composition – an irregular black web on a stark white background – but for its materials, and hence for the questions it raised about other pieces in the 16-year-old survey of two-dimensional art. Rather than use oil or acrylic paints on canvas, or watercolors, ink or pigments on paper, Nawa – who was recommended by art producer Kinoshita Chieko – was creating with vinyl acetate and polystyrene on an acrylic panel to produce a thoroughly contemporary work.
Reflecting the resurgence of painting, at VOCA there were strong pieces, such as Sato Nobuyasu's agitated abstractions, Narukawa Haruko's dreamy meditations on the moon and Konishi Toshiyuki's ghostlike boy. One real discovery was Yoshioka Chihiro's Testing the Eyesight of a Stranger, which explored the connections between the Impressionism and post-Impressionism of the West and the inherent Expressionism of Asian art.
The best of all the entrants at using the size and shape of the canvas as an important element in her work, the 27-year-old painter chosen by art producer Hara Hisako juxtaposed more than 50 oddly shaped pieces with one large one. Painted in watery washes of blue, pink and orange, the main canvas was sampled from the subjects of those smaller works, which included iconic Asian imagery and more Modernist landscapes and abstractions.
At the Ueno Royal Museum, Nihonga still struggled to find contemporary relevance, seeking it in the tricks that Western-style painting has already tried: massive canvases, mixed media, mixed-up subjects. Often gloomy and overburdened with meaning, perhaps the genre's best representative was a simpler work by Bando Reiko, curator Ohno Masakastu's selection. Easily viewed as an abstraction, reading the title – Holy Water – brought the red-and-white work into focus … as a temple reflected on a rippling surface. While not perfect, the Nihonga showed promise.
VOCA is certainly eclectic and brings out compelling visual outliers such as Kariya Masae's multilayered images, Tanaka Motoki's something-from-nothing accumulation of zeros and Negishi Fumiko's playful wood panels. But in terms of real 'Vision', Nawa, as well as Takemura Kei with her veiled silk memories and Koganezawa Takehito with his disco-y PVC cutouts, were the artists most challenging what can be done with two-dimensional art in the 21st century.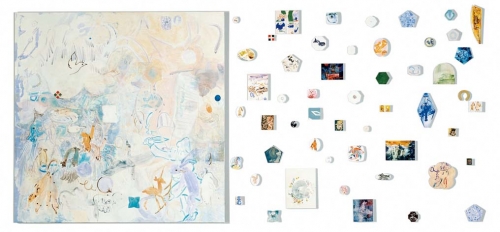 Yoshioka Chihiro Testing the Eyesight of a Stranger, 2009
Tempera, pigments, nikawa (animal-hide glue) on washi, canvas and panel
Donald Eubank is a Tokyo-based art journalist.
[This review appears also in ART iT No. 24 Summer 2009]