2009.10.27 – 12.20
Shiseido Gallery
http://www.shiseido.co.jp/gallery/html/
by Ozaki Tetsuya (ART iT)

Live in RMB City 2009
Video, 24 min. © RMB City, Courtesy the artist and Vitamin Creative Space, Guangzhou/Beijing
Live in RMB City is a further development on RMB City, an imaginary city constructed in the virtual world of Second Life and presented at the Chinese Pavilion of the Venice Biennale in 2007. In a reflection perhaps of her real life, the artist's avatar China Tracy has now given birth to the infant boy China Sun.
Cao's virtual city, named for the Chinese currency, includes the Great Hall of the People, venue for the CCP national congress; Herzog & de Meuron's Beijing National Stadium, a.k.a. 'The Bird's Nest', and the Shanghai Oriental Pearl TV Tower, tallest TV tower in Asia. Objects from giant bicycle wheels to pandas float inexplicably in the air, while smoke trails from factory chimneys, banners featuring slogans such as 'Harmonious Society' adorn building sites, and avatars stride the canyons between the high-rises.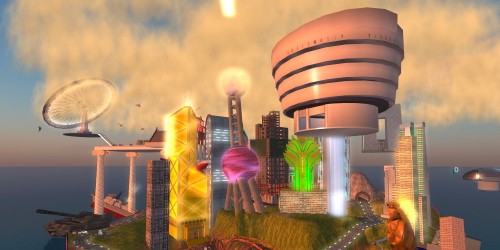 Live in RMB City 2009
Video, 24 min. © RMB City, Courtesy the artist and Vitamin Creative Space, Guangzhou/Beijing
Previous offerings from Cao Fei in performance, photograph and video media dealt with the dramatic modernization and urbanization of her place of birth, Guangzhou. These works captured with great precision today's China – a country not so much swept along in the torrent of globalization as intentionally pitching itself into the torrent as a matter of national policy – viewing such developments with a detached yet scathingly critical eye. By moving her base to Beijing, extending the scope of her practice to the international arena, and seeking in the internet places to produce and present her work, Cao has been giving the realm of her art a more universal quality. Her newly spawned artificial city may still be developing, but along with its hopes for the future, it already has many problems.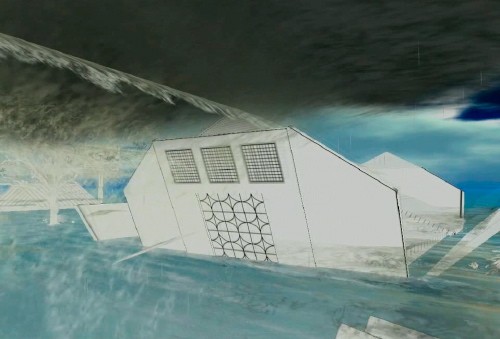 No Lab in RMB City 2008
Video, 5 min. Cao Fei collaboration with Map Office, © RMB City
Courtesy the artist and Vitamin Creative Space, Guangzhou/Beijing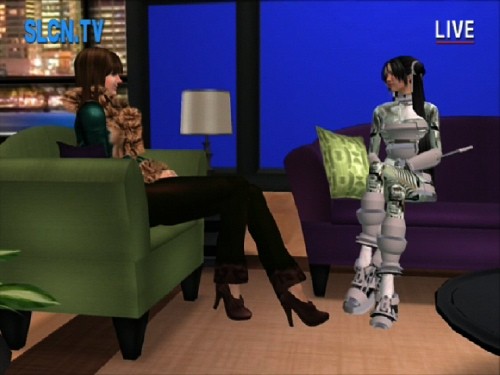 Tonight Live with Paisley Beebe, Featuring China Tracy 2009
Video, 13 min. Courtesy and © Treet.tv
The work dealing with Hurricane Katrina that devastated New Orleans and accompanying China Tracy interview by Second Life TV, and the making-of video showing how Cao built RMB City in engineering and feng shui terms are interesting. The highlight of this show however would have to be Cao's new work, Live in RMB City. New participant China Sun wanders the city with his mother. To this baby boy given life in a virtual world – thus prime candidate for an identity crisis – avatars that are in fact celebrities of the Chinese art world explain the differences and similarities between reality and fiction…
It's a pity that the Japanese soundtrack has been done by amateurs. Perhaps this was deliberate, but for such profoundly philosophical content, the halting speech does I think detract from the effect. It would be good to see a version dubbed by professional voice actors.
RMB City
http://www.rmbcity.com/
ART iT Snapshots: Cao Fei @ Shiseido Gallery
ART iT Interview: Cao Fei