2009.11.25 – 12.20
MUSEUM at TAMADA PROJECTS (Organized by NAGAMINE)
http://www.tamada-pj.co.jp/index.html
by Yamashita Yuji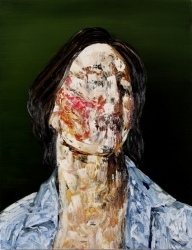 Man in Shinjuku, 2008
Oil on canvas, 117 x 91 cm
Everyday I receive heaps of advertising mail and emails about exhibitions, around 10 percent of which I actually attend. Of the ones I make it to, 90 percent are a disappointment. In other words, only around 1 percent of the artists I'm largely unfamiliar with actually merit attention.
In Komura Marefumi's case, I first took notice of his work not as a result of being sent advertising mail or email but after coming across it by accident at the Who's Next group exhibition in April 2008. The purpose of my visit to Tsukishima's Tamada Projects on that day wasn't to see his work, but to check out another artist whom I'd had my eye on for some time. Of course her work was good, but I was even more strongly attracted to the work of Komura, who was completely unknown to me. In other words, Komura burst into view from somewhere beyond the bounds of the 1 percent.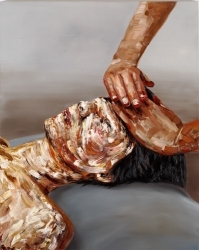 Requiem, 2008
Oil on canvas, 162 x 131 cm
The paint is applied boldly, the intensity of the strokes remarkable. The paintings rush straight at the viewer, whether real or imaginary, as if they were being stabbed with a broad-bladed carving knife, and for this reason they're incredibly powerful. And, although it may be a strange way of putting it, they're pleasantly disturbing.
Later, an invitation to Komura's November solo show arrived in the mail, and I was blown away by the big, bulky postcard. I've got to frame this, I thought. Naturally, I went along on the opening day. But because few people had yet to realize the merit of this artist, the audience was meager.
The moment I set foot in the gallery I was bombarded with Yamamoto Linda's Donimo Tomaranai at full volume. What's more, it was as if he'd had the nerve to take the best parts of the likes of Gerhart Richter, Lucian Freud, and Francis Bacon and leave the rest. Komura is the kind of artist who likes to show (or give away) LPs of sounds he's remixed himself, and judging by the visuals alone I took him for the kind of "rock" guy who usually makes me frown, but I enjoyed our first meeting, which livened up when the discussion turned to Yamamoto Linda. Hurray for kayokyoku.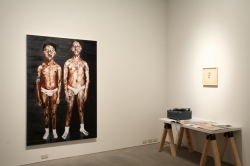 Installation views at the Museum at TAMADA PROJECTS
Courtesy the artist and NAGAMINE
Then in December I went along again for the closing party. The works had all sold, meaning I didn't have to buy any myself, but a video installation had been put together for the final day that featured visuals including sketches by The Drifters and scenes from Ueki Hitoshi movies projected unrelentingly onto canvases covered in paintings that were a blend of Richter, Freud, and Bacon, but at the same time unmistakably something Komura had created with his broad-bladed carving knife. My head was spinning round and round, and it felt great.
I got to talking with Komura again that day and found out he respects artists like Yokoo Tadanori and Ohtake Shinro. I said, "Don't you think you're far more sharply focused on your paintings than Ohtake-san?", at which he shook my hand in apparent delight. Come to think of it, I once asked him, "Are you conscious of people like Richter?", to which he replied, "Well, I knew I'd probably be compared to people like Richter."
Komura strikes me as an extraordinarily clever yet crazy artist. Actually, clever and crazy artists are few and far between, and of the unknown artists I've come across in 2008 he's the one with the most impact. I can't praise him highly enough. Now excuse me while I go and frame that postcard.