2009.5.30 – 9.23
Nizayama Forest Art Museum
http://www.town.nyuzen.toyama.jp/nizayama/
by Matsuura Naomi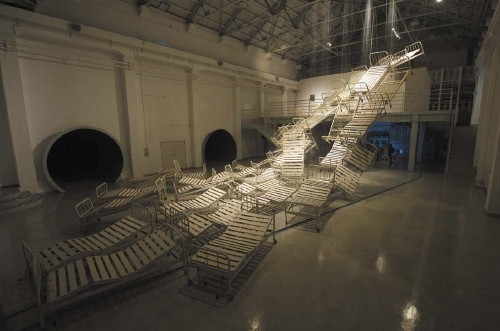 Flowing Water 2009 
Photo Sunhi Mang
Most of us begin life on a bed, sleep on a bed every night, and draw our last breath on one. Shiota Chiharu has incorporated beds in many of her works, placing them on the other side of thick webs of black wool, embraced in black cocoons; realms of memory visible yet unattainable. But in the installation Flowing Water (2009) forming the nucleus of this show, these beds appear before our eyes, liberated.
A collection of 35 white hospital hand-me-down bed frames forms a gentle slope from floor to ceiling in an immense, soaring space. Are the beds ascending into the air, or descending to earth? Combined with the sound of water cascading onto them, they make for a striking sensory experience. The water falls on the beds suspended in midair, flowing toward the bottom and onto the floor. This scene evoking the venue's previous incarnation as a hydro power station radiates a kind of happy glow, suffusing the space with a sublime aura. The appearance here of water, source of all life, could signify awe of its incredible power beyond human understanding, or gratitude for that power. The sight of the beds dripping water, bathed in bright, soft light after their frequent drenchings, brings to mind the freshness and life of new shoots after rain. Something in Shiota is beginning to bask in bright sunlight. Flowing Water strikes a similar note to her recent solo show at the Kenji Taki Gallery (Tokyo).
Time to Start off (2009) meanwhile consists of three small open suitcases, displayed at different heights. Each of the two bottom cases embraces something meaningful, exciting the imagination of the viewer: red wires and strings scattered on a mound of pebbles, an old-fashioned black telephone dangling multiple receivers. The suitcase positioned slightly higher up seems to contain nothing at all. What will Shiota pack in there, and where will her journey take her?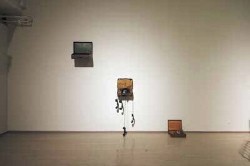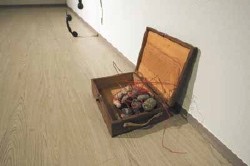 Time to Start off 2009 
Photo Sunhi Mang
ART iT Photo Reports:Shiota Chiharu @ Nizayama Forest Art Museum
ART iT Picks:Shiota Chiharu: Flowing Water