2009.6.20-9.23
The National Museum of Art, Osaka
http://www.nmao.go.jp/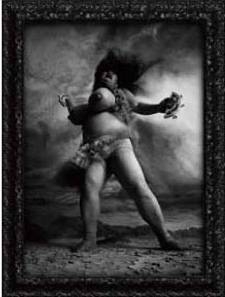 Windswept Woman II 2009
©Miwa Yanagi
by Ozaki Tetsuya
This is a large-scale solo exhibition by Yanagi, who is representing Japan at the Venice Biennale. Including as it does all the pieces from her famous My Grandmothers series as well as the work that's being presented at Venice, the show is attracting a lot of attention.
The first half of the exhibition, which covers half of the B2 floor of the museum, is taken up entirely with My Grandmothers. But what's amazing is the way in which the next series, Fairy Tale, is displayed. The visitor is led through a dark, narrow passageway that brings to mind a birth canal to a space that's quite different from the first half where the photographs are arranged on a wall against a black background. The soft lighting from above gently draws the viewer's attention to the monochrome photographs, the presentation as a whole serving to highlight in a way that's not off-putting the eerie yet aesthetic world conjured up by the work.
To follow this with Windswept Women, the new series currently on display in Venice, is probably a natural progression. Because the venue is so different, there was no way the organizers could have set up a huge black tent like the one that enshrouds the Japanese Pavilion in Venice, although the configuration with five four-meter high photographs plus a single video piece inside a small tent is exactly the same. However, while the works displayed in Venice are laserchrome prints with a matte acrylic finish, the works displayed here are inkjet prints on fabric. And while in Venice the frames, which mimic photo stands to emphasize the 'family' theme of the series, are made of aluminum, here they are made mainly of FRP along with wood, paper, and other materials.
Consequently, the colors appear rather subdued, or perhaps it's that they lack consistency due to the matte tones. Personally, I prefer the sharp hues I saw in Venice, although it might have been a strategy on the part of the artist to passionately emphasize the depth and contrast of the colors in Europe and temper them with a hint of ambiguity in Japan to reflect the different social circumstances here. Then again, perhaps this is reading too much into it.
ART iT interview: Yanagi Miwa
https://www.art-it.asia/en/u/admin_interviews_e/ny8YGCieDwx1kSE07MaF
Video: Windswept Woman (Japanese Pavilion at the Venice Biennale)/ Yanagi Miwa Interview
https://www.art-it.asia/fpage/?OP=mov