The Spectacle of the Everyday
2009.9.16 – 2010.1.3
La Sucrière, Museum of Contemporary Art, Bichat Warehouse, Bullukian Foundation (Lyon, France)
http://www.biennaledelyon.com/contemporaryart2009/
by Yu Hsiao-hwei (Paris-based independent art writer)
Founded in 1991, the Lyon Biennale is celebrating its 10th anniversary with The Spectacle of the Everyday, organized by the China-born globetrotting curator Hou Hanru. In spite of the extremely short lead time – eight months – given him to prepare the event, the veteran biennial curator, currently Director of Exhibitions and Public Programs at the San Francisco Art Institute, rose to the challenge, producing a large-scale show with a coherent albeit loose conceptual framework and inspiring artworks, more than half of which are new projects specially conceived for the Biennial.
Author of no less than twenty biennials around the world, Hou continues his exploration in art production in today's globalized urban context with the Lyon Biennale. Based on the premise that the society of the spectacle, as defined by Guy Debord, has become a fundamental condition of our existence and that our faculties of perception, imagination and reflection are dominated by consumerist ideology, and mirroring the ideas put forward by Michel de Certeau more than twenty years ago in The Practice of Everyday Life (the literal translation of the original French title of the book being 'the invention of the everyday'), Hou advocates an art that aims to construct alternative, new orders through inventive (re)involvement with the realm of the everyday.
Opened in mid-September with a budget of $6,9M, Lyon Biennale X is showing in four locations: the Sucrière (a former sugar factory built in the 1930s that has served as a biennale venue since 2003), the Museum of Contemporary Art, the Bichat Warehouse, and the Bullukian Foundation, together offering 12,000 square meters of exhibition space to some sixty artists and groups. Structured around four themes – 'The Magic of Things', 'Celebrating the Drift', 'Another World is Possible' and 'Living Together' – the artworks presented in The Spectacle of the Everyday sparkle with an activist spirit and optimism. Parallel to this, the 'Veduta' project, which started well ahead of the opening of the exhibition, aims to bring art into a public often ignored by the establishment by organizing artist residency programs in the suburbs of Lyon, and to develop new ways of experiencing contemporary art through manufacturing, eating, living, etc.
Living in societies that have been dramatically reshaped by the forces of globalization, Asian artists are prominent in questioning political, social, economic, cultural and environmental issues with perceptive efficiency and creativity, and naturally have a strong presence in this Biennial.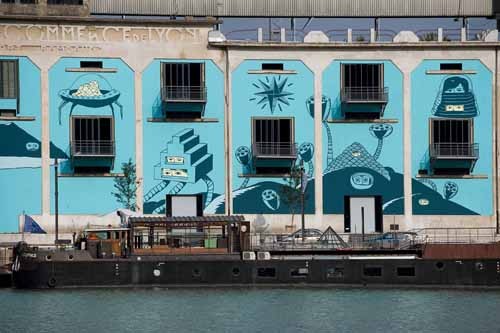 Eko Nugroho cut the montain and let it fly 2009
Wall painting
With the support of Caisse d'Epargne, Rhône Alpes, M.E.R.I.C. / CIREME, CPRO / CAPAROL
Photo Blaise Adilon
Undeniably, the show presented in the Sucrière is the strongest segment of the biennial, and best embodies Hou's art of curating – reputed for effecting non-conformist, thought-provoking shows. The exhibition starts with several visually striking works displayed outside and at the entrance of the former factory: Portuguese artist Pedro Cabrita Reis's ephemeral intervention with orange paint and neon lights in a derelict space; Indonesian artist Eko Nugroho's giant mural painting; Hong Kong artist Tsang Kin-wah's decorative wallpaper covering the four walls, ceiling and floor of the entrance hall, which on closer look turns out to feature short, sometimes provocative phrases. Upon entering the site, the visitor is immediately greeted by the aggressive banging of Indian artist Shilpa Gupta's iron-grill gate that incessantly swings back and forth against the wall, destroying it in the process.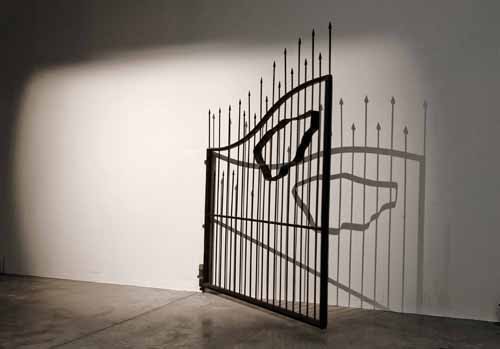 Shilpa Gupta, Untitled 2009. Mobile metal gate.
Photo Blaise Adilon, courtesy the artist and Yvon Lambert, Paris.
That 'the everyday' can become 'spectacle' through imagination and reinvention is best exemplified in American artist Sarah Sze's Untitled (Portable Planetarium). Staged in a discreet corner, the large, ephemeral sculpture made up of all sorts of ordinary, household items from daily life – Q-tips, nails, rulers, fans, feathers, etc. – creates a magical world that integrates sounds, lighting and subtle movement – a sheer marvel to behold. Other than addressing fragility and solidity, chaos and order, this majestically graceful installation also sings the praises of the life of things by recycling them. After the exhibition, the sculpture will be dismantled and its materials used again to produce another work, generating new life.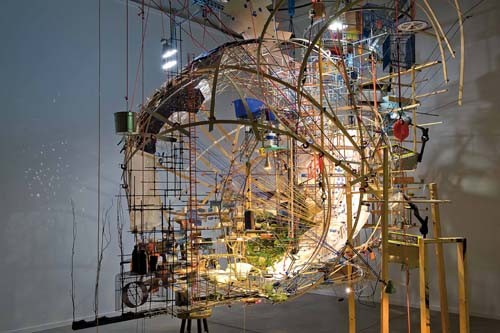 Sarah Sze untitled (Portable Planetarium) 2009
Mixed media, overhead projector, photos
Courtesy the artist and Victoria Miro Gallery, London
Photo Blaise Adilon
Recycling and accumulation are also among the strategies used by Taiwan-born artist Michael Lin. What a Difference a Day Made, a composite installation, consists of de-contextualized reconstitution and presentation of a hardware and grocery store he bought in Shanghai. The visitor is first invited to walk through a tiny and colorful Chinese shop, where all sorts of everyday, yet somehow exotic items ranging from brushes, plastic buckets and brooms to pots, woks, and rice cookers are stacked from floor to ceiling. We then enter a huge space where these items are classified, catalogued, then displayed in open wooden crates as if they were precious works of art. The installation also includes videos showing a juggler playing with these items.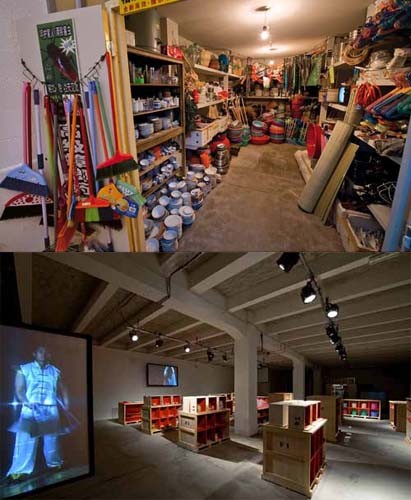 Michael Lin What a Difference a Day Made 2008
Replica of a Shanghai store, 17 crates, 5 channel DVD projection
Courtesy the artist and Shanghai Gallery of Art. With support from Council for Cultural Affairs, Taiwan
and the Taiwan Cultural Center in Paris
Photo Blaise Adilon
Another highlight of this Biennial is the contribution made by Hiroshima-born and -based Iwasaki Takahiro. Extremely delicate and fragile miniature constructions, the likes of Edinburgh Castle, Kyoto Imperial Palace and telecommunication towers, incongruously emerge from a crumpled garbage bag, or a stack of bath towels. Putting a whimsical twist on the real world, these noticeably exquisite works are imbued with poetic and meditative charm.
On the other hand, San Francisco-based artist Barry McGee's installation reenacts the brutal, messy and stimulating visual experience of street art: upside-down, graffiti-sprayed old vans, graphic design panels with bright colors, a sculpture representing three men sitting on each other's shoulders, constantly spraying black paint on a wall, etc.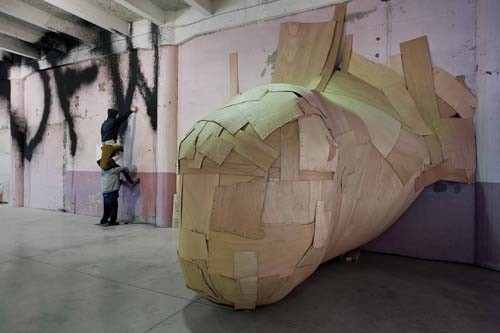 Barry McGee Three Man Stack 2009
16 components of three tagger sculpture
Photo Blaise Adilon
Small, light and discrete pieces juxtapose huge and imposing installations. For instance, it is a delightful surprise to come across the historical Event Glasses and Chair Events by the Fluxus provocateur Georges Brecht, who died last year. Scattered around the exhibition space, the first series consists of rectangular glass panels of different sizes, upon which is engraved the word 'Event', while the second associates an ordinary chair and another object without any apparent logical relationship.
Other artworks that make an impression include Chinese artist Lin Yilin's poignant reflection on the alienating effects of consumerist urban society. The film One Day, 2006-09 shows the artist walking on the Champs-Elysees with one wrist handcuffed to his ankle, often to the indifference of passersby. With the intriguing photograph series entitled Days of Our Lives, presented at the Museum of Contemporary Art, Malaysian artist Wong Hoy Cheong brings the multicultural identity of Europe today to the fore by reenacting historical European paintings with models from Europe's former colonies in Africa, the Middle East and Asia.