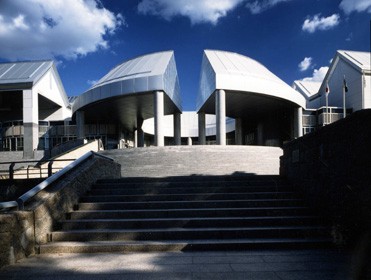 Hiroshima City Museum of Contemporary Art
732-0815
1-1, Hijiyamakouen, Minami-ku, Hiroshima-shi, Hiroshima
Tel 082-264-1121
https://www.hiroshima-moca.jp/
summary
Hiroshima City Museum of Contemporary Art was opened on May 3, 1989. This age is municipal organization enforcement 100th anniversary, Hiroshima-jo Castle construction of a castle 400 years. It is located in the park where the green that is got close to as a hill of the Mt. Hiji looking around the city, a famous spot of cherry tree is rich in.
The building design is Noriaki Kurokawa. An approach plaza harking back to an open space in Europe in the ancient times, the triangle roof of the appearance hark back to a storehouse of Japan. The material of the building turns into a native rock, a floatstone, a tile, aluminum and modern material lightly as I rise from the ground.
entering a building guidance
Opening time from 10:00 a.m. to 5:00 p.m. ※View charges on Monday (when but Monday is the celebration holiday, I am opened and am closed on weekdays, the following day) year-end and New Year as for the entering a building until 30 minutes before closing a closed day   ●Collection exhibition
      General 370 (280) Japanese yen, university student 270 (210) circle, 170 high school student .65 years old (130) Japanese yen ※(groups rate more than 30 in)
      ●Temporary exhibition
      I set it every each exhibition. Please confirm it in the detailed page of each exhibition.
      ●The person who is lower than a junior high student can appreciate all exhibitions free.
      ●[Children's Day] May 5: Free of charge lower than a high school student, [Culture Day] November 3: It is free in all facilities
traffic guidance
About the access to this museum, please see this.