We canvassed the ART iT writer/official-blogger contingent asking them to name their five favorite shows – in any part of the world – in 2009. Here we present the lists of the 24 who responded, with comments where these were included.
*unnumbered lists in no particular order
Akimoto Yuji (Director, 21st Century Museum of Contemporary Art, Kanazawa)
Shiota Chiharu: Flowing Water
Nizayama Forest Art Museum (2009.5.30 – 9.23)
Tanaka Nobuyuki: The Provocation of Japanese Lacquer
Nizayama Forest Art Museum (2009.10.10 – 12.13)
Bottle Theatre Collection
Notojima Glass Art Museum (2009.6.20 – 9.13)
Kusumi Morikage
Ishikawa Prefectural Museum of Art (2009.9.26 – 10.25)
Olafur Eliasson: Your chance encounter
21st Century Museum of Contemporary Art, Kanazawa (2009.11.21 – 2010.3.22)


Left: Shiota Chiharu: Flowing Water 2009, Nizayama Forest Art Museum, Photo Sunhi Mang
Right: Aoyama Satoru: Glitter Pieces #1 2008, Photo Miyajima Kei, Courtesy the artist and Mizuma Art Gallery
Akiyoshi Futo (Osaka-based artist) ArtBlog

Aoyama Satoru: Glitter Pieces #1-22
MIZUMA ART GALLERY (Tokyo, 2009.3.11 – 4.11)
Kojima Sako: Stockholm syndrome
Art Fair Tokyo (2009.4.3 – 5)
Miwa Mitsuko: 'SKELETON' 1989 and 20 years after 
Gallery HAM (Tokyo, 2009.5.9 – 6.13)
Art Vision vol.8. Kobayashi Masato
Nariwa Museum (2009.7.18 – 9.23)
Ikemura Reiko: ME ZA ME
ShugoArts (Tokyo, 2009.10.10 – 11.21)
Brian Curtin (Bangkok-based curator and critic) ArtBlog
Be Takerng Pattanopas: Permanent Flux
GMT+7 (Brussels, 2009.11.6 – 12.15)
Sopheap Pich: The Pulse Within
Tyler Rollins Fine Art (Chelsea, 2009. 11. 12 – 2010.1.9)
Jack Pierson
Irish Museum of Modern Art (Dublin, 2009.3.12 – 5.18)
Araya Rasdjarmrearnsook: In this Circumstance, the Only Object of Concern is the Betrayal of the Moon
Ardel Gallery of Modern Art (Bangkok, 2009.3.10 – 4.10)
Personal Effects
Rouge Art (Kuala Lumpur, 2009.5.30 – 6.13)


Left: Be Takerng Pattanopas: Permanent Flux 2009, GMT+7
Right: Ishihara Jiro: InterMetro 2003, Photo: Kozuma Yuta, IAMAS Locative Media Project
Donald Eubank (Tokyo-based art journalist)

Perception and Urban Environments
Tokyo Wonder Site, Hongo (2009.8.11 – 30)
Perception and Urban Environments exhibition was well executed overall, but I include it for one specific work: Maebayashi Akitsugu's metronome piece (2003-2009). Nestled into a side room at TWS' Hongo location, a simple set up of a table, a radio, a metronome, a cube, a light and a set of headphones made for one of the most personal, intense art experiences of the year. Slip on the headphones and the sound of the metronome splits in two – the ticking of the one in front of you and that of the virtual one playing in your ear. With metronome piece, IAMAS Maebayashi created an artwork that felt like a song – and one that intimately played for you alone.
Any exhibition at magical, ARTROOM (Tokyo)
magical, ARTROOM truly provided the unexpected in contemporary art in Tokyo. Consistently taking aesthetic risks, few galleries have as regularly surprised, confused and sometimes shaken me as magical did with it's exhibitions of young Japanese artists. Though the Ebisu location may have closed down, I look forward to seeing how the magical spirit continues.
The Kaleidoscopic Eye: Thyssen-Bornemisza Art Contemporary Collection
Mori Art Museum (Tokyo, 2009.4.4 – 7.5)
The Mori does crowd-pleasing blockbusters, and once you accept that, you have to admit it does them well. While Chalo! India and Ai Weiwei were excellent (the second perfectly cool for summer), 'The Kaeidoscopic Eye was a fantastic education in the Big Art swirling around Europe. Where else would you see such a selection of installations by Carsten Holler, Olafur Eliasson, John M. Armleder and more all together? And then, add to that the realization that this is all from a single collection of art. Some may say that the time for such works may have passed, but there is a power in their ambitions
nonetheless, and one that will reach far beyond the art world.
Kimura Yuki: Year 1940 was a leap year starting on Monday
Taka Ishii Gallery (Tokyo, 2009.10.10 – 11.7)
I remember being baffled the first time I saw Kimura Yuki's work at
YOU MAY ATTEND A PARTY WHERE STRANGE CUSTOMS PREVAIL in 2006. I am still baffled in 2010, but I feel now like I am a little bit in on the joke. Though many think of Taka Ishii as a 'photography' gallery, when they aren't presenting Araki and Moriyama, shows like Kimura's and Elmgreen and Dragset's fun 2009 exploration Supermodels make it obvious that they are much more conceptual than that. For an artist like Kimura, the photograph is just the start, and the end is both the objects she crafts from those inspirations, and the loose thoughts they leave in your mind.
no man's land
the French Embassy (Tokyo, 2009.11.26 – 2010.1.31)
Almost seventy artists together in an abandonded building, doing what they want. No Man's Land was rough, uneven, surely complicated to
pull off (government interests, commercial interests, artistic interests all in the same pot!) and glorious for all that. Physically, the space felt like one of the most dangerous ones I have been in this uber-safe city of Tokyo – it felt like a place where once again there were possibilities to explore. Congratulations to the French Embassy for taking a risk and opening their doors to the artists.
Of course there was much more to like in Tokyo in 2009, so here are a quick four more:
Umeda Tetsuya: Science of Superstition at Ota Fine Arts – What a mess! What a clattering, compelling, out-of-control mess!
The Winter Garden at the Hara Museum did such a good job of embodying its central idea of embracing the ephemeral that the exhibition has almost already slipped my mind like Yagi Lyota's melting records of ice. But Izumi Taro's playful video installations still live brightly on.
Former Tokyo City Opera Art Gallery curator Iida Shihoko pulled off a masterpiece with her installation of KonoikeTomoko's body of work. This was exhibition as story-telling and psychological exploration.
The first Daiwa Foundation Art Award kindly brought us Marcus Coates's show at Tomio Koyama, an installation of his Dawn Chorus (2007) and the piece that surprisingly won him the award: a video of two male tortoises failing to have sex. While the second was both human and alienating, the first was an easier to digest new view on mankind. I wouldn't be surprised to see Coates shortlisted for the Turner Prize this year
Adrian Favell (Professor at UCLA and Aarhus University, Denmark) ArtBlog

1. Echigo-Tsumari Art Triennial 2009
Echigo-Tsumari Region, 760 square kilometers [Tokamachi City + Tsunan Town, Niigata Prefecture] 760㎢ (2009.7.26 – 9.13)
You can't help but admire Kitagawa Fram's huge ambition, as well as the earnest philosophy behind it. Plus I had a wonderful two days in the Niigata countryside.
2. Stitch by Stitch, Traces I Made with Needle and Thread
Tokyo Metropolitan Teien Museum (2009.7.18 – 9.27)
Japanese work is at the forefront of a global wave of stitchwork and new craft. Absolutely gorgeous work in a gorgeous setting by all the artists, and especially Murayama Ruriko and Takemura Kei.
3. The 4th Fukuoka Asian Art Triennale 2009
Fukuoka Asian Art Museum and its vicinity (2009.9.5 – 11.23)
Proving that the Asian art boom is not all hype. Masterfully put together selections and juxtapositions by curator Kuroda Raiji, in this underrated museum.
4. Ozawa Tsuyoshi: The Invisible Runner Strides on
Hiroshima City Museum of Contemporary Art (2009.8.1 – 9.27)
I didn't write about this one, but it was a thrill to see so many of the original 'Nasubi Gallery' milk box works as well as getting a tour around Ozawa's world from curator Kamiya Yukie.
5. 53rd Venice Biennale
Giardini and Arsenale (2009.6.7 – 11.22)
The rest of the show was indifferent, but Daniel Birnbaum did everyone a service with this one room recreation of a famous installation from the Stedelijk Museum Amsterdam, itself a recreation of the famous (but nearly forgotten) park performances in the 1950s by the Gutai gang in Kobe.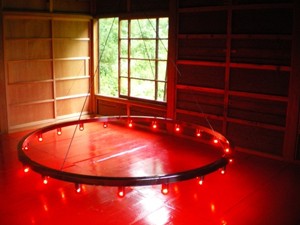 Claude Lévêque: In silence or in noises 2009 at Echigo-Tsumari Art Triennial 2009
Diana Freundl (Shanghai-based curator and writer)

Note: Galleries, museums and curators tend to bring out their best during the Art Fair and even though this year's Shanghai Contemporary (art fair) was downsized and much less international then in previous years,
1. Yang Fudong: Dawn Mist, Separation Faith
Shanghai Zendai Museum of Modern Art (2009.5.24 – 8.23)
A Yang Fudong solo exhibition of recent works. The highlight was a feature length fictional non-linear film that provided both a critique and poetic romanticizing of 'old shanghai.
2. Seeing One's Own Eyes – Middle Eastern Contemporary Art Exhibition
ShanghART Gallery (Shanghai, 2009.9.6 – 10.10)
Xu zhen's art collective, 'Made In' created a slight controversy with art works, intentional clichés and stereotypes depicting the Middle East.
3. History in the Making: Shanghai 1979 – 2009
Ju Men Lu Development Space (Shanghai, 2009.9.9 – 10.10)
Curated by Biljana Ciric it was the most extensive to-date documentation of the Shanghai art scene. Some 50 artists, curators and gallerists contributed making it a large compilation of performances, early artworks, lectures, texts and other happenings, which shaped the city during the past three decades.
4. Contemporary Art Exhibition in Songjiang: Bourgeoisified Proletariat
Songjiang Creative Studio, Shanghai (2009.9.10 – 14)
Organized mostly by Shanghai-based artists, who participated as well. The eclectic show exhibited more than 40 artists with mostly new works from every media. The launch party in a warehouse/empty development in the outskirts of Shanghai was filled with the music, video and the entire Shanghai art scene.
5. Fantastic Illusions-Media Art Exhibition of Chinese And Belgian Artists
Museum of Contemporary Art, Shanghai (2009.9.13 – 10.11)
Six Belgian and six Chinese artists build illusory spaces for the visitors using video and computer installations. Limited budgets and loss of funding limited the works that could be brought from Belgium but the show still provided a small glimpse of Belgian new media giants such as Hans Op De Beeck and David Claerbout and China's emerging new media scene.
Furukawa Yumiko (NY-based artist) ArtBlog

1. Georgia O'Keeffe: Abstraction
The Whitney Museum of American Art (NY, 2009.9.17 – 2010.1.17)
Roni Horn aka Roni Horn
The Whitney Museum of American Art (NY, 2009.11.6 – 2010.1.24)
2. Art of the Samurai: Japanese Arms and Armor, 1156–1868
The Metropolitan Museum of Art (NY, 2009.10.21 – 2010.1.10)
3. Monet's Water Lilies
The Museum of Modern Art (NY, 2009.9.13 – 2010.4.12)
4. Artist's Choice: Vik Muniz, Rebus
The Museum of Modern Art (NY, 2008.12.11 – 2009.2.23)
5. Kandinsky
The Guggenheim Museum (NY, 2009.9.18 – 2010.1.13)
Hosaka Kenjiro (Assistant Curator, The National Museum of Modern Art, Tokyo)

Umeda Tetsuya: Science of Superstition
Ota Fine Arts (Tokyo, 2009.4.25 – 5.23)
Kawauchi Rinko: a pause
Gallery Trax (Yamanashi, 2009.4.25 – 5.31)
Mangan Night Cruise
Tanba Manganese Memorial Hall (Kyoto, 2009.5.30)
Takeda Daisuke: retrospective
Hakutosha (Tokyo, 2009.7.1 – 31)
Before Architecture, After Architecture
Tomio Koyama Gallery (Tokyo, 2009.8.1 – 29)
Iida Shihoko (Visiting Curator, Queensland Art Gallery) ArtBlog

1. Waiting for Video: Works from the 1960s to Today
The National Museum of Modern Art, Tokyo (2009.3.31 – 6.7)
2. The 6th Asia Pacific Triennial of Contemporary Art (APT6)
Queensland Art Gallery and Gallery of Modern Art (2009.12.5 – 2010.4.5)
3. Taryn Simon: An American Index of the Hidden and Unfamiliar
Institute of Modern Art (Brisbane, 2009.8.29 – 10.17)
4. Shiota Chiharu: Flowing Water
Nizayama Forest Art Museum (2009.5.30 – 9.23)
5. Yishay Garbasz: In My Mother's Footsteps
WAKO WORKS OF ART (Tokyo, 2009.4.11 – 5.16)


Left: Waiting for Video: Works From the 1960s To Today 2009, The National Museum of Modern Art, Tokyo
Right: Takashi Kuribayashi: What Game Shall We Play Today 2009, Performance at KIMUSA, Photo SAMUSO
Kaneshima Takahiro (Beijing-based art director) ArtBlog

1. Platform 2009
KIMUSA (Seoul, 2009.9.3 – 25)
http://www.platformseoul.org/
2. Kaneuji Teppei: Melting City / Empty Forest
Yokohama Museum of Art (2009.3.20 – 5.27)
3. Contemporary Art Exhibition in Songjiang: Bourgeoisified Proletariat
Songjiang Creative Studio, Shanghai (2009.9.10 – 14)
4. Yang Fudong: The General's Smile
Hara Museum of Contemporary Art (Tokyo, 2009.12.19 – 2010.3.28)
5. CODED CULTURES 2009
Freiraum/quartier21 (Vienna, 2009.5.27 – 31 / YCC: Yokohama Creativecity Center and others, 2009.10.14 – 18)
Maya Kóvskaya (Beijing-based curator and critic)

1. FREEDOM
Tang Contemporary, Beijing (2009.5.23 – 7.13)
2. Pot Luck – Food and Art
PM Gallery & House (London, 2009.10.23 – 2010.1.2)
3. Action – Camera: Beijing Performance Photography
Morris and Helen Belkin Art Gallery (Vancouver, 2009.1.6-4.19)
4. LIVING OFF THE GRID
Anant Art Center (New Delhi, 2009.11.30 – 12.21)
5. The Surface of Each Day is a Different Planet
Tate Britain (London, 2009.9.4 – 12.27)

Left: Image from The Surface of Each Day is a Different Planet © Raqs Media Collective 2009
Right: Shira-Spirit from the Wild 2009 Japanese ink shell poweder, gold leaf on Kumohada-mashi paper, fusuma panel 182 x1632cm Installation view at Konoike Tomoko: Inter-Traveller
Photo Nagare Satoshi ©Konoike Tomoko Courtesy Tokyo Opera City Art Gallery
Matsui Erina (Tokyo-based artist) ArtBlog

Francis Bacon: A Centenary Retrospective
The Metropolitan Museum of Art (New York, 2009.5.20 – 8.16)
neoteny japan – Takahashi Collection
The Ueno Royal Museum (Tokyo, 2009.5.20 – 7.15)
Konoike Tomoko: Inter-Traveller
Tokyo Opera City Art Gallery (2009.7.18 – 9.27)
Odani Motohiko: Hollow
Maison Hermès 8th Floor, "Le Forum" (Tokyo, 2009.12.17 – 2010.3.28)