2009. 10.31 – 11.29
Shinko Pier, BankART Studio NYK, Tokyo Geidai Graduate School of Film and New Media (Bashamichi Campus), Nogeyama Zoo
http://ifamy.jp/
by Uchida Shinichi (ART iT)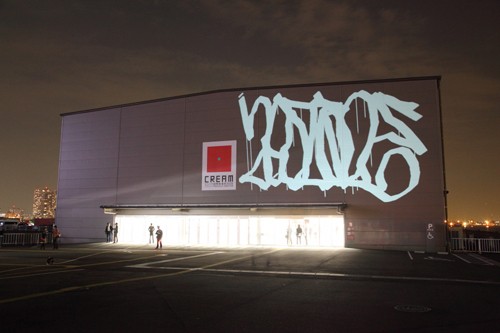 Graffiti Research Laboratory (GRL)
Photo: Kioku Keizo
Courtesy: International Festival for Arts and Media Yokohama
Yokohama, which has enjoyed a burgeoning reputation on the international art scene since the launch of its Triennale in 2001, has also declared its ambition to be a 'City of Moving-Image Culture'. To achieve this the city now runs events such as Yokohama EIZONE, and has also succeeded in attracting an outpost of the Tokyo University of the Arts Graduate School of Film and New Media. CREAM could be described as another extension of the Media-Arts City concept.
By making it a "festival for arts and media" as opposed to simply a film or art festival, the aim was to encompass a broader range of new-media expression and experience. BankART Studio NYK was venue for an exhibition focusing on video art. Christian Marclay's Video Quartet consisting of four projections of music-making scenes from films offered an elegant prelude, while works such as those of Yamakawa Fuyuki and Alfredo Jaar utilizing elements (sound and text respectively) often relegated to a supporting role in film and video also impressed in their ability to prompt new consideration of the medium's potential. Nearby the Bashamichi Campus of the Tokyo University of the Arts Graduate School of Film and New Media ran a program of cinema-style screenings showcasing modern masterpieces selected by an international roll-call of artists and curators, including full-length films by the likes of Pipilotti Rist and Steve McQueen, while the city's Nogeyama Zoo and Koganecho Bazaar were the sites for satellite shows of media-based works drawing on the characters of each location.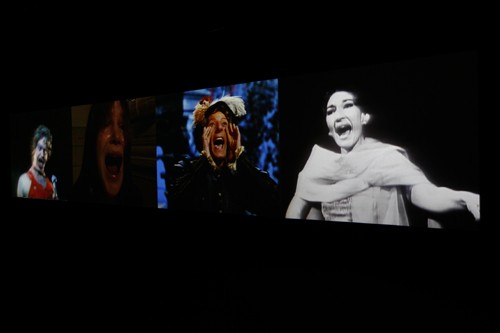 Christian Marclay: Video Quartet 2002
Photo: Kioku Keizo
Courtesy: International Festival for Arts and Media Yokohama
In contrast, the Shinko Pier offerings were closer to the more everyday, social face of new-media expression. Hachiya Kazuhiko's Seeing is Believing using a special device to convert into visual form the mutterings of an individual wandering the internet, and light from the popular video sharing and comment site Nico Nico Douga (a special edition containing just the inserted comments) ran through the same space. Other exhibitors included Graffiti Research Laboratory (GRL), who substituted lasers for spraycans to draw graffiti, and the NPO remo, presenting a work that seemed to be groping for a contemporary take on social activism. Any visitor expecting a show consisting entirely of 'art to look at' would likely have felt puzzled or queried the content of the program, but much of what went on at this venue may signal an alternative direction for the festival.
Other parts of the CREAM program pursued with energy and enthusiasm were forums with guest researchers such as Raymond Bellour, the CREAM open competition, a handmade film workshop, and a broadcasting station run via the official website.
Overall, this first festival gave the impression of taking the most multifaceted approach possible to contemporary endeavors in new media arts. No plans to make it a regular event have been announced, but it would be a shame if the themes, challenges and expertise arising out of the festival were not accorded an extended life as valuable assets for the 'City of Moving-Image Culture".
ART iT Feature : CREAM – International Festival for Arts and Media Yokohama
ART iT Snapshots: CREAM – International Festival for Arts and Media Yokohama (1)
ART iT Snapshots: CREAM – International Festival for Arts and Media Yokohama (2)