People Playing with the Dead
2009.7.18 – 9.27
Tokyo Opera City Art Gallery
http://www.operacity.jp/ag/exh108/index.html
by Hara Hisako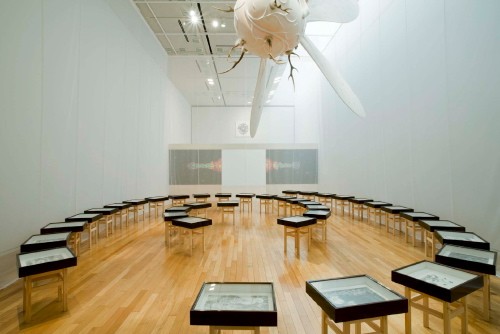 Konoike Tomoko: Inter-Traveller – People Playing with the Dead 2009
Photo Nagare Satoshi, Courtesy Tokyo Opera City Art Gallery
© Konoike Tomoko
This exhibition could be described as a compilation of Konoike's work over the last ten or so years.
The moment I stood at the entrance I felt I was being enticed into a story. The huge eyes staring out from the mountain painted on the fusuma seemed to be warning me not to overlook any of the events I was about to experience in the depths of the earth ahead. Passing through the parted fusuma, which formed a kind of gateway to the underworld, I entered a space surrounded by sheets of thin white fabric in which Konoike's original drawings for mimio (2001) were arranged in a spiral pattern. Looking down on visitors from above as they gaze intently at the open pages as if peering into specimen cases is Virginia – Set Me Free, Fly from My Restraint (2007), from which sprout four white wings and a number of antlers and from whose vagina-like opening can be seen a pair of frail legs only.
The paintings that make up the four-part Story Series are hung at just above eye-level on all four sides of a room whose walls and floor have been painted deep red, and appear to tell a story with scenes showing a creature resembling Virginia from the three-dimensional piece from the previous room in a forest and on water. After passing through this room, filled with the fragrance of a Casa Blanca lily with enormous flowers that stands in the middle, one enters a space surrounded by twelve fusuma paintings, the four in the middle depicting a skull emitting golden breath, the four on the left people with butterfly wings, and the four on the right creatures with bodies that are half wolf and half human. One gasps at the mysterious world that opens up before one, which, in stark contrast to the brightly colored paintings in the previous room, is conjured up using black ink, powdered calcium carbonate, and gold leaf. Konoike majored in Nihonga at university, and all of the works on show exploit to the full her painterly talents in the form of her powers of description and brush skills as well as her ability to model two-dimensional work into three-dimensional form.
Before the scene changes there is a sign. It informs visitors how far they are from the earth's crust in terms of depth. Next is Earth Baby (2009), a giant baby's head covered in broken pieces of mirror that revolves inside a darkened room reminiscent of a womb. The mirror fragments reflect the light and make the room sparkle fantastically like a mirror ball. The baby with its striking wide-open eyes and crying mouth is an innocent creature yet at the same time seems to possess a violent, unpredictable streak. When one thinks about it, so-called 'humans' are nowhere to be seen in this exhibition. The characters in Konoike's stories are beasts whose thoughts and actions we have no way of comprehending.
Without realizing it I found myself sucked deep into the world of these impressive stories and identifying with the characters that appeared in it. Perhaps because aromas, sounds, and lighting had been used so effectively that I experienced it with my entire body, I realized that even after I had finished viewing it that it was impossible to erase it from my memory. Somehow the artist had managed to create an incredibly powerful space that gave an impression both of delicate femininity and tremendous fear. The exhibition title expresses everything perfectly. Visitors will do doubt find themselves taken on a journey through a rift in space-time linking the thresholds between the inside and the outside of the earth, and between life and death.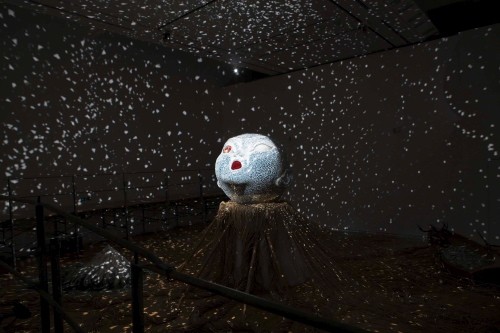 Earth Baby 2009, Konoike Tomoko: Inter-Traveller people Playing with the Dead 2009
Photo Nagare Satoshi, Courtesy Tokyo Opera City Art Gallery
© Konoike Tomoko
Exhibition Tour
Konoike Tomoko: Inter-Traveller – Twelve Wolf Poets
9 October – 6 December
Kirishima Open-air Museum
http://open-air-museum.org/ja/art/exhibition/konoiketomoko
ART iT Snapshots: Konoike Tomoko @ Tokyo Opera City Art Gallery
ART iT Picks: Konoike Tomoko: Inter-Traveller
ART iT Interviews: Konoike Tomoko
ART iT News: +81 international magazine conference and symposium
ART iT News: Tokyo Opera City Art Gallery turns 10