2009.8.22 – 10.12
Nakanoshima Park
http://www.suito-osaka2009.jp/
by Shinkawa Takashi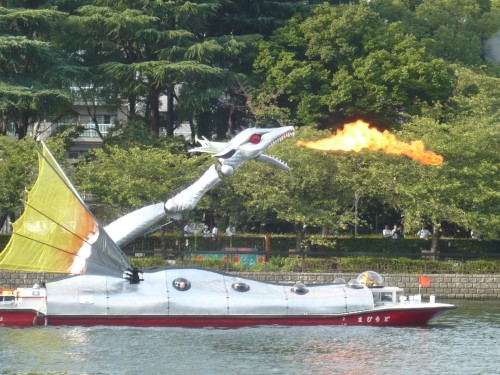 Yanobe Kenji Lucky Dragon 2009
From midsummer to early autumn, a massive arts festival including several major music and film events ran at various locations around both the Kita and Minami districts of Osaka. My comments here however are confined to the Waterfront Bunkaza Cultural Plaza contemporary art exhibition staged at Nakanoshima Park, located on a sandbar between the Dojima and Tosabori Rivers.
This show alone attracted over 100 artists. Although it must be said, the majority were just running workshops for a few days, so the volume of art actually available for viewing was less than might be expected. This was not, in other words, a large collection of works assembled under one roof. Certainly though, among the work that was presented there were some fascinating offerings.
Tokyo's Ozawa Tsuyoshi provided a 'man-powered fountain'. As this suggests, it was a simple work that involved pushing a hand pump to shoot out a jet of river water, and the delighted cries of children and grownups as they operated the pump were a pleasure to hear. The park is dominated by a huge fountain that sprays a gigantic arch of water around 20 meters in the air – in keeping with the 'aqua metropolis' theme – but Ozawa's fountain was more popular. Nor was his amusing contribution lacking in irony: here was an example of ideas beating the power of money hands down.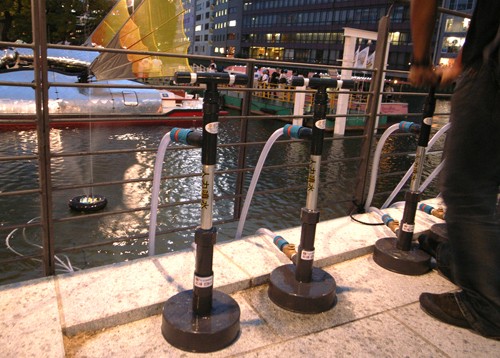 Ozawa Tsuyoshi 'man-powered fountain' ©Tsuyoshi Ozawa and Ota Fine Arts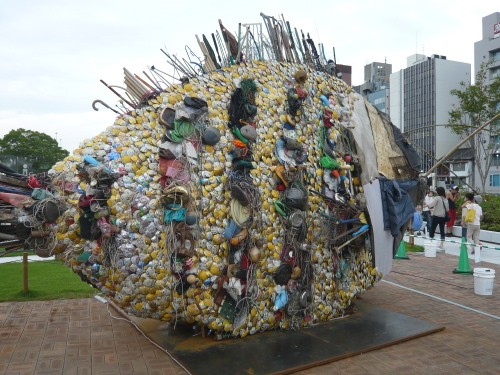 Yodogawa-Technique Kin Chinu – the Golden Sea Bream – 2009 © Yodogawa-Technique and Yukari Art Contemporary

Eyes and ears were drawn also to Osaka native Yanobe Kenji's new piece, Lucky Dragon, a boat that sailed around carrying Torayan, a character created by Yanobe and featured in several of his works. Meanwhile Yodogawa-Technique, also Osaka locals, unveiled an enormous eight-meter-high fish object made from riverbank rubbish. These works certainly demonstrated impressive design and modeling skills, not to mention an irresistible cheeky charm. Such accessible, novel pieces are perhaps obligatory at exhibitions like this, staged in public spaces.
Then there were the workshops run by Fuji Hiroshi (Fukuoka) and Kosuge1-16 (Tokyo). Every single day, that is, of the 52 days of the festival (!) It would be fair to say that with this effort, they earned themselves a rock-solid reputation as kings of the art workshop, in Japan at least.
Both the Waterfront Bunkaza Cultural Plaza and Aqua Metropolis Osaka 2009 attempted to cover so much ground that undeniably, the end result felt jumbled and lacking in coherency. The figure of 1.9 million visitors too smacks slightly of wishful thinking. Still, it would be unfair to overlook the artists who took the opportunity provided by the festival to present some highly ambitious work.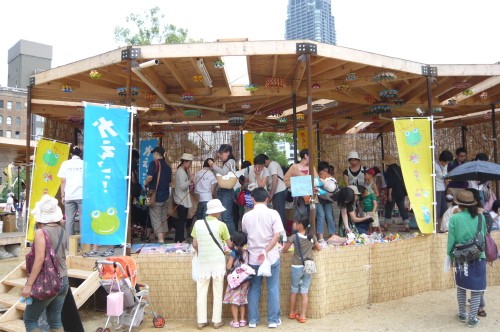 Fuji Hiroshi Kaeru System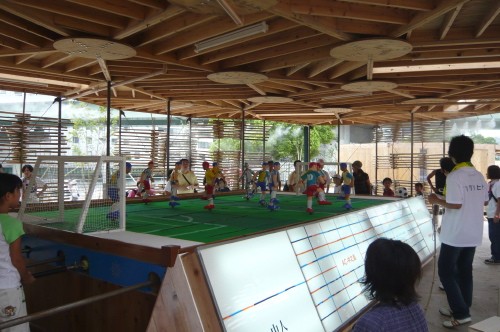 KOSUGE1-16 re-port: waiting for a boat