To make this list I'm bypassing most art exhibitions, because I didn't experience 2010 as particularly memorable in terms of purely visual art experiences. However, the year was quite aesthetically memorable for collaborations between visual artists and those working in music, film and theater, and nearly all of the examples cited below fall in that in-between category:
January 15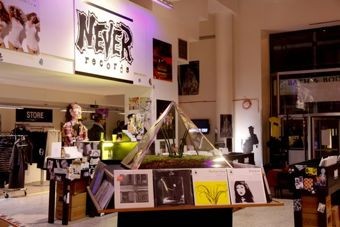 Never Records
This day marked the opening of Never Records, a two-week installation project by NYC artist/musician Ted Riederer at the former site of Tower Records on Broadway and West 4th Street. Designed to imitate the look and feel of the former record store, but with conceptual projects in place of actual music merchandise, the project combined a ghostly nostalgia for the way we all used to consume music with a deft sense of the absurd, and a bracing argument for how pop music and conceptual practice often fit hand in glove.
Details: Presented as part of the exhibition "Never Can Say Goodbye," organized by No Longer Empty (NLE) at the former site of Tower Records, corner of Broadway and W 4th Street, New York, January 16 to February 13. Image credit: Ted Riederer – installation view of Never Records (2010) for "Never Can Say Goodbye," courtesy No Longer Empty.
February 16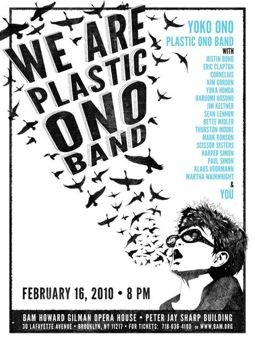 Yoko Ono celebrated her 77th birthday with a reunion of the Plastic Ono Band at Brooklyn Academy of Music (BAM), and it was an event without parallel for me. Musical guests included Bette Midler, Paul Simon, Thurston Moore and Kim Gordon, along with such nearly forgotten mainstays of Ono's and John Lennon's band as German bassist Klaus Voormann, who left music for a career in graphic design. Although not lacking in nostalgia, the event was a kind of sonic roller coaster ride that left nobody in doubt that Ono's contribution to the culture of our age continues to grow.
Details: We Are Plastic Ono Band at BAM Howard Gilman Opera House, New York, February 16. Image credit: Courtesy ImaginePeace.com.
March 11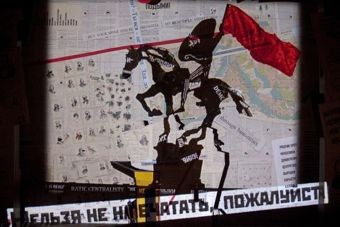 The Nose
The night I saw William Kentridge's production of the Shostakovich opera The Nose, based on Gogol's short story, at the Metropolitan Opera. It was one of the densest barrages of sound and imagery I've ever seen, and the minute it was finished I wished I could see it again. Taken together with the Kentridge retrospective at MoMA, and his monologue-with-film for Performa 09, the South African Renaissance man demonstrated that he might just be the most compelling artist at work in the world today.
Details: Dmitri Shostakovich's The Nose at the Metropolitan Opera, New York, March 5-25; "William Kentridge: Five Themes" at the Museum of Modern Art, New York, February 24 to May 17; I am Not Me, the Horse is Not Mine presented as part of Performa 09, November 9-10, 2009. Image credit: Scene from Act II of Dmitri Shoshtakovich's The Nose as staged at the Metropolitan Opera, New York, 2010, photo Ken Howard/Metropolitan Opera.
March 30
0CGxQlcrlYw
Shirin Neshat's film Women without Men (2009) had its New York premiere at MoMA, and I was amazed at how much emotional force she packed into her first feature. Neshat is certainly a tested artist, but as a filmmaker, she has made an extraordinary leap into a realm that very few visual artists have mastered. Based on events surrounding the 1953 CIA-sponsored assassination of Iran's democratically elected president, the film almost entirely sidesteps politics in favor of the kinds of chaos that occurs in ordinary people's lives when the system in which they struggle to survive is completely upended.
April 11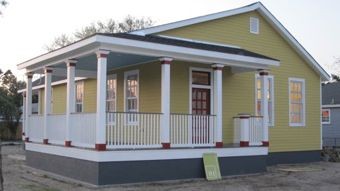 Ms Sarah Lastie's new house was dedicated in the Holy Cross neighborhood of New Orleans' Lower 9th Ward. While this would ordinarily not seem to be an art-related event, Lastie's finished home was the culminating phase of artist Wangechi Mutu's participation in my Prospect.1 biennial 18 months before. Destroyed by floods, then hampered by unscrupulous contractors who took her money and ran, it looked like Ms Sarah would never get her house back, until Mutu made a work that would begin with a sculpture, then a print of a sculpture, then sales of the print to finance the house, and then the house itself.
Details: Prospect.1 New Orleans, multiple venues in New Orleans, November 1, 2008, to January 18, 2009. Image credit: Ms Sarah Lastie's house, New Orleans, 2010, courtesy Gladstone Gallery, New York.
August 22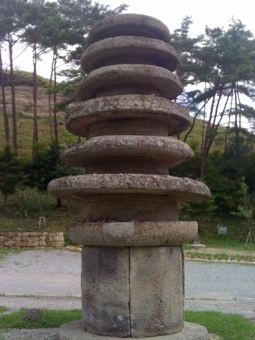 Unjusa
I went to visit Unjusa, an ancient temple site (and likely stonecutters school) near Gwangju, Korea. I had made the excursion with the intention of visiting the famed lying-down Buddha, but was literally dumbstruck by the extraordinary beauty of the Korean stone pagodas, or seoktaps, that seem to litter the moonlike landscape. The only thing more striking than the beauty of Unjusa is the fact that the site is not even considered one of Korea's main archaeological attractions, which means that a visitor can wander the sprawling complex with very little interruption from tourists or local families.
Image credit: Photo Dan Cameron.
December 4
ap4TrAOcKNk
Screening at Art Basel Miami Beach of the new documentary film on Vik Muniz's recent collaboration with the people who pick through trash at Rio de Janeiro's largest landfill. Entitled Waste Land, the film was made by Lucy Walker (with two co-directors), and makes the most convincing argument I've ever witnessed in cinema for art's power to transform the lives of people who have no idea what it is – until, that is, somebody like the indefatigably optimistic Muniz appears in their midst.
Dan Cameron is Director of the international art biennial Prospect New Orleans and Visual Arts Director at the Contemporary Arts Center (CAC), New Orleans.
Things Worth Remembering 2010