Over the past year, the editors of ART iT have traveled the length and breadth of Japan and visited international cities ranging from Bangkok, Beijing, Busan, Gwangju, Seoul and Shanghai to Berlin, Brussels, London, Los Angeles, New York, Paris and Rome as well as points in between in search of great art and great art stories. We interviewed Isaac Julien about his new work Ten Thousand Waves (2010) at its premiere in China at ShanghArt Gallery, and filed reports from art fairs ranging from Art HK to Art Basel. We were there for the unveiling of MAXXI in Rome in May and the opening of the 12th Venice Architecture Biennale in August. And through our thematic coverage, we have taken metaphorical journeys through intellectual terrain, joining artist Shinro Ohtake on an indexical tour of Tokyo in the age of cinema and photographer Naoya Hatakeyama in tracking down the origins of the literary photograph. We don't always get to write about everything we experience, though, and when we sat down to review the most memorable events in the year in art, we found plenty of fresh material deserving of recognition. What follows are our "Things Worth Remembering" for 2010:
Marlene Dumas, 'Against the Wall'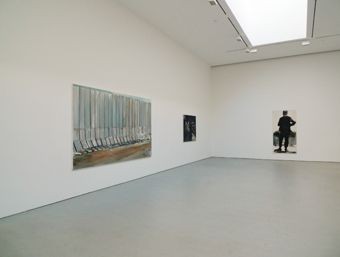 The first solo exhibition at New York's David Zwirner Gallery for the South Africa-born Marlene Dumas, "Against the Wall" not only investigated the relations between paintings and the architecture of display, it also took on the heady subject of the wall that divides Israel and Palestine. The works in exhibition – depicting the various incidents that occur before the wall, the armed soldiers whose existence seems inseparable from the wall and studies of the wall itself – infused the gallery space with the very same tension that emanates from the obstruction. With self-portraits included alongside works that suggest Dumas was actually there on site, the exhibition forcefully confronted the conventional wisdom that we are all only powerless observers, whether as an artist who can only paint a reality that she wishes to oppose or as viewers who can only appreciate what an artist has depicted. 
Details: David Zwirner Gallery, New York, March 18 to April 24. Image credit: Marlene Dumas – installation view of "Against the Wall" at David Zwirner, New York, 2010, photo ART iT.
'My Favorites – Index of a Certain Collection'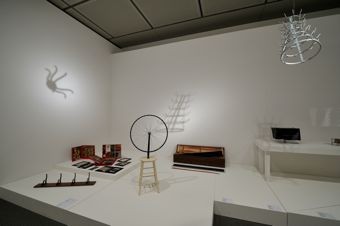 Duchamp
In his parting exhibition after more than 29 years at the National Museum of Modern Art, Kyoto, curator Shinji Kohmoto playfully turned the idea of the retrospective exhibition on its head, producing a subjective review of his exhibitions at the museum over the span of his career and a critical analysis of how the identities of artworks are affected by their inclusion into institutional collections. Including works from Marcel Duchamp's 50cc of Paris Air (1919/64) to Dominique Gonzalez-Foerster's De Novo (2009) and rare prints by the early 20th-century photographer Yasuzo Nojima as well as a display of archival materials related to Dada, Futurism and Fluxus, the exhibition sounded a hopeful note that there might still be room for creative anarchy in the construction and maintenance of our material histories. 
Details: National Museum of Modern Art, Kyoto, March 24 to May 5. Image credit: Installation view of works by Marcel Duchamp as displayed in the exhibition "My Favorites – Index of a Certain Collection" at National Museum of Modern Art, Kyoto, 2010, courtesy National Museum of Modern Art, Kyoto.
'Rehabilitation'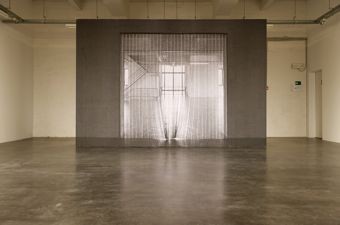 Alexandra Leykauf
An investigation of what happens when former industrial spaces are turned into contemporary art centers, "Rehabilitation" both began and ended with its setting at the contemporary art center Wiels, which opened in 2007 in a former beer factory in Brussels that dates to the 1930s. In addressing how the different functions of art and industry interact in the same space, the exhibition focused on 10 young artists who take inspiration from Modernist discourse and aesthetics including Leonor Antunes, Alexandra Leykauf, Manfred Pernice, Falke Pisano and Oscar Tuazon. Even though this was an exhibition about architecture and installations that deal with architecture, it managed to avoid the more pedantic aspects of such a framing device. Through the works, visitors were able to both physically and mentally engage with broader issues affecting contemporary society such as the possibilities for restoring architecture, or reforming it, for purposes other than originally intended. Ultimately, "Rehabilitation" was an eloquent statement on our condition of always being posterior to something else.
Details: Wiels, Brussels, May 29 to August 15. Image credit: Alexandra Leykauf – installation view of Untitled (2010), wood and black-and-white copy, 285 x 345 cm, in the exhibition "Rehabilitation" at Wiels, Brussels, 2010, photo © Michael De Lausnay, courtesy the artist.
Yasumasa Morimura at Toyota Municipal Museum of Art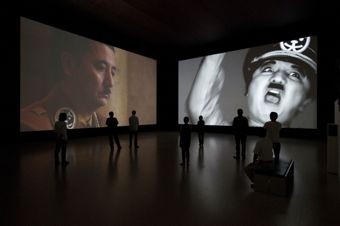 Laugh at the Dictator/Schizophrenic
The culmination of an almost five-year long project reinterpreting the photographic legacy of the 20th century, Yasumasa Morimura's solo exhibition "A Requiem: Art on Top of a Battlefield" opened in March of this year at the Tokyo Metropolitan Museum of Photography and will continue touring the country into 2011. Of all its iterations so far, the exhibition was most impressive during its mid-year stay at the Toyota Municipal Museum of Art. There, the curators used the spacious, Yoshio Taniguchi-designed building to maximize the impact of Morimura's works. For example, the two-channel video A Requiem: Laugh at the Dictator/Schizophrenic (2007), in which Morimura reinterprets Charlie Chaplin's satirical impersonation of Adolf Hitler, was projected at monumental scale, emphasizing the material's inherent violence. Similarly, a concurrent review of the "Actresses" series that preceded the "Requiem" project provided unique insight into the development of Morimura's ideas, an option not available to the smaller institutions on the tour. 
Details: Toyota Municipal Museum of Art, June 26 to September 5. Image credit: Installation view of A Requiem: Laugh at the Dictator/Schizophrenic (2007), two-channel video projection, at Toyota Municipal Museum of Art, photo © Kazuo Fukunaga, courtesy Toyota Municipal Museum of Art.
Junya Ishigami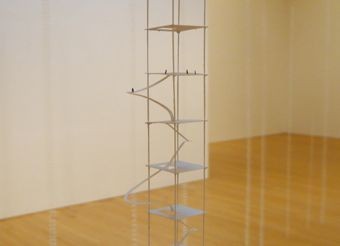 "Another Scale of Architecture"
In a year when it seemed like the architecture pair Kazuyo Sejima and Ryue Nishizawa would take home any and all accolades (starting with the field's most prestigious prize, the Pritzker, in May), their former understudy, Junya Ishigami, also earned his fair share. Receiving the Golden Lion for Best Project at Sejima's 12th Venice Architecture Biennale in August, Ishigami was also the subject of concurrent solo exhibitions in Japan at the Shiseido Art Gallery in Tokyo and the Toyoto Municipal Museum of Art in Toyota, respectively. While Ishigami still has relatively few built projects, collectively these exhibitions solidified his status as one of international architecture's most visionary young talents.
Details: 12th International Architecture Exhibition, "People Meet in Architecture," multiple venues in Venice, August 29 to November 11; "How small? How vast? How architecture grows" at Shiseido Gallery, Tokyo, August 24 to October 17; "Another Scale of Architecture," Toyota Municipal Museum of Art, September 18 to December 26. Image credit: Installation view of "Another Scale of Architecture" at Toyota Municipal Museum of Art, photo ART iT.
Yuki Kimura, 'Untitled'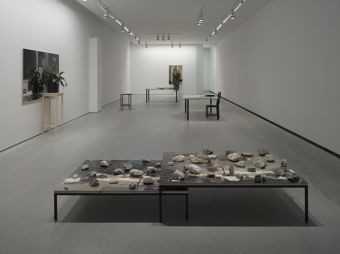 After the Izu Photo Museum launched last year with an exhibition for Hiroshi Sugimoto, this compact show of new works by Yuki Kimura confirmed that Japan's latest private institution also has the potential to support the kind of small-scale experimental projects that provide emerging artists room to explore new approaches to their practices. In 2009, a multi-room mini-survey at the private gallery in Hiroshima of collector Tatsumi Sato, Daiwa Press Viewing Room, established the sense that Kimura had built up a language of conceptual forensics through which she deconstructs found photographs by mechanisms such as blowing them up, cutting them apart or otherwise recreating details from those images in alternate media including sculpture and painting. At Izu, it seemed that Kimura has now turned to deconstructing that language itself. The core of the exhibition was a group of enlarged, found photographs of restaurants, office buildings and landscapes that were transformed into idiosyncratic tabletops combined with other sculptural elements. Disarming juxtapositions of function and form, information and misinformation, these works unsettled the gallery space through their resistance to prevailing conventions of viewing. Where Kimura goes from here is anybody's guess.
Details: Izu Photo Museum, Shizuoka, September 5, 2010, to January 11, 2011. Image credit: Installation view of "Untitled" at Izu Photo Museum, 2010, photo Yasuchi Ichikawa, courtesy Izu Photo Museum.
Norimizu Ameya, The Shape of Me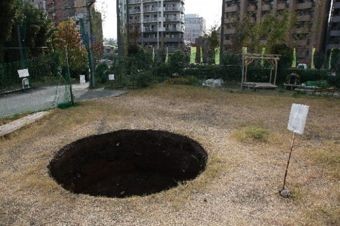 In recent years projects incorporating both theatre and art have noticeably risen in visibility. In Japan alone, large-scale exhibitions such as the 2008 Yokohama Triennale and this year's inaugural Aichi Triennale and inaugural Setouchi International Art Festival have all featured theatre and performance programming. Emerging from the theatre context, this year's Festival/Tokyo 10 was a bracing attempt at inter-disciplinary programming. From Miwa Yanagi's old-maid take on otaku fetish, Café Rottenmeier, to Roger Bernat's interactive Public Domain and Akira Takayama's Complete Evacuation Manual – Tokyo Edition, many of the performances in this year's program superseded the conventional boundaries of theatre. Particularly impressive was Norimizu Ameya's The Shape of Me, billed as a month-long "technical" theatre installation. Provided with maps, viewers visited abandoned houses in Tokyo's Sugamo neighborhood, interpreting and experiencing on their own the stories contained within each house. Building upon Ameya's career-long engagement with both theatre and art, The Shape of Me transcended the limits of site-specificity even as it physically expanded the dimensions of performance – a point underscored by the difficulty in communicating the scope of the work through images.
Details: Festival/Tokyo 10, October 30 to November 28. Image credit: Installation view of The Shape of Me (2010). Courtesy Festival/Tokyo 10, © Yohta Kataoka.
Christian Marclay, The Clock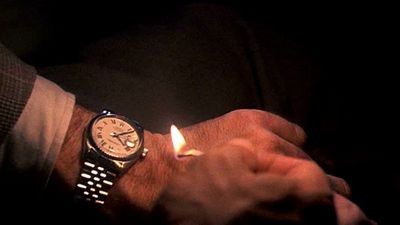 The talk of the town when it premiered at London's White Cube coinciding with the Frieze Art Fair, Christian Marclay's 24-hour mash-up of footage from early cinema to Hollywood blockbusters and everything in between is a fully functioning clock as well as a deliriously scrambled overview of film history. While it may not define the art that was made in 2010, it certainly stands out from among all other works. For more, see ART iT's current interview with Marclay about the work.
Details: White Cube, London, October 15 to November 13; Also on view in the solo exhibition "What You See Is What You Hear" at Leeum, Samsung Museum of Art, Seoul, December 9, 2010, to February 13, 2011. Image credit: The Clock (2010), single-channel video, 24 hours, © Christian Marclay, courtesy White Cube.
William Kentridge, "Resist the Single-Point Perspective! 
Drawings as Performances in Two, Three and Four Dimensions"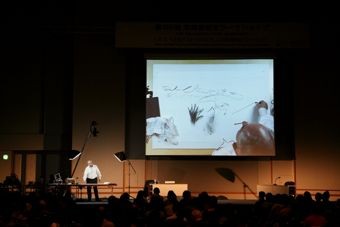 No stranger to Japan in recent years, William Kentridge was the subject of the nationally touring retrospective exhibition "What We See & What We Know: Thinking About History While Walking, and Thus the Drawings Began to Move…" organized by the National Museum of Modern Art, Kyoto in 2009, and presented his lecture/performance in association with the exhibition in Kyoto and in Hiroshima. Prior to that the artist also presented lectures in Kyoto and Tokyo in 2008 in advance of the retrospective. Nevertheless his workshop in Kyoto this November on the occasion of being named one of 2010's three laureates for the Inamori Foundation's prestigious Kyoto Prize stands out among the year's most memorable events. Addressing the themes of "Drawing/Narrative (History)," "Video/Animation" and "Theatre/Literature," Kentridge took the stage of the Kyoto International Conference Center by himself and held viewers in thrall as he used live and recorded large-scale projections to illustrate his creative process and all the various activities that feed into it. Much more than a "workshop," this event can be understood as yet another virtuoso performance by the artist.
Details: Kyoto International Conference Center, November 12. Image credit: © Inamori Foundation 2010.
Things Worth Remembering 2010