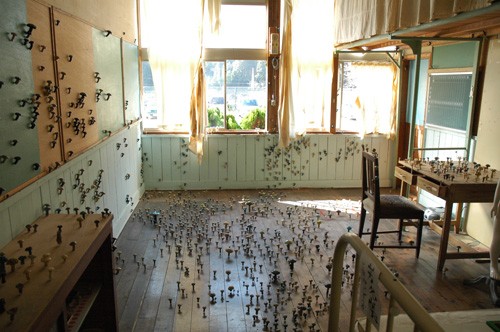 Tsukasa Kaneko 《 CURTIDORE DE HONGOS (キノコヲツクルヒト )》 2006 ceramics) 
© Tsukasa Kaneko
It is mushroom>
"The mushroom" is familiar existence to contact with as food and a character routinely. On the other hand, I added it to unknown lateral many specific habits, the hallucination action that the magic mushroom caused and was the subject which drew the association of most concerning fantasy and life and death and gave the artist of various fields inspiration.
In addition, mechanism occurring from network and many places of the spawn which a spread spore forms rouses sympathy and admiration to an invisible range to open without an end and the mysterious existence and attracts the existence of own and an earnest lover putting on top of one another.
I liken this exhibition to the findings in the aerial research institute and approach like the deep attachment of producers loving mushrooms and am a trial to be able to touch it to open of the rich result. It is a photograph commentator and in late years I invite Iizawa Kotaro who is known as a mushroom culture researcher widely to a director of "the Institute for mushroom art" and introduce a fashion, the expression over the many fields including miscellaneous goods from an illustration, a stamp, a picture book other than a picture and the solid molding that assumed a mushroom a motif. I hold the allied event concerning the mushroom during a session.
Exhibition writer
Live Shigeo Otake, Tsukasa Kaneko, Kusama is Kiyoshi Kuroda, とよ field keno child, curl Sten spatula -, others
— – – – – – – – – – – – – – – – – – – – – – – – – –
Session November 3, 2010 Wednesday (holiday) – Thursday, February 24, 2011
Detailed http://www.hcmca.cf.city.hiroshima.jp/web/main/kinokoart.html