EMPRESS OF SIGNS
By Andrew Maerkle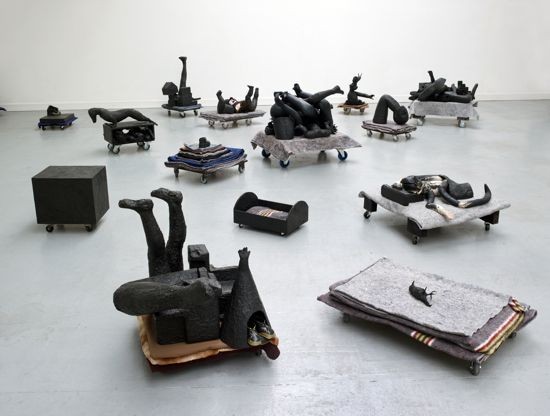 Mes transports (Detail) (2012-13), mixed media, dimensionen variable, courtesy Annette Messager / Marian Goodman Gallery Paris/New York, © VG Bild-Kunst, Bonn 2014. Photo © Marc Domage, © Kunstsammlung NRW.
Working with everything from photographs and drawings to soft sculptures, taxidermied animals and disarmingly simple kinetic devices, Annette Messager has maintained one of the most distinctive practices in contemporary art since she started her career in the late 1960s. With her deft touch, she can invert the fabric of everyday life by arranging commonplace materials into unconventional juxtapositions, or she can create uncanny worlds out of whole cloth, as was the case with her Pinocchio-inspired installation for the French Pavilion at the 51st Venice Biennale in 2005, Casino, which took home that year's Golden Lion for Best National Pavilion.
The subject of not one but two retrospectives in 2014, at the Museum of Contemporary Art, Sydney, and the Kunstsammlung Nordrhein-Westfalen, Düsseldorf, respectively, Messager passed through Tokyo in October of this year for a site visit for the upcoming Echigo-Tsumari Art Triennale 2015. This will be Messager's first project for the festival, where she will be working with a centuries-old thatch-roofed farmhouse. ART iT spoke with Messager about her broader practice and her impressions of Echigo-Tsumari.
Interview: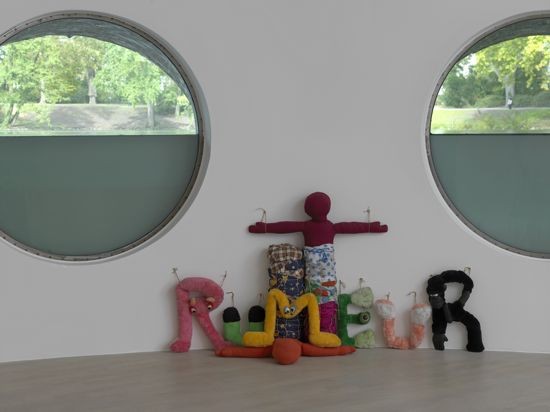 Installation view, K21 Ständehaus, 2014. Photo Achim Kukulies, © Kunstsammlung NRW.
ART iT: Earlier this year you had a retrospective at the Museum of Contemporary Art in Sydney, and you currently have another exhibition at the Kunstsammlung Nordrhein-Westfalen in Dusseldorf. These latest exhibitions follow the series of retrospectives of your work that took place around the world, including at the Centre Pompidou in Paris and the Mori Art Museum in Tokyo, from 2007 to 2009. What are your impressions of these retrospective surveys of your work?
AM: In the beginning it was very difficult. I remember the first retrospective was at the Musée de Grenoble in 1989, and during the preparation I was always sick. It disturbed me so much. Now it's ok. I accept that I am older and that I did these pieces before. But this time, I am just in the present, and I try not to think about the older work. In a way, it's good to see what you did before, because you do forget, and you can recognize interesting connections or relationships.
ART iT: Do you think the interpretation of your practice has changed with each exhibition?
AM: I don't care. I try to do what I want, not what the curator wants. When it comes to the interpretation of my work by others, they have to make their own story. It's not my problem.
ART iT: When I was looking back at your career, what struck me was that the works from the 1970s – which maybe at the time responded to issues like so-called women's work or domestic work – anticipate the way we collect and share information and images, and create new identities on the Internet. "Mes Voeux" (My Vows), too, with its reduction of people to body parts, and its photographic prints which are just about as big as smartphone screens, also anticipates the way the body has become fragmented through contemporary media and genres like the selfie. The work has jumped across different contexts.
AM: The early work was about my own identity as an artist and a woman. If I were younger, I'm sure I would make a lot of use of the Internet, as opposed to just using it to buy my materials. At the time I used magazines and newspapers, but it's changing now.
For "Mes Voeux," the photos were in black-and-white, while photos today have so many ugly colors – sometimes the skin looks like pig skin. Young people seem to be interested in themselves and their bodies, and sharing that with others, but for me it was more secret. Now it is so immediate: Instant! Instant! Instant!
And there was a sense of distance through the use of black and white. I find there is a similarity between taxidermy and photography. Once it is captured by photography, the moment is finished and dead, while taxidermied animals are presented as if they were living, but they, too, are frozen, like in a photo.
ART iT: Of course, photography used to be a slow process, because there was a gap in time between taking the photo and developing it. Did you like that slowness?
AM: Yes. I was in the laboratory, developing the film myself. I liked taking time to work on it, and the sense it gave me of going deeper into the image. I worked with friends for the photos, mainly, and one time with my mother, so I felt I could create something very secret and intimate between the subject and the object.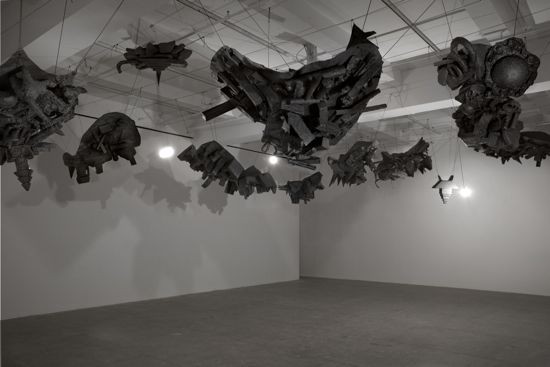 Continents Noirs (2010–12), mixed-media installation, dimensions variable, courtesy Annette Messager / Marian Goodman Gallery Paris / New York, © VG Bild-Kunst, Bonn 2014. Photo © Marc Domage, © Kunstsammlung NRW.
ART iT: When you assumed identities like "the trickster" or "the practical woman" or "the artist," did you feel you were undertaking a kind of virtual transformation, or were you drawing upon elements that were already inside you?
AM: I never wanted to be a practical woman. That's not how I am in my life. But when you are an artist, you are always a trickster. It was important to change my identity because, especially at the beginning of the 1970s, art was very conceptual or minimalist, with strict rules about how to do the work each time. I wanted to make drawings, embroidery, photography, and so on, and it was very difficult to be accepted for that. It was a kind of "puritan" art at the time, except in Germany, where there was Fluxus, and people like Broodthaers, Filliou and Beuys, who were more engaged in life than the others.
ART iT: In 2013 you curated a show at Galerie Isabella Czarnowska in Berlin pairing your works with those of Alina Szapocznikow. Was Szapocznikow someone who showed you a different approach to art? Is there anybody else who showed you a way out of the conceptual style?
AM: It's difficult to say. Alina was important for me. She was a woman and it was very difficult for her. She died and nobody cared about her work. They finally discovered it over 20 years later. It was especially difficult for women in France at the time, because it was a very macho atmosphere. But at the same time I was influenced by cinema – Hitchcock – and a lot of different things, not only art. It's not like Alina and I were collaborating. We were friends. She was older than me. She was important for me because she was a strong woman and working a lot, and she also talked about her childhood in the concentration camps. She had a very hard and short life. But she did something with all of this work.
ART iT: You will make a new work for next year's Echigo-Tsumari Art Triennale, using an abandoned thatch-roofed farmhouse. What was your impression of the land around Echigo-Tsumari?
AM: It was beautiful – the trees and the color of the leaves. There was already snow at the top of the mountains. I don't know what I will do with the house. Of course, it's not a museum or a white cube. It's an old house, and it had a life before. I don't actually want to know the history of the house – maybe there was a murder or something. I prefer not to know. But I like to play with that. I think when the house was first built, the women and the children would have been inside while the men worked outside.
ART iT: You once compared your way of making work to Roland Barthes's writing about Japanese cuisine in Empire of Signs. Over the years of visiting here, have you gained any other influence from Japan? Has it showed you any new approach to your art?
AM: I don't think I can say anything intelligent, but for me it is the opposite extreme from France. Like in the street, when you see the young girls in their clothing. Also, I feel the Japanese have a different conception of time. For example, On Kawara is very important for me. He seems to be my opposite, because he was very conceptual and did the same thing all the time, but in another way I find his work appealing. For me, it's nothing and it's important, it's tragic and it's comic, all at the same time. I never met him though.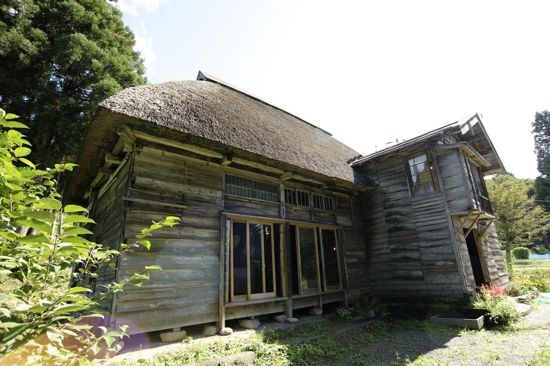 Site of Annette Messager's new commission for the Echigo-Tsumari Art Triennale 2015, Tanokura Village in the Matsudai area of Echigo-Tsumari. Photo courtesy Echigo-Tsumari Art Triennale Executive Committee.
ART iT: But could you say that On Kawara's work has some similarities to your album collections?
AM: Maybe.
ART iT: Does the idea of "the collector" still drive you, even though the work has changed since then?
AM: I think it's fantastic to be a collector because as you get older the collection continues to grow bigger and better, and it's a kind of comfort. For example, the label of a tea bag is not so impressive by itself, but it becomes meaningful when you have 100 of them together. And there is also meaning to arranging a collection and rearranging it and continuously interacting with it.
ART iT: The collection is a sculptural material in its own right that you can keep shaping and reshaping?
AM: Yes.
ART iT: Do you like using history as a material?
AM: A bit – to play with. I like to play.
ART iT: How about time itself? Do you ever use time as a material?
AM: Only a little bit.
ART iT: Maybe as a process, more than as a material?
AM: Yes.
Return to Index
Forecast 2015: Annette Messager