EXTREME ENCOUNTERS
By Natsuko Odate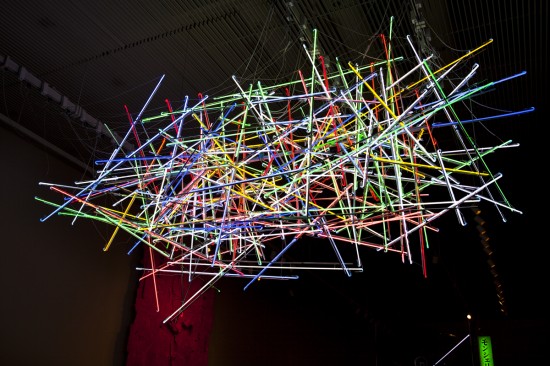 Time Memory / Cloud (2013), neon, stainless pipe, steel pipe, 314×625×297 cm. Installation view at Marugame Genichi-Inokuma Museum of Contemporary Art, 2013. Photo Masahito Yamamoto.
ART iT: The artistic director's exhibition of this year's 55th Venice Biennale is your second time participating in an exhibition curated by Massimiliano Gioni, following the 8th Gwangju Biennale in 2010. Do you feel anything has changed in Gioni's approach between the two exhibitions?
SO: Along with myself there are a number of artists who were included in Gwangju and are now here in Venice. I think Massimiliano must have seen something in Gwangju that he wanted to pursue further here. In his interview with ART iT from the time, he had already used the word "encyclopedic," so I feel the concept fundamentally has not changed so much as it has been brought into sharper focus. One of the characteristics here in Venice is the display of works concentrating on large collections of small things. I like this excessive proliferation of small things that require so much attention, and think this aspect of the exhibition in particular is more developed than at Gwangju.
ART iT: Of course, the display of your Scrapbooks (1977- 2012) also reflects this worldview and sense of excess. 
SO: More than at Gwangju, the installation in Venice allows for that impression. Certainly I've also added two new Scrapbooks since then, although that's not the only reason for the difference. When I first saw the installation in Gwangju, I actually felt there was something off about it. Obviously, through talking I was able to understand it, but Massimiliano had wanted to remove the individual completion dates of each scrapbook from the work description. This decision to consider the entire body of Scrapbooks as a single entity was really interesting for me as a kind of "digital" perspective on the work, in that it flattens 30 years of time into a single moment, whereas the idea of identifying when each individual book was made is incredibly analogue. I myself had never engaged in this kind of "digital" thinking before. For me, it was always natural to approach it factually that, for example, this book was made in 1977, or the last in 2005, and so on. From the artist's view, the time spent in making each book is incredibly precious. So Massimiliano's idea that it was actually not so important was new and refreshing.
However, this time, the span between the years 1977 to 2012 becomes a mechanism for seeing the work. As such, the installation may appear the same as before, but its presentation is somehow different.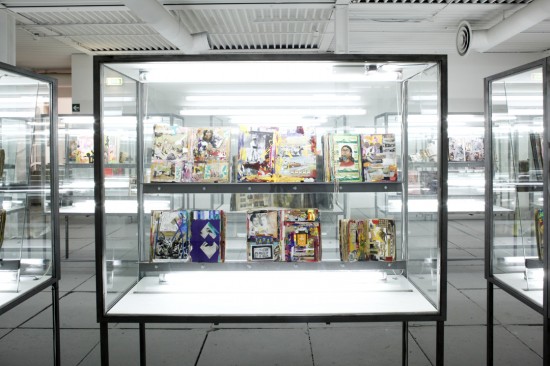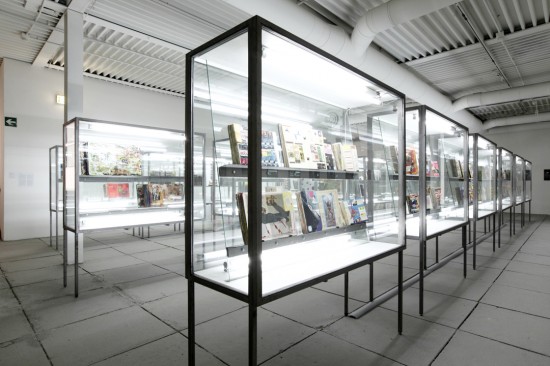 Both: Scrapbooks #1-66 (1977-2012), installation of 66 mixed-media artist books in custom vitrines, dimensions variable. Installation view at the 55th Venice Biennale, 2013. Photo Keizo Kioku, courtesy Take Ninagawa, Tokyo
ART iT: I think the importance that you place on time was markedly apparent in the exhibition you held in 2006 at the Museum of Contemporary Art, Tokyo, "Zen-Kei: Retrospective 1955-2006."
SO: For that exhibition it was really important to show the works in the order they had been made. Since it was my first big retrospective, I wanted to see how the works lined up chronologically. At one point the museum suggested concentrating on a specific theme, but I pushed through my own way. Having previously been critiqued that there is no coherent linear development in my practice, I really wanted to see what would become apparent if the works were presented that way. That's why I organized the exhibition almost indexically, starting with works from my childhood years to the present.  
ART iT: What did you see from doing that? 
SO: If you ask me what I saw, then I can't say there was anything definitive that appeared to me, nor did I expect that there would be anything definitive to begin with.
In the midst of the chaotic environment created by the more than 2,000 works on display, I was surprised to find a space of stillness.
I confirmed that I still have a long way to go before arriving to the place of my dreams, and I also understood that this was the only approach available to me. This was a big realization for me.
ART iT: This idea of a site where chaos converges is also embodied in the Scrapbooks. 
SO: I have never thought of the Scrapbooks as chaotic. For me the Scrapbooks are not about making a "work" according to some concept I've figured out in my head, and are more a site for experimentation, where there are no taboos and no prescribed rules. Without any specific routine, the Scrapbooks offer a place where I can obtain freedom from all the different things inside me, and are a platform for preserving that sense of freedom. Of course you could say the Scrapbooks are a tool for understanding something – for example, the world in which I live – but they do not seek an answer, and are more important as an experimental site for exploring the potentiality of expression. In that sense, I think they contain an encyclopedic element of seeking out things that are not defined. In fact, I am always stumped when people ask me what kind of meaning the individual Scrapbooks have.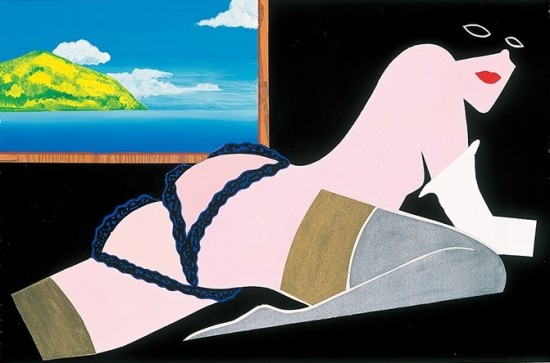 Seaside House, Afternoon (2000), poster color on paper, 50 x 70 cm. Courtesy Shinro Ohtake and Take Ninagawa, Tokyo.
ART iT: Does this apply to your collage works as well? 
SO: Well, for example, I consider the "Zyapanorama" series to be collage works as well. If we understand collage as pasting some thing on top of another, the works in "Zyapanorama" technically do not fit that definition, but the sensibility behind them is the same. It's as though I'm pasting one landscape on top of something else, combining what's there and then switching things around. So in terms of methodology I find it is very similar to collage.
I am not the kind of person who seeks inside himself for an interior form.
In order to see the interior form, unless I encounter some kind of exterior form that at first might appear completely unrelated, I am unable to find my balance.
That's why, for example, dark shades and fluorescent colors often end up next to each other. When I think that the light from a neon tube and the colors of paint are both part of me then I can't make a distinction between them. Looking at it superficially, people may wonder why they emerge at the same time. But in my case I have been continuously repeating this practice. Where it all mixes together is in the Scrapbooks. In a sense, predicated on the rejection of rules, they provide a site where the coexistence of such extremes is entirely normal.
ART iT: Then how do you achieve a balance between such polar opposites? 
SO: In the end I always ask myself, "Is this really what you want to do, are you really ok with it?" Do you take the short cut to understanding, or do you take the path that feels honest to yourself, even if it's hard for others to understand? In terms of where things end up, whether in making a specific work or even in making an exhibition, my ultimate basis for judgment is whether I am being honest with myself, and this is also what determines the ultimate balance in the project.  
Pt II
Shinro Ohtake: Extreme Encounters