'Too Far to See'
January 21 to March 20, 2011
Yokohama Museum of Art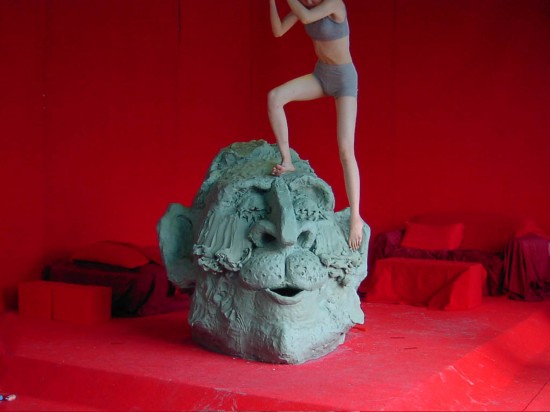 God Bless America (2002), video, 8 min 18 sec.
In 2004, Tadasu Takamine's video Kimura-san was preemptively removed from the group exhibition "Non-Sect Radical Contemporary Photography III" scheduled to be held at the Yokohama Museum of Art. The video, which has previously also been included in a performance piece, shows Takamine masturbating the titular figure, a handicapped man who is physically unable to perform the act himself. "Too Far to See" is in part a response by the artist to that incident – as explained in an introductory message from museum director Eriko Osaka – and in part, one can surmise, a mea culpa by the institution.
Not quite a survey, the exhibition brings together two recent projects alongside a selection of works made over the past decade, ranging from a group of kitsch blankets mounted on canvas stretchers and accompanied by analytical wall-texts in a deadpan examination of the architecture of museum displays, to multimedia installations incorporating programmed lights and music. With Japanese censorship laws prohibiting the representation of genitalia, it comes as no surprise that Kimura-san is once again absent here.
Instead making an appearance is God Bless America (2002) – featured in the Arsenale at the 2003 Venice Biennale – a large video projection following the attempts of Takamine and a female assistant to model two-tons of clay into a time-lapse animation of a monumentally scaled bust singing the titular song. Sequestered in a red-covered studio space with the clay, the two artists move at warp speed, manipulating the material with hands and feet, checking a computer, eating with friends, sleeping and fucking (as no genitalia are apparent, this footage is legally beyond reproach). Juxtaposed against the central animation moving in "real time," these peripheral actions gradually accumulate a reverse significance in which living and everything that goes with it becomes the Herculean/Sisyphean task, instead of the continuous shaping of the resistant mass – this heroic futility that defines art, as opposed to industry.
Nearby, Do what you want if you want as you want (2001/11) splits video footage of fleeting hand movements shot from different angles across three monitors, accompanied by a soundtrack of a woman talking about her documentation of Israeli atrocities committed in occupied Palestine, and Japanese subtitles that flash across a "news ticker"-style LED display; almost easy to miss, a wall-text included in the installation relates the story of Takamine's failed friendship with a Palestinian activist. Comprising a row of photographic panels centering on images from a wedding ceremony overlaid with text in Japanese, Korean and English, the installation Baby Insa-Dong (2004) traces Takamine's reflections on identity and prejudice in the days leading up to his marriage to his Zainichi ethnic Korean wife and the subsequent birth of their child.
These experiments in art, sexuality, politics and identity converge in the life-scale video installation (dated 2011) that shares the exhibition title, in which male and female silhouetted figures walking on- and off-screen periodically stoop down to simulate fellatio using phallic shapes that have been arranged around them. Upon leaving the darkened room of this installation, visitors discover that the phalluses, displayed in vitrines, are made of white glazed ceramic in a variety of shapes, from lifelike renderings to grotesque, stunted contortions. In these interlocking mechanisms of exposure and concealment – first through its use of silhouette and then through the ambiguity of the actual "fellated" objects – this work can be read in the specific Japanese context as a willful circumvention of the regimes of censorship and control that permeate institutional policy and continue to affect the exhibition of Kimura-san to this day.
The collected works display Takamine's admirable commitment to paradoxically baring all in order to seek the layers of humanity that unfold beyond everyday social façades. Yet as perhaps predestined by its title, "Too Far to See" is itself a tease, leaving visitors just short of being able to explore in similar depths the ideas behind the artist's practice.