Museum of Contemporary Art Tokyo is opened in the clearness Shirakawa area; and more than 20 years. I grew up with the town which changed rapidly. It is now in the up-and-coming area where a base of the creative, new culture dispatch is mixed with the scenery of the history of Fukagawa from the Edo era and the good old downtown area in clearness Shirakawa. "An MOT satellite" is an attempt digging up the charm of the town while a closed art museum going out, and cooperating with various bases of the neighborhood, and being concerned with a place and a person, memory and the history with artists and inhabitants. I develop the new urban art project that the art museum as the local member suggests art and social relation to from different angles.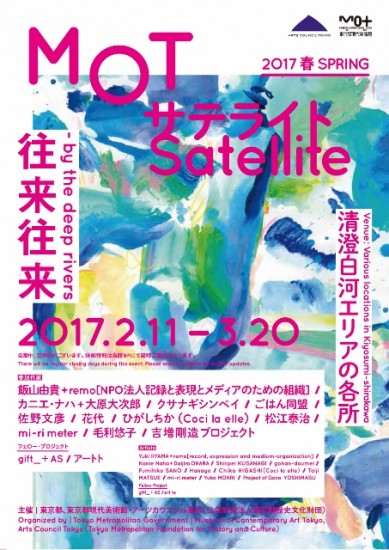 [about title "traffic traffic"]
A long time ago, as for the stage of "MOT satellite 2017 spring", Basho Matsuo holds a residence and is the ground which I go up the Sumida River and left for the trip of "the おくのほそ way". Do not change state – called "the constancy" that he achieved on this trip; an innovation done thing seems to guess the mind that this town where constipated びつくこと – continued changing into gently among a river and canals cultivated more than the times right by the times that essential. Because I feel the thing which is new that it is old, the stage of the traffic of various thought and memory of people and the figure of this town where it was together, I plan that artists and an art museum, all standing here leave it for the new traffic.
[participation writer]
Yuki Iiyama +remo [organization for NPO corporation record and expression and the media]
Kanie ナハ + Ohara University Jiro
Shinpei Kusanagi
Rice alliance
Fumihiko Sano
Charge for geisha's service
It is almost Higashi (Coci la elle)
Taiji Matsue
mi-ri meter
Yuko Mori
Gozo Yoshimasu project
(the order of the kana syllabary)
Fellow project
Cosponsorship project with a certain local characteristic alternative base and "MOT satellite"
gift_+AS
アートト
[sponsorship]
Tokyo, Museum of Contemporary Art Tokyo, arts council Tokyo (Tokyo history culture foundation)
[cooperation]
Fukagawa museum street mall cooperative / Fukagawa, Koutou-ku Edo museum others
[session]
February 11, 2017 (soil, celebration) -3 20 days a month Monday (holiday)
*There is the regular holiday during the session.
[meeting place]
Each place of the clearness Shirakawa area
I show around other latest information and the detailed information in Museum of Contemporary Art Tokyo HP.
http://www.mot-art-museum.jp/exhibition/mot-satellite-1. html
[inquiry]
03-5633-5860 (main)
Or it is hello dial
03-5777-8600