Art Museum Exhibition Page: http://www.nact.jp/english/exhibitions/2018/Ikemura2019/
Leiko Ikemura Our Planet – Earth & Stars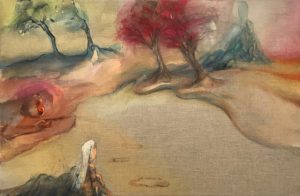 Overview
This large-scale solo exhibition focuses on the work of Leiko Ikemura, internationally acclaimed artist who has been based in Europe for many years. After moving to Spain and beginning to study art there in the 1970s, Ikemura launched her career as a contemporary artist in Switzerland before permanently relocating to Germany in the early '80s.
Exploring a wide range of media including painting, sculpture, drawing, watercolor painting, printmaking, photography, and video, Ikemura depicts various aspects of creation and change as well as the latent potential for these things. Ikemura's singularly ambiguous vision, exemplified by her integrated landscapes populated with young girls, spirits, small fantastic hybrid creatures, people and animals, easily assumes different forms from one image to the next. Her work conveys the unyielding notion that as living beings we should strive to accept the diverse existence of all things exactly as we find them. Alternatively infused with humor, affection or pain, it is precisely the modest and introspective quality of Ikemura's art that makes it such an incisive critique of today's more and more stifling society.
After some 40 years of artistic quests, Ikemura has recently turned to large landscape paintings to manifest primordial narratives on a mythic scale. In this exhibition, made up of approximately 210 works in 16 installations, we hope to share the overarching vision and worldview that Ikemura has realized in the past and continues to explore in the present.
Date
January 18 (Fri.) – April 1 (Mon.), 2019
Closed on Tuesdays
Opening hours
10:00-18:00
*10:00-20:00 on Fridays and Saturdays
*Last admission 30 minutes before closing
Venue
The National Art Center, Tokyo (Kokuritsu-Shin-Bijutsukan), Special Exhibition Gallery 1E
7-22-2 Roppongi, Minato-ku, Tokyo 106-8558
Organized by
The National Art Center, Tokyo; Kunstmuseum Basel
Admission(tax included)
General 1,000 yen (Adults), 500 yen (College students)
Advance/Group 800 yen (Adults), 300 yen (College students)
*Free admission on February 24 (Sun.), 2019 to celebrate the 30th anniversary of the Emperor's enthronement.
*Visitors who are under 18, including high school students will be admitted for free. *Disabled persons (along with the one assistant) will be admitted for free upon presenting the Disabled Person's Booklet or an equivalent form of government issued ID.
Inquiries
Tel : +81 (0)3-5777-8600 (Hello Dial)