The National Museum of Modern Art, Tokyo (MOMAT) is pleased to present a solo exhibition of the work of Kaburaki Kiyokata, from March 18 to May 8.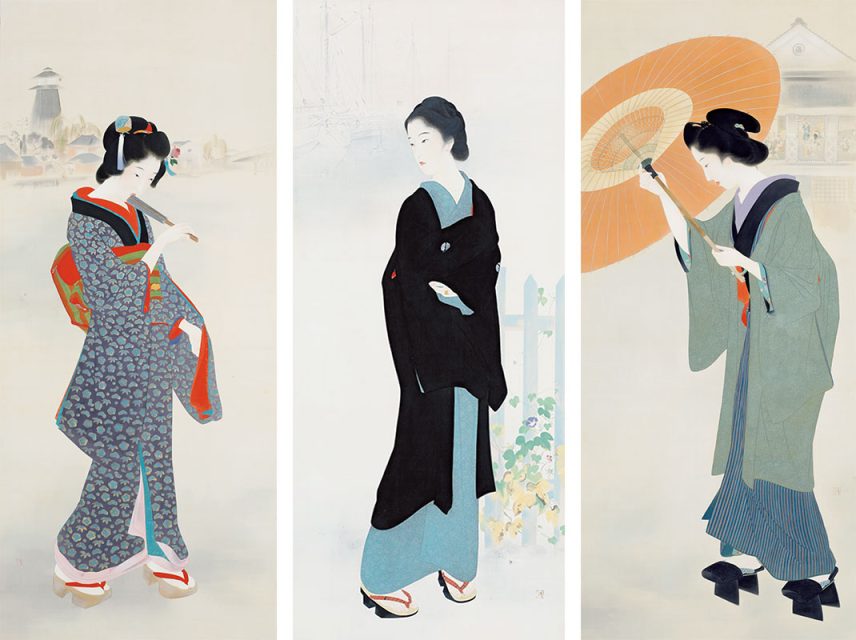 From left: Kaburaki Kiyokata Hama-cho Gashi Zone, 1930, Tsukiji Akashi-cho Town, 1927, Shintomi-cho Town, 1930 ©Nemoto Akio
Our museum has acquired one of the masterpieces by Kaburaki Kiyokata (1878–1972), Tsukiji Akashi-cho Town (1927) that had been missing for many years, along with Shintomi-cho Town and Hama-cho Gashi Zone (both 1930), a trilogy rediscovered in 2018. This is a major retrospective of the painter that presents 109 Japanese-style paintings including the trilogy.
Staying mindful of his early career as an ukiyo-e-style illustrator, Kaburaki always borrowed motifs for his works from the life of the common people, literature, and public entertainment until his last years. Paying attention to the "unchangingness" of his interest, this exhibition presents his works in parallel arrangement under several themes. As people's life and sentiments underwent radical changes after the 1923 Great Kanto Earthquake and World War II, the painter never changed his scope of interest. Kaburaki's beliefs and works will have deep resonance with people now living in Japan who have experienced earthquakes and are suffering from the COVID-19 pandemic.
Date
March 18–May 8, 2022
Time
9:30-17:00 ( Fridays and Saturdays open until 20:00 )
*Last admission : 30 minutes before closing.
Closed
Mondays except March 21, 28, and May 2; and March 22.
Ticket
Adults 1,800yen / College and university students 1,200yen / High school students 700yen
Same-day tickets can be purchased at the ticket counters, while online tickets with a designated date and time can be purchased on e-tix.
Special Website
https://kiyokata2022.jp/