The National Museum of Modern Art, Tokyo (MOMAT) is pleased to present the special exhibition Gaudí and the Sagrada Família, from June 13 to September 10, 2023.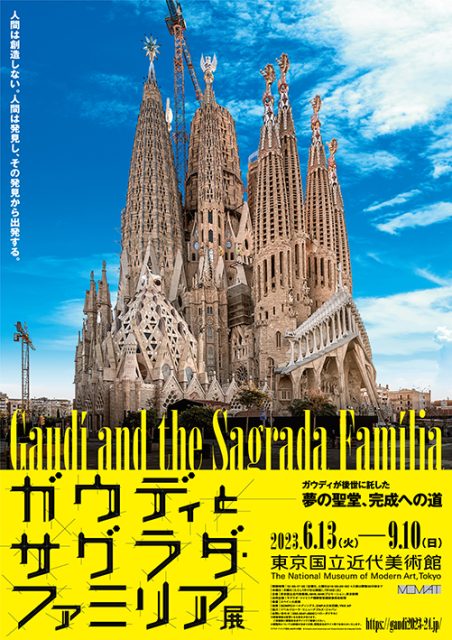 Antoni Gaudí (1852–1926), actived in Barcelona, Spain, continues to fascinate people around the world with his unique architecture unforgettable once seen, and his influence has been felt in various fields of art.
This exhibition focuses on the Sagrada Família, which has long been called the "unfinished cathedral" but is finally on track for completion, to reveal the source of Gaudí's architectural thought and creativity, as well as the social significance of this monumental cathedral project. The show will also shed light on Gaudí's unique production process, in which he developed his ideas not only through drawings but also by making numerous models, and on his comprehensive artistic orientation, which includes colorful tile coverings, furniture, steelwork decoration, and sculpture. In addition to more than 100 drawings, models, photographs, and materials, the exhibition will also feature architectural images taken with the latest technology to explore the timeless appeal of Gaudí's architecture.
—
Date
June 13–September 10, 2023
Time
10:00 a.m.-5:00 p.m. (Fridays and Saturdays open until 20:00 p.m.)
*Last admission : 30 minutes before closing.
Closed
Mondays (except July 17) and July 18
Ticket
Adults 2,200yen / College and university students 1,200yen / High school students 700yen
Same-day tickets can be purchased at the ticket counters, while online tickets can be purchased on ART PASS.
Website
Gaudí and the Sagrada Família – The National Museum of Modern Art, Tokyo (momat.go.jp)