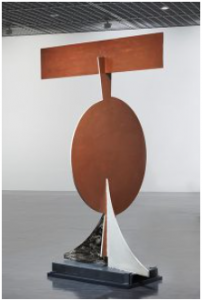 The National Museum of Modern Art, Tokyo recently purchased Circle IV (1962) by David Smith (1906-1965), one of the most renowned American postwar sculptors. This work is the centerpiece of this mini-exhibit that examines the importance of steel, newly adopted as a sculptural material, in the development of postwar sculpture. In contrast to traditional sculpture processes such as carving wood or stone, shaping clay, or casting in bronze, Smith welded steel plates and frames to connect geometric planes and lines and generate dynamic spaces, broadly expanding the possibilities of sculpture. This approach was further developed by the British sculptor Anthony Caro. Meanwhile, in Japan, sculptors working with steel emerged in the mid-1950s, treating the material with a range of methodologies. Some regarded it as an optimal material for geometric compositions, while others sought to bring it to life by working closely with its intrinsic physical properties, such as surfaces' rusting over time or their brilliance when polished. Steel is a familiar material in our daily lives, but here we invite you to enjoy the diverse faces it reveals in the hands of artists.
Location:Gallery 4 (2nd floor)
Date:June 18-September 26, 2021
Time:10:00–17:00 (Fridays and Saturdays open until 21:00)
*Last admission is 30 minutes before closing.
Closed:Closed on Mondays (except July 26, August 2, 9, 30 and September 20, 2021), August 10 and September 21, 2021
Admission:Adults ¥500 (400)
College and university students ¥250 (200)