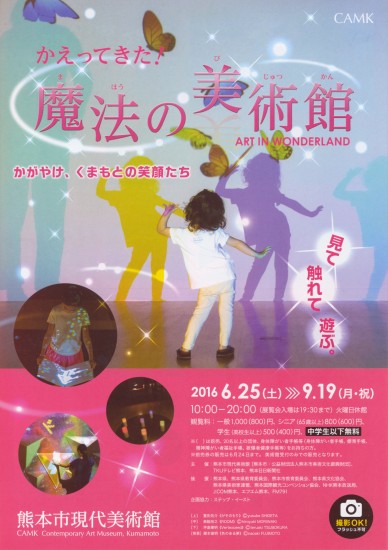 In Contemporary Art Museum, Kumamoto "came home! I hold an art museum exhibition of the magic.
I introduce many experience-based art works which I revised from an exhibition of 2013 when I had many of you enjoy it more.
Kumamoto suffered big damage by an earthquake generated in April.
I have you spend a time to feel at ease, and a heart is happy in an art museum simply because it is such time if you can regain a smile to all of you even a little.
I see it `and touch it, and the art work of the' bodily sensation type that I can participate in introduces with the latest work of top artists playing an active part in the book exhibition gathering in the cathedral in the field. Please enjoy the world such as the magic brought about by the rich idea power of artists living in the present age and technology of the tip.
[exhibition writer]
In total Teruaki Tsubokura, Kennichi Okada, Kennichi Okada + Hisashi Hiyamizu Nie (LENS), Seiichiro Matsumura, Naoaki Fujimoto, Yusuke Shigeta, Shohei Fujimoto, Yo Tanaka, Hiroyuki Moriwaki, Toshi Ogata person (takram design engineering), team Panai (Yuki Anai, Gen Kawaguchi, 張衍義, Kentaro Tezuka, 長谷川洵希, crossing the sea Kenta), a switch: 12 writer 17 works
[work introduction]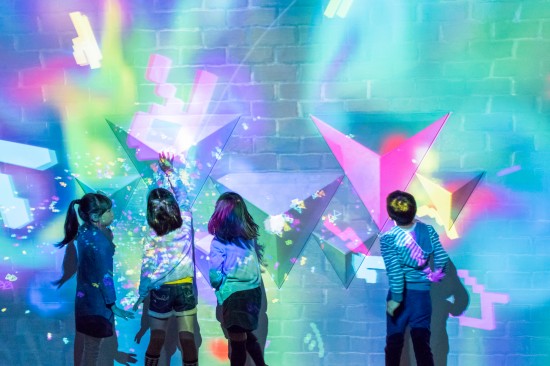 Teruaki Tsubokura <> ⓒteruaki TSUBOKURA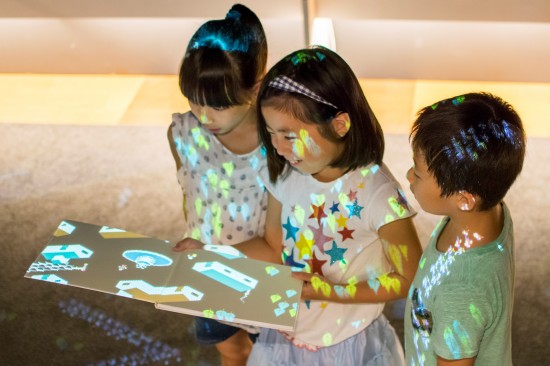 Yusuke Shigeta <> ⓒyusuke SHIGETA
[holding summary]
Period: From Saturday, June 25, 2016 to September 19 Monday (holiday) opening time: From 10:00 to 20:00 (as for the exhibition entrance until 30 minutes before closing) closed day: On Tuesday
View charges: General 1000 (800) Japanese yen, senior (65 years old or older) 800 (600) Japanese yen,
     Free of charge lower than student (more than a high school student) 500 (400) Japanese yen, a junior high student
*(the person who, as for), has a booking, more than 20 groups, a person with a physical disability notebook
Exhibition information HP
http://www.camk.or.jp/event/exhibition/magic/