I hold "space of the Takahashi collection" in Contemporary Art Museum, Kumamoto.
Takahashi collection collected by psychiatrist, Ryutaro Takahashi is the private collection that fixed Japanese contemporary art after the 1990s in the central organization. It was to have known the performance "incident" to accuse the Vietnam pacifism that life finally performed Kusama in New York in the late 1960s that was a chance. The artist who lives in battle front from head to foot with every effort at the same period. Then, 30 years later, as for Takahashi, Kusama finally obtained raw work <> (1997) for the first time. Besides, as for the interest to Japanese contemporary art of Takahashi, the sprouting, the collection accelerate a sense of duty as the Japanese collector afterward without staying. And, as for the collection that was only several points, it was in the scale that was held as an exhibition with "neoteny Japan – – Takahashi collection" (2008–10, Kirishima Open-Air Museum others patrol) as a start in the art museum of various parts of Japan.
By the book exhibition, I introduce the Takahashi collection that continues still spreading by displaying 36 writers, approximately 120 points from the collection more than 2,500 points as of 2017.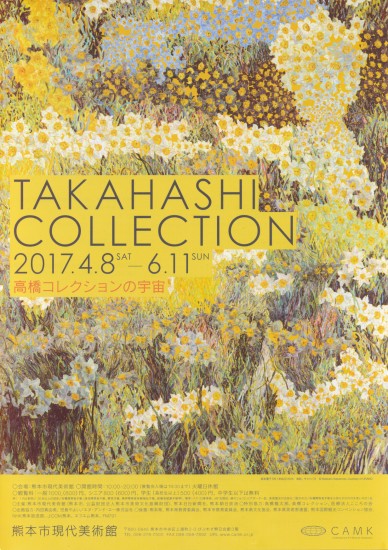 [holding summary]
An exhibition name: Space of the Takahashi collection
Period: From Saturday, April 8, 2017 to Sunday, June 11 meeting place: Contemporary Art Museum, Kumamoto 2-3, Kamitoricho, Chuo-ku, Kumamoto-shi opening time: 10:00–20:00 (as for the exhibition entrance until 19:30) closed day: On Tuesday
View charges: The public: 1000 (800) Japanese yen
     A senior: 800 (600) Japanese yen
     A high university student: 500 (400) Japanese yen
     The small, a junior high student: Free of charge
*(in) a booking, more than 20 groups
Various disability certificates (as for the physical disability certificate, the nursing notebook, the mind person with a disability welfare notebook, the health handbook of an A-bomb victim. I apply a ticket, JAF member's card, a green identification of carpet supporter, an identification of meeting of the art museum friend to one attendant toward the presentation on application), train, bus 1st.
The advance ticket is sold only in this museum until Friday, April 7.