The past and the future of Kumamoto whom Kumamoto-jo Castle, living doll, Higo snow, Michiko Ishimure … latest contemporary art meet
Of the living doll whom this museum continues researching than the opening from the commission work that wrestled on a theme of "Kumamoto ならでは" including "Michiko Ishimure" "Higo snow" "Kumamoto-jo Castle" and "a living doll" contemporary art writers playing an active part in the book exhibition globally introduce with a discovery work, document widely newly.
"Minamata" inspects "3.11" through the viewpoint of artists in the present age and, through the new beauty and the new sense of values that human dignity and harmony are suggested to as the origin, disaster to be frequent in the whole country, "Hiroshima" expect the cultural revival from a disaster, and is happy without remaining only in Kumamoto earthquake when they can feel our present Kumamoto and infinite possibility in the future of there that activity of construction work sounds through.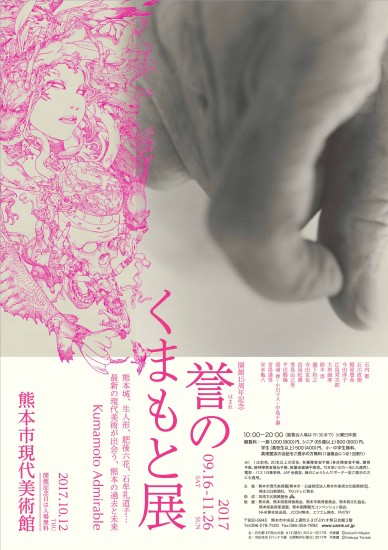 [holding summary]
An exhibition name: Kumamoto exhibit session of opening 15 周年記念誉: From Saturday, September 16, 2017 to Sunday, November 26 meeting place: Contemporary Art Museum, Kumamoto 2-3, Kamitoricho, Chuo-ku, Kumamoto-shi opening time: 10:00–20:00 (as for the exhibition entrance until 19:30) closed day: On Tuesday
View charges: The public: 1000 (800) Japanese yen
    A senior: 800 (600) Japanese yen
    A high university student: 500 (400) Japanese yen
    The small, a junior high student: Free of charge
It is presentation with an identification of meeting of the art museum friend: Free (limited because of 1 exhibition once)
* Thursday, October 12 is no charge for admission for an opening memorial day
*(in) as for the booking, the more than 20 groups, various disability certificate (certificates of the physically disabled, the nursing notebook, the welfare for mentally disabled notebook, the health handbook of an A-bomb victim. It is an application toward the ticket, the JAF member's card, the identification of green carpet supporter presentation in one attendant for application), train, bus one day.
Sponsorship: Contemporary Art Museum, Kumamoto [Kumamoto-shi, Kumamoto-shi art culture promotion foundation], Kumamoto Nihon Shimbun, the TKU Kumamoto Telecasting furtherance: Art culture promotion fund
Support: Kumamoto, Kumamoto Board of Education, Kumamoto-shi Board of Education, Kumamoto lyceum, federation of Kumamoto artist, association of Kumamoto International Tourist convention, NHK Kumamoto broadcasting station, J:COM Kumamoto, FM Kumamoto, FM791
An inquiry: Contemporary Art Museum, Kumamoto 〒 860-0845 2-3, Kamitoricho, Chuo-ku, Kumamoto-shi
Tel: 096-278-7500
Fax: 096-359-7892
Web: http://www.camk.or.jp
Twitter: camk_kumamoto
Email: gamadas@camk.or.jp