I think it's important to have a balance between the artistic value
and the economic value of a work.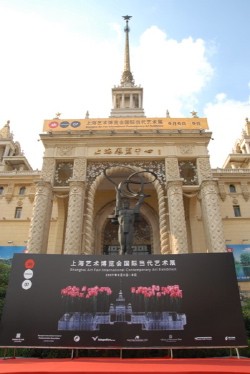 Shanghai Exhibition Center, the ShContemporary venue
Photo courtesy ShContemporary
DISCOVERIES: Discovering Contemporary is a curated exhibition held as part of the ShContemporary 09 art fair. In this interview, we talk to one of the three curators responsible for organizing the exhibition, which combines marketplace principles with traditional curating, and the accompanying lecture series about the role and significance of the exhibition.
Interview: ART iT
– At art fairs in recent years we've seen more and more cases of curators being hired to organize exhibitions separate from the fairs themselves and on unrelated topics. What are the benefits of holding exhibitions of the kinds of works that don't necessarily lead directly to sales?
Over the last 5-10 years, the role of art fairs has expanded so that they're no longer simply places where works are sold in booths but places for discussion and new encounters. They're growing into multidimensional events where expression is no longer restricted by the space of the booths. One could go as far as to say that unless they have a range of different faces designed to attract not only collectors but also curators and art fans in general, art fairs would no longer be able to fulfill such a role.
Changes occurring in Asian art fairs
– You've previously co-curated the New Territories exhibition at ARCO (Internacional de Arte Contemporaneo, Madrid). Did you notice any differences this time curating an exhibition in Asia?
As a result of the Lehman Shock, gallerists around the world are a lot stricter in selecting which fairs to attend, and because of this they're refraining from travelling to fairs in faraway locations that are expensive to reach and from entering markets where the potential for growth is unknown, meaning they're tending to all gather in places where a profit is more or less guaranteed. For those in Europe and North America in particular, China is such a place, and when experienced players in Europe and North America choose which fairs to attend in Asia, for reasons relating to things like tax and infrastructure, I think Shanghai rivals Hong Kong.
China is developing not only in terms of art fairs but also in terms of international exhibitions. This year in particular, which falls between major biennial exhibitions in the Asia region, the role fulfilled by ShContemporary in the Shanghai art scene, which has traditionally centered on contemporary art by Chinese artists, was to offer an event with a clear curatorial purpose, and in the midst of this the task assigned to DISCOVERIES was to ensure the exhibition had the qualitative appeal to attract an audience.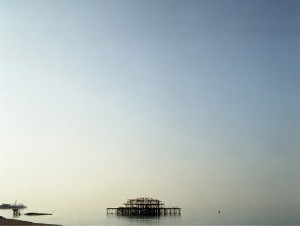 Fiona Tan West Pier I-V 2006
(I, II) b&w prints on baryta paper / (III-V) color prints 75x96cm 
Photo courtesy Wako Works of Art
Concept behind the exhibition and lectures
– How did you go about selecting the artists this time?
Until last year, DISCOVERIES was a place for picking out young talent through a process that in a sense resembled the early hiring of future graduates in Japan, but this year it was decided to look again at the underlying purpose of the event so that it wasn't simply a place where everyone longed for something new, hence the title Discovering Contemporary. I think the aim of the event is to redefine 'contemporary' or 'modern', concepts that are becoming increasingly diverse in the context of each of our cultures and societies, and to address through the individual activities of each artist the question of how to position contemporary Asia in a global context. Of course, on a personal level this also involves me considering how I should redefine and contextualize contemporary Japan, where I'm currently based.
The venue, the Shanghai Exhibition Center, was built in 1955 as a gift from Stalin to Mao Zedong and symbolized socialism, the design testifying to this history with its Stalinist architecture and Russian ethnic elements. The building has now become a symbol of capitalism as the venue for dozens of trade fairs each year, so the contrast between its past and its present is fascinating.
With regard to the selection of works, too, we chose artists whose own culture and social and political history is reflected in their work and who were likely to react in some way to this historical and political architectural space.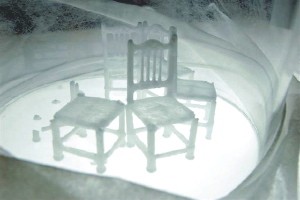 Miyanaga Aiko Dwelling in a Boat – Birthday 2009
Installation: naphthalene, mixed media d23x12.5cm (pair)
Photo form Miyanaga Aiko: Dwelling in a Boat (Mizuma Art Gallery, Tokyo
– What was the reasoning behind the selection of artists like Miyanaga Aiko and Kaneuji Teppei?
Miyanaga Aiko's work tends to be strongly associated with personal memories, but she took an interest in the historical significance of this building and is talking about exhibiting the chest works that were shown earlier in the year at the Mizuma Art Gallery. We thought we could offer something in the form of those aspects of her work that relate to giving visual expression to anonymous memories and lost memories and the presentation of ephemeral works in the context of an art fair.
In the case of Kaneuji Teppei, he was chosen because I thought I could discern a commonality between the purpose of the exhibition, which was to tie together individual contexts from (cultural, social, and political) history and memory in the information-overloaded present, and Kaneuji's attempts to reconstruct existing uses, frameworks, and boundaries by unraveling and reconstructing a range of everyday objects.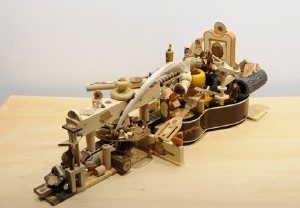 Kaneuji Teppei Muddy Stream from a Mug #10 2009
Guitar, wood, found objects, hot-melt glue,
cutouts of coffee-stained paper 40×111.5×44.5cm
(c) Teppei Kaneuji Photo courtesy ShugoArts
The relationship between curators and the market
– This time you're curating within the framework of an art fair in the form of ShContemporary, but in general what do you regard as a healthy relationship between curators and the market?
I think it's important to have a balance between the artistic value and the economic value of a work. I have very little interest in works whose economic value alone increases irrespective of any real artistic value or assessment on the back of overheated popularity. At the same time, works such as project-type works or ephemeral works that exist nonmaterially and whose economic value is difficult to determine also deserve to be (artistically) assessed and remembered in the annals of art history. I think it's wonderful to have opportunities like this to be able look at the art scene from a different angle and think about maintaining a healthy relationship between the two.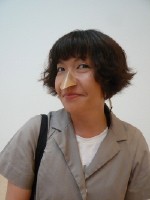 Kataoka Mami
Worked at the Tokyo Opera City Art Gallery before taking on her current positions as Chief Curator at the Mori Art Museum and International Associate Curator at The Hayward Gallery. In charge of curating Ai Weiwei: According to What?, currently on at the Mori Art Museum (through 11.8). Also co-curator of Platform Seoul 2009 (through 9.25).
DISCOVERIES: Discovering Contemporary
http://www.shcontemporary.info/sh_exhibitor.asp?m=100&l=2&a=&ma=283&c=4291&p=100DISCOVERIES
Lecture series
http://www.shcontemporary.info/sh_internal.asp?m=100&l=2&a=&ma=283&c=4291&p=100DISCOVERIES_1
ART iT Snapshots: DISCOVERIES: Discovering Contemporary
ART iT Interview: Colin Chinnery, Director, ShContemporary 2009