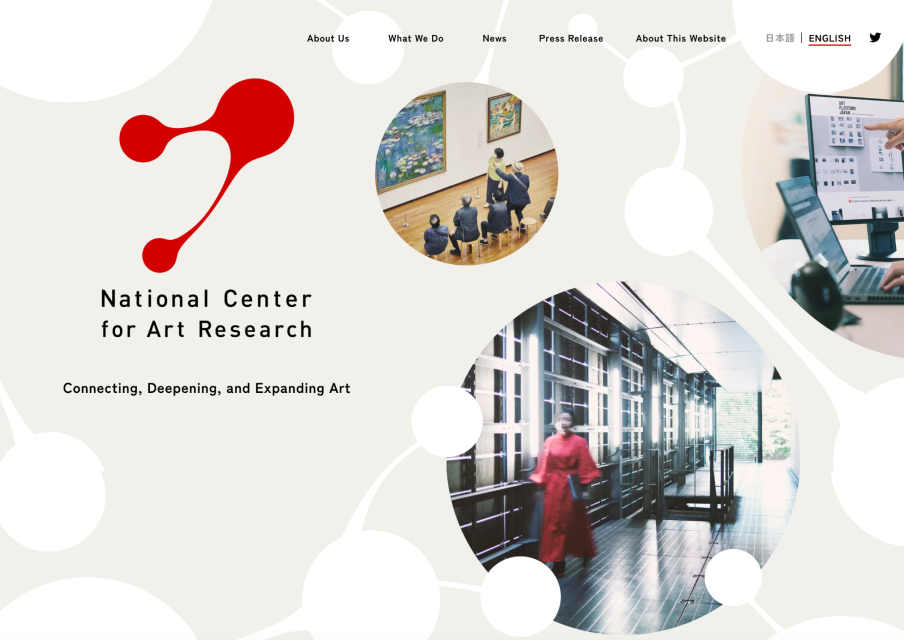 Image via National Center for Art Research website
On Tuesday, March 28, 2023, the Independent Administrative Institution National Museum of Art (Headquarters: Chiyoda-ku, Tokyo, President: Eriko Osaka) launched the National Center for Art Research ("NCAR", Director: Mami Kataoka) within the Institution as the first comprehensive hub to support the sustainable and international promotion of art in Japan.
Since 2018, Bunka-cho (Agency of Cultural Affairs, Government of Japan) maintained the five-year Bunka-cho Art Platform Japan project to support the sustainable development of contemporary art in Japan and further its international reputation; initiated and operated the Art Platform Japan, an online resource that gathers information on contemporary Japanese art. Art Platform Japan has been working toward building an infrastructure for the future development of contemporary art in Japan based on the following three key areas:
① Collections Search
"SHŪZŌ: The Japanese Museum Collections Search" is a retrieval system for searching for works of art in the collections of registered museums and equivalent institutions across Japan.
② Readings
An online library of seminal and previously untranslated writings on contemporary Japanese art made available in English to bolster international research of contemporary Japanese art.
③ Research Projects
A database of contemporary Japanese art exhibitions in Japan and abroad, and a survey of historic galleries in Japan.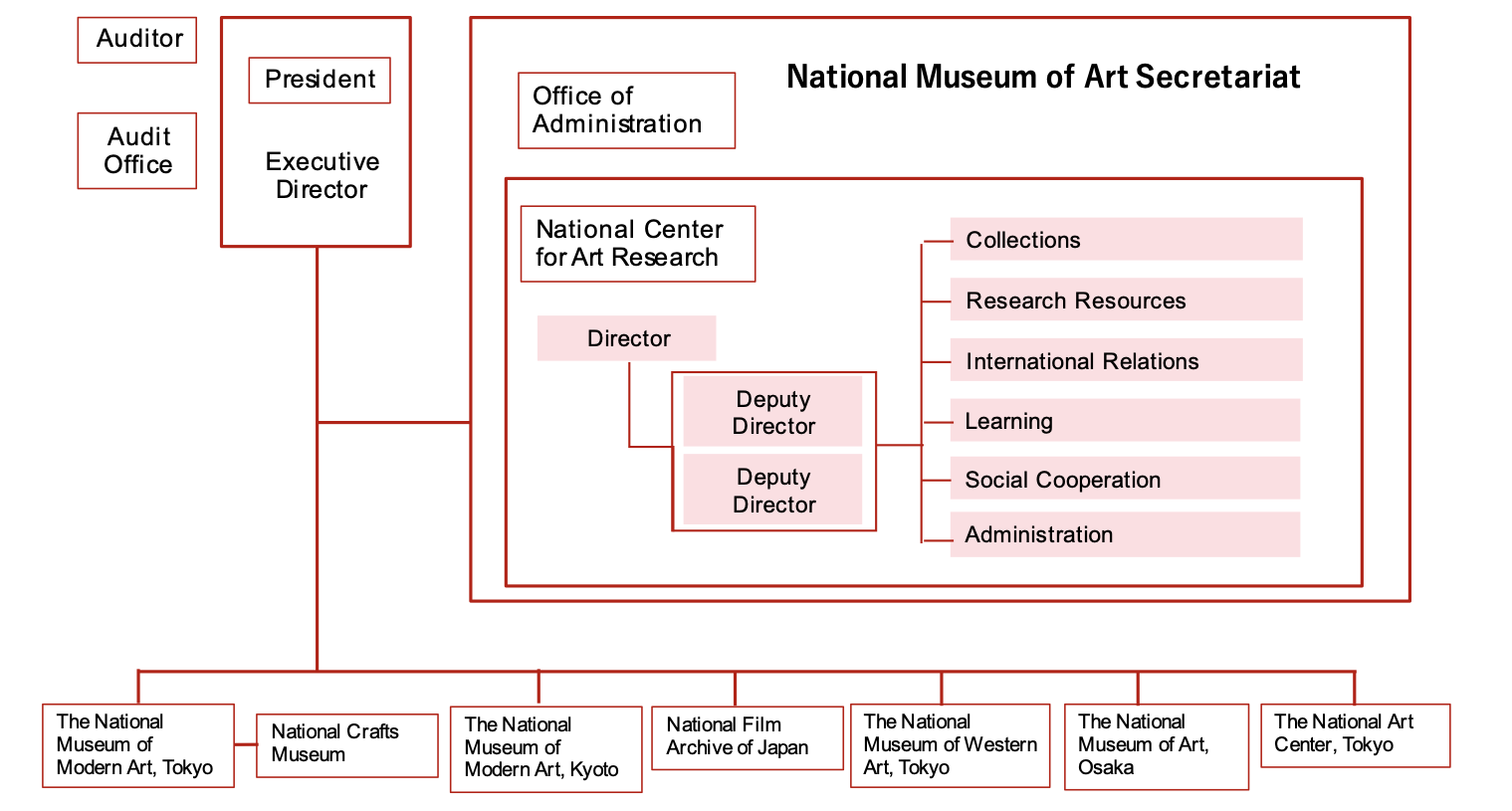 Independent Administrative Institution National Museum of Art National Center for Art Research Organization Chart
As a center for carrying forward and further advancing the Art Platform Japan's achievements, the newly-established NCAR, with the mission of "connecting, deepening, and expanding art," will aim to work closely with society at large—in addition to conducting research in selected areas of expertise—and promote the following programs to develop activities in the contemporary Japanese art scene: "Promoting Utilization of Museum Collections (Collections Group)," "Compiling and Disseminating Research Resources (Research Resources)," "Developing International Relations and Networks (International Relations)," and "Enhancing Learning (Learning Group)."
Collections Group (led by Shogo Otani)
NCAR will work together with national art museums and other institutions throughout Japan to contribute to the active use of research activities and museum collections in exhibitions, and deepen local art engagement. NCAR will also work to promote art conservation and restoration activities, as well as disseminate research findings.
Research Resources Group (led by Masako Kawaguchi)
NCAR will take over the aforementioned online database SHŪZŌ and continue the media arts database, and carry on activities as an international research center.
International Relations
NCAR will translate and disseminate literature on Japanese art, build an international network through invitational workshops with experts from abroad, and promote activities to support the international promotion of living artists.
Learning Group (led by Akiko Ichijo)
NCAR will collaborate with universities and health and welfare institutions to conduct surveys and research, focusing on the functions of art in people's health and well-being. NCAR will also implement research on current issues to develop materials and tools to improve accessibility in a way that allows everyone to take part in art and museums.
NCAR Director Mami Kataoka (Mori Art Museum Director) commented, "As the world's political, economic, and social concerns grow increasingly complex and uncertain, the pursuit of inclusivity, diversity, and sustainability have emerged as urgent global-scale issues that transcend any one field. Due to global trends in art and museums, there is a need to take a strategic and long-term approach with a view to the next generation in order to connect art in Japan with the global art world, and expand these relations and develop them in a sustainable manner. The National Center for Art Research is poised to begin its work as a platform that at once strives to foster a greater permeation of art in society, while at the same time, deepening expertise in the field. As we reflect a wide range of views, and engage in learning and discussion, I hope to join with everyone in considering how we might best promote art in Japan." However, in comparison with the project scale, the number of staff members is small at twenty-six—which includes Kataoka, who concurrently serves as NCAR Director, and Shogo Otani (Deputy Director of the National Museum of Modern Art, Tokyo), who heads the group for promoting the utilization of artworks. NCAR is currently accepting applications for a Research Fellow (Senior/Fixed Term) to work in international promotion and relations.
Independent Administrative Institution National Museum of Art
National Center for Art Research (NCAR):
https://ncar.artmuseums.go.jp/en/
Location: Kitanomaru Square (2F) 1-13-12 Kudan-Kita, Chiyoda-ku, Tokyo 102-0073, Japan