4.4 – 6.21
Casula Powerhouse (Sydney)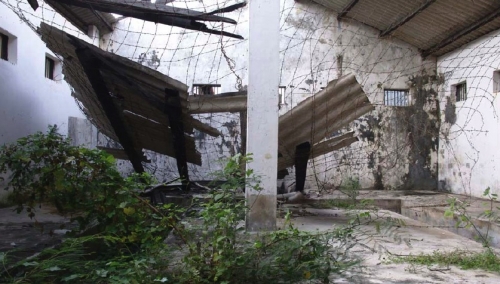 Dinh Q. Lê The Penal Colony: A Mapping of the Mind, 2008
4 channel video installation
Courtesy the artist and Casula Powerhouse
Even taking a seemingly innocuous look back decades after a conflict on the scale of the Vietnam War can still make tensions boil over.
Set to coincide with 34 years after the war officially ended, this exhibition has already drawn protests from hundreds of members of Australia's Vietnamese community who say the show takes sides with the communist Viet Cong – by namely focusing on the cancercausing effects of Agent Orange – and does not portray the war as a defensive one.
Controversy aside, paintings, installations and multimedia works on display here recall that warfare in the Vietnam era was mediated as never before, bringing the conflict directly into people's living rooms in almost instantaneous fashion.
Some 25 artists from Vietnam, Australia, South Korea, the United States and France were commissioned to create works for the project, the third in a series reflecting on the conflict in which Australia fought alongside the United States and others as an ally of South Vietnam.
Australia itself played no small part in the war, where 520 of its troops lost their lives. And upwards of 90,000 Vietnamese refugees had emigrated to Australia by the mid 1980s. Dinh Q. Lê, part of a generation of art ists who grew up in Vietnam but moved to the United States at a very young age, here takes a look inside Con Dao Island prison, where Vietnamese political prisoners were held captive and subjected to tor ture by the South Vietnam government and its US backers.
Par is and Düsseldorf-based Liza Nguyen uses historical photographs of women, while Dennis Trew, himself a Vietnam War veteran with the Royal Australian Navy, examines loss and trauma through photographs, text and collage.
Shaun Gladwell, Yoo Soon-mi and Trang Trong Vu are among the other featured artists.
"One of the effects of the Vietnam War was the development of the Vietnamese diaspora in the world," explained the show's curator, Boitran Huynh-Beattie. "So when we talk about the aftermath of the war, one takes into account the global commonality of experience."
Regardless of which side of the conflict people were on, they all experienced war and its traumas – to the body, to the mind, to culture – these artists seem to say.
The collective experience of trauma, in turn, unites individuals across the many real and imagined barriers built up over time. (Olivia Hampton)