THE YEAR'S MOST MEMORABLE EXHIBITIONS IN THE GREATER TOKYO AREA
The Editors
HI-RED CENTER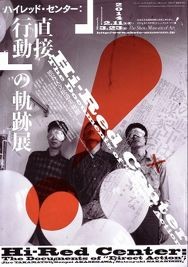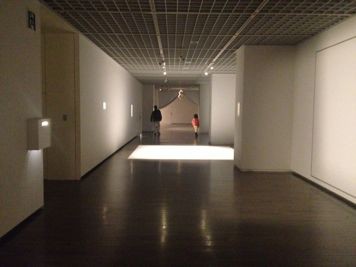 Left: Publicity material for the Shoto Museum of Art's Hi-Red Center exhibition. Right: Installation view of Jiro Takamatsu: "Mysteries" at the National Museum of Modern Art, Tokyo. Photo ART iT.
Hi-Red Center: "The Documents of 'Direct Action'"
February 11 – March 23
The Shoto Museum of Art
"'The Principles of Art' by Genpei Akasegawa: From the 1960s to the Present"
October 28 – December 23
Chiba City Museum of Art
Jiro Takamatsu: "Mysteries"
December 2 – March 1, 2015
The National Museum of Modern Art, Tokyo
Originating at the Nagoya City Art Museum in late 2013, "The Documents of 'Direct Action'" kicked off a year of exhibitions related to Hi-Red Center, the short-lived but seminal postwar avant-garde group founded by Jiro Takamatsu, Akasegawa Genpei and Natsuyuki Nakanashi. With a wink to Genpei Akasegawa's Thousand-Yen Note Trial, the organizers marshaled a range of archival materials, as well as existing works, into an engaging display through the conceit of the exhibition-as-investigative dossier, with precise information about the time and place of each event, details on the participants and witnesses, and photographs and other documentation arranged as supporting "evidence." Highlights included the inclusion of projects by lesser-known members of the group, such as Tatsu Izumi's proto-Relational "Events" exhibition held in July 1963 at the legendary Naiqua Gallery in Shimbashi, where the artist emptied the space, numbered and labeled the permanent fixtures, and then provided a water cooler with powdered orange juice for visitors to drink.
In October, the Chiba City Museum of Art opened its retrospective of Genpei Akasegawa just days after his death (due to health issues). The sprawling exhibition covered Akasegawa's entire career, from works he made as a teenager and student, including "Carvings to Take Away the Pain," small wooden figurines loosely modeled on African sculpture, which the young artist carved from scrap material while suffering from a debilitating stomach ulcer, as well as examples of the manga illustrations, writings and photographs he made following his time in Hi-Red Center. The centerpiece was a room of materials relating to the Thousand-Yen Note Trial, which saw artists and critics – as well as artworks – making appearances in court to defend Akasegawa, who was charged with counterfeiting after police found out about the invitation to his 1963 solo exhibition at Shinjuku Dai-ichi Gallery, "On the Ambiguous Ocean," featuring a reproduction of a 1000-yen note on one side, and exhibition information and other motifs on the reverse.
In contrast to the Akasegawa exhibition, the Jiro Takamatsu exhibition at the National Museum of Modern Art in Tokyo made only passing reference to its subject's work with Hi-Red Center, instead focusing on the theoretical underpinnings of Takamatsu's practice. Takamatsu is perhaps now best known for his paintings of shadows of figures and objects "projected" onto a white ground, a conceptual approach aptly described in the title of one 1965 sketch as an "absence generation device." Visitors entered through a darkened hallway set up with various staged light effects, the better to understand the depiction of shadows as following a reversed logic of perspective, while the works were arranged in an open-floor plan that allowed for different sections of the exhibition to overlap, and brought a fresh perspective to the museum space. The exhibition was completed by an elevated wooden stage, roughly the size of Takamatsu's former studio, from which visitors could survey the room, or relax and read copies of books that were in Takamatsu's library. Indeed, MoMAT's integration of the visitor experience into the exhibition architecture was unique among Japanese institutions this year, and is a positive reflection of Takamatsu's commitment to thinking beyond the frame of representation.
GALLERIES MAKE HISTORY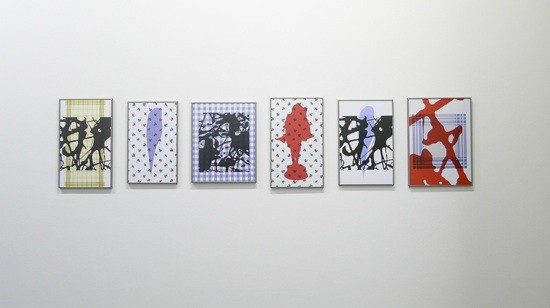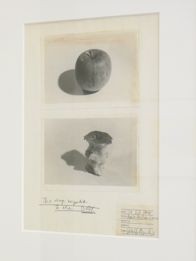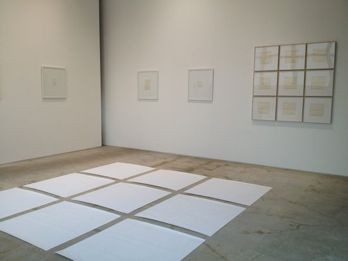 Clockwise from top: Daan van Golden: "Made in Tokyo" at Misako & Rosen; Yutaka Matsuzawa: "Begin with Vanishment" at Misa Shin; and Shuzo Azuchi Gulliver at Aoyama | Meguro. All: Photo ART iT.
Yutaka Matsuzawa: "Begin with Vanishment"
April 24 – June 14
Misa Shin Gallery, Tokyo
Daan van Golden: "Made in Tokyo"
April 27 – June 1
Misako & Rosen, Tokyo
Shuzo Azuchi Gulliver
September 13 – October 11
Aoyama | Meguro, Tokyo
With the senior members of the Kiyosumi gallery complex winding down their run in the former warehouse space, and harsh market conditions making it rough for emerging programs, 2014 was an off-year for galleries, with the commercial scene in general having a routine feel to it. But a number of exhibitions dealing with historical material stood out as the kind of ambitious projects that make galleries relevant, and as important opportunities to get to know relatively under-appreciated artists. Organized with support from the Mondriaan Foundation, Misako & Rosen's exhibition of the Dutch artist Daan van Golden, who lived in Tokyo from mid-1963 to late-1964, unearthed important connections between the Japanese art scene of the time and the use of appropriation and reproduction in Van Golden's practice, as well as the latter's influence upon contemporary artists exploring the overlaps between decorative patterning and abstraction. Also in April, Misa Shin Gallery's presentation of works by Yutaka Matsuzawa – many taken from the editioned Yutaka Matsuzawa ψ Box (1983), among them the imaginary Nine Meditations Chamber (1977), combining text instructions with blank sheets of white paper arranged on the floor – provided a window onto one of Japan's early conceptual artists. In September, Aoyama | Meguro's small but focused display of older and recent works by Shuzo Azuchi Gulliver – his first solo exhibition with the gallery – shed light on an enigmatic artist perhaps best known for contracting out the preservation of individual body parts, in the event of his death, to other artists, curators and collectors. Taka Ishii Gallery's exhibition of Martin Kippenberger, opening in January 2015, will set a high standard for the year to come.
INTERNATIONAL EXHIBITIONS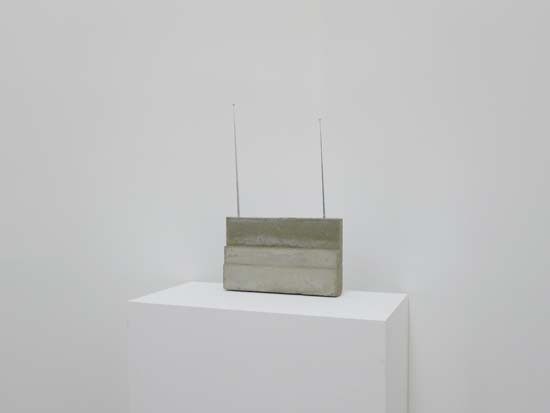 Installation view of Isa Genzsken's World Receiver (2011) at the Yokohama Museum of Art, in the Yokohama Triennale 2014. Photo ART iT.
Sapporo International Art Festival 2014
July 19 – September 28
Multiple venues, Sapporo
The Yokohama Triennale 2014: "ART Fahrenheit 451: Sailing into the sea of oblivion"
August 1 – November 3
The Yokohama Museum of Art & Shinko Pier Exhibition Hall, Yokohama
The 5th Fukuoka Asian Art Triennale: "Panorama of the NextWorld – Breaking Out into the Future"
September 6 – November 30
The Fukuoka Asian Art Museum
Directed by artist Yasumasa Morimura, the Yokohama Triennale 2014 was the year's premier international exhibition in Japan. Reflecting its literary theme, the exhibition was divided into chapters that thought-provokingly explored the relations between art, memory and obsolescence. Installed in the middle of the Yokohama Museum of Art, Michael Landy's massive Art Bin (2014) was the exhibition centerpiece – matched in scale and exuberance by installations such as Miwa Yanagi's mobile stage truck, which provided a site for gravity-defying pole dancing performances, and Shinro Ohtake's wheeled shed assembled from scrap materials and photographs – but many of the other works were distinguished by intimate reserve, apparent, for example, in René Magritte's small, black-and-white photographs from the portfolio "The Fidelity of Images" (1935), and Melvin Moti's film No Show (2004), depicting an empty Hermitage Museum through a single image accompanied by a voice track.
In Sapporo, another artist, the musician Ryuichi Sakamoto, was in charge of the inaugural Sapporo International Art Festival 2014. Sakamoto was forced to prioritize his health after being diagnosed with throat cancer in the weeks leading up to the festival's opening, but nevertheless put his stamp on the festival and city, both by contributing his own works and through commissioning multimedia projects for public space. The installation, at the Sapporo Art Museum, of sculptures carved from tree trunks by the postwar-period Ainu artist Bikky Sunazawa (1931-89) was one of the exhibition's triumphs.
Founded in 1999, the Fukuoka Asian Art Triennale launched its fifth edition in September. Organized from its inception by the Fukuoka Asian Art Museum, the festival draws upon a wealth of experience and contacts, as well as a unique residency program, to present one of the most distinctive exhibitions in Japan, where international surveys still skew toward a focus on Europe and the US. With the theme "Panorama of the NextWorld – Breaking Out into the Future," FT5 had an emphasis on emerging artists from 21 countries and territories, ranging from Bhutan and Brunei to Nepal, Mongolia and Myanmar, as well as China, India and Korea. This year's three major international exhibitions in Japan also featured a groundbreaking collaborative initiative, with special presentations on Sapporo and Fukuoka integrated into the structure of the Yokohama Triennale.
PHOTOGRAPHY/MEDIA/FILM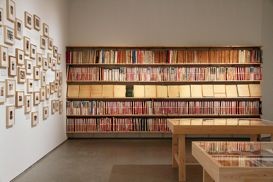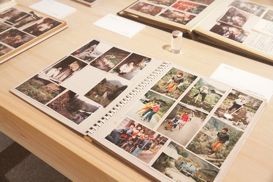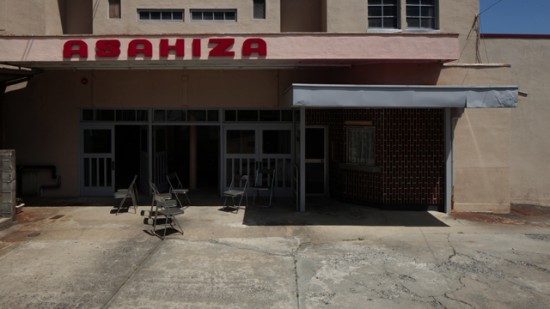 Above: Installation view of Tazuko Masuyama: "Until Everything Becomes a Photograph," courtesy the Izu Photo Museum. Below: Still from Asahiza – Ningen wa, doko e iku (2013), by Hikaru Fujii.
Tazuko Masuyama: "Until Everything Becomes a Photograph"
October 6, 2013 – July 27, 2014
Izu Photo Museum, Shizuoka
Shiro Takatani: "Camera Lucida"
December 10, 2013 – January 26, 2014
The Tokyo Metropolitan Museum of Photography (Syabi)
Hikaru Fujii: ASAHIZA – Ningen wa, doko e iku
November 15-21
Eurospace, Shibuya
Born and raised in the village of Tokuyama, Gifu Prefecture, Tazuko Masuyama began making photographs in 1977, at the age of 60, in order to document her home, her neighbors and their environs before they were inundated by a planned dam project, and continued shooting until her death in 2006 (the dam was completed in 2008). Capturing everything from local coming-of-age ceremonies to school life and funerals as well as the surrounding landscape, these photographs are shot through with vitality, pathos and temporal complexity: half-naked children splashing in a mountain river; the shocking sight of a small shrine knocked on its side; a poem, scrawled onto a wall, that reads Dete iku mono no / kanashisa o / aa, dare ga wakatte / kureyou ka / Waga itoshiki / yama yo, kawa yo (Oh, who can share the sorrow of the one who has to leave? My beloved mountains, my beloved rivers!). Giving voice not only to the village's inhabitants but also the land itself (through field recordings of festive chants and birdsong, or pressed plant specimens, in addition to the photographs), Masuyama's lifework also suggests a unique form of personal protest against the impersonal powers of big government and big contractors. The exhibition was all the more poignant in light of the repeated blows this year to democratic process from the Shinzo Abe administration's railroading through parliament of the State Secrets Law and the reinterpretation of the postwar constitution to allow for the right to collective self defense, euphemistically referred to as "proactive pacifism."
Amazingly, "Camera Lucida" was the first institutional solo exhibition ever in Japan by Shiro Takatani, one of the key members of Dumb Type, the multimedia performance group primarily active in the late 1980s and 1990s. This compact exhibition in the basement gallery of Syabi introduced a number of Takatani's photographic works and video documentation of a performance piece investigating the mechanics of the titular optical device, and the differences between mechanical and physical vision. While it would have been great if it had included even more works, the exhibition convincingly communicated the serious technical questions driving Takatani's practice and his ongoing exploration of the relations between media, performance and subjective experience.
Hikaru Fujii's film ASAHIZA – Ningen wa, doko e iku ka (Asahiza – Where is humanity headed?) (2013) centers around the historic Asahiza cinema, built in 1923 in the town of Minamisoma, which now finds itself within the 30-kilometer evacuation zone surrounding the Fukushima Daiichi Nuclear Power Plant. The film is structured around documentary footage of the building and of the people of Minamisoma recounting episodes about the cinema and its role in the history of the town, into which is interspersed scenes of a tour group from Tokyo, organized by Fujii, who have come to inspect the site. Fujii counters the image of "Fukushima" that has embroiled the land and its residents since March 11 (as well as those of us who look upon them), but the film also resists falling into the nostalgic image of stories about cinema/film. Certainly, the attempt to resist the power of images through film is contradictory. But it is perhaps for this reason that the film's viewers can imagine the "future of humanity" that is projected on the screen of the Asahiza, even if it escapes capture within the work itself.
ARCHITECTURE, DESIGN, OTHER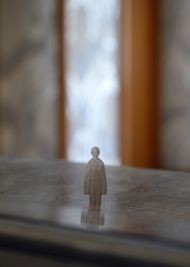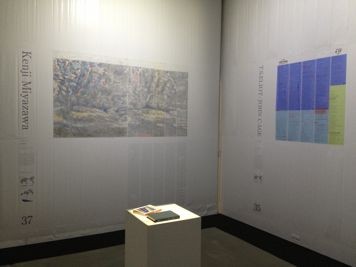 Left: Installation view of Rei Naito at the Tokyo Metropolitan Teien Art Museum. Photo Naoya Hatakeyama. Right: Installation view of Hiroshi Hara: "Wallpapers" at the Ichihara Lakeside Museum of Art. Photo ART iT.
Hiroshi Hara: "Wallpapers"
October 4 – December 28
Ichihara Lakeside Museum of Art, Ichihara
"Persona 1965"
November 5-27
Ginza Graphic Gallery
Rei Naito: "the emotion of belief"
November 22 – December 25
The Tokyo Metropolitan Teien Art Museum
blanClass, Yokohama
Year-round
Staged at the remote Ichihara Lakeside Museum of Art in Chiba, "Wallpapers" was worth the effort for those who made the trek. Perhaps best known as the futuristic vision behind projects like the Umeda Sky Building in Osaka and the Kyoto Station Building, Hiroshi Hara turned literary, philosophical and theoretical texts – ranging from the Chinese classic Zhuangzi and the Greek Odyssey, to mathematical treatises by Leibniz and Poincaré, and from Kafka's The Castle to TS Eliot's "The Waste Land" and Kenji Miyazawa's Night on the Galactic Railroad – into the basis for conceptual architectural/meta-physical sketches on sheets of ethereal tracing paper that covered the walls of the museum.
In November 1965, leading young designers including Kiyoshi Awazu, Ikko Tanaka, Makoto Wada and Tadanori Yokoo took over the eighth floor gallery of the Matsuya department store in Ginza, where they mounted an exhibition proclaiming their vision for contemporary graphic design. Revisiting that historic moment, Persona 1965 allowed contemporary visitors to see iconic posters and other design works, including Shigeo Fukuda's slyly satirical graphic reinterpretation of Shakespeare's Romeo and Juliet, in the context of their own time, and the critical lens of our own present.
One of Tokyo's most enjoyable art venues, the Tokyo Metropolitan Teien Art Museum reopened in late November after a three-year hiatus for the refurbishment of its main building – an Art Deco mansion built in 1933 for Prince Asaka Yasuhiko and his young family – as well as the construction of a new annex with more conventional exhibition facilities. For the first exhibition program in the new space, the museum's curators understandably chose to showcase the mansion itself, and its exquisite details, such as delicately rendered wall-paintings of Arcadian landscapes, designer chandeliers and dramatic juxtapositions of wood, metal and stone textures. Rei Naito's minimalist intervention into the space of tiny, hand-carved wooden figurines, perched on windowsills or facing mirrors, provided an ethereal contrast in scale to the grand proportions of the building, while also evoking stolen moments from the lives of its former inhabitants. More figurines and a group of monochrome white paintings inaugurated the white cube of the annex.
Celebrating its fifth anniversary this year, the Yokohama-based alternative space blanClass has organized one-night-only live art events every Saturday since 2009. The "one night" restriction was conceived by director Haruo Kobayashi with the idea that it would prompt participating artists (and, occasionally, critics and curators) to integrate "different" channels of thought into their regular creative practices. While they are given broader visibility through streaming broadcasts and a comprehensive online archive, even without taking a clear form, the accumulated results of this initiative, along with the experiences of the participating artists and audience members, have the capacity to gradually – and yet in a highly critical way – alter stalled, traditional modes of art. Now entering its sixth year, blanClass assuredly will not get stuck in any one model, but instead continue seeking out "different" forms as it ceaselessly expands and renovates its conceptual underpinnings. A book commemorating five years of blanClass, provisionally titled This is Not An Archive, is forthcoming.
HONORABLE MENTIONS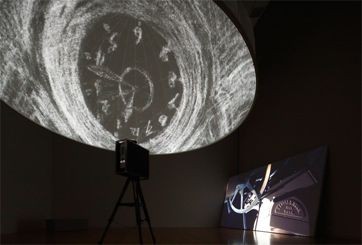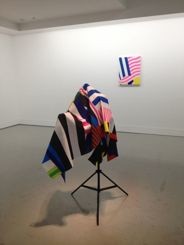 Left: Installation view of the multimedia installation Lenticular (2013), in Hiraki Sawa: "Under the Box, Beyond the Bounds" at Tokyo Opera City Art Gallery – photo Kioku Keizo. Right: Installation view of works by Shunsuke Imai at the Shiseido Art Gallery – photo ART iT.
Hiraki Sawa: "Under the Box, Beyond the Bounds"
January 18 – March 30
Tokyo Opera City Art Gallery
Tetsumi Kudo: "Your Portrait"
February 4 – March 30
The National Museum of Modern Art, Tokyo
Shunsuke Imai: range finder, shiseido art egg, vol 8
February 7 – March 2
Shiseido Art Gallery, Tokyo
Yoshio Shirakawa: "dada, dada, da"
March 15 – June 15
Arts Maebashi
One of the year's most spectacular solo exhibitions, Hiraki Sawa's "Under the Box, Beyond the Bounds" transformed the Tokyo Opera City Art Gallery into a maze of depthless, blackened rooms punctuated by large-scale projections of the artist's multimedia works incorporating video, animation and sound. Some works had been previously exhibited in Japan, but others came as a surprise, such as the immersive Lenticular (2013), with its illuminated canopy of moving images.
Opening in late 2013 at the National Museum of Art, Osaka, "Your Portrait" was a comprehensive – if somewhat by-the-book – overview of the career of Tetsumi Kudo, who was part of the postwar anti-art movement centered on the annual Yomiuri Independent exhibition in Tokyo before moving to Paris in 1962. Highlights included the room-sized installation Philosophy of Impotence, or Distribution Map of Impotence and the Appearance of Protective Domes at the Points of Saturation (1961-62), but one left with the feeling there is still room for further critical interpretation of Kudo's work in the Japanese context.
Organized as part of the Shiseido Art Egg Prize for artists in their 20s and 30s, Shunsuke Imai's exhibition of colorful, hard-edged abstractions at the Shiseido Art Gallery achieved a spatial resonance that is exceedingly rare among young Japanese painters, distorting the atmosphere of the gallery itself through dizzying combinations of eye-popping yellows, pinks, blues, whites and blacks arranged in billowing, flag-like stripe patterns that grudgingly squeezed into the two-dimensional plane of the canvas. Identifying a painterly aesthetic that responds to the conditions of the digital age, Imai deservingly took home this year's prize.
Yoshio Shirakawa left Japan for France in 1970 to study philosophy, only to switch to art once he got there. He eventually continued his studies in Germany, where he experimented with performance art, and then became interested in the history of the avant-garde in Japan, going so far as to organize an exhibition, "Dada in Japan: The Japanese Avant-Garde 1920–1970: A Photo-Documentation" at Kunstmuseum Düsseldorf, before returning to Japan and settling in Maebashi. This exhibition covered both tracks of Shirakawa's career as artist and researcher, while its commissioning of new collaborations between Shirakawa and younger artists suggests an innovative model for other regional art centers to follow.
Return to Index
Things Worth Remembering 2014: Exhibitions