III. ARCHIVES
Since the year 2000 there has been a notable increase in attempts both in Japan and beyond to review the art of the 1960s and '70s and to uncover the works of neglected artists. As social problems caused by economic imbalances have also become an increasingly important them in art, exhibitions in Europe dealing with the period around 1968 when art and social issues were indivisible, as well as with political resistance movements like the German Red Army Faction, have particularly stood out – in concert with the emergence of young artists making works based on or incorporating historical materials. In Japan what has been remarkable in this regard is that the tendency has been for young researchers to approach such material from an objective, historical perspective, as opposed to older peers recording the activities of their contemporaries. Contrasting with the rise of spectacular, large-scale exhibitions, one reason for this trend may simply be that archival exhibitions based on research into institutional collections, which can be produced on a tight budget, are a practical solution for museums suffering under budget cuts. While it is entirely laudable that such exhibitions are now a regular part of the art landscape, one also hopes that they can be used effectively along with continued exhibitions of contemporary artists.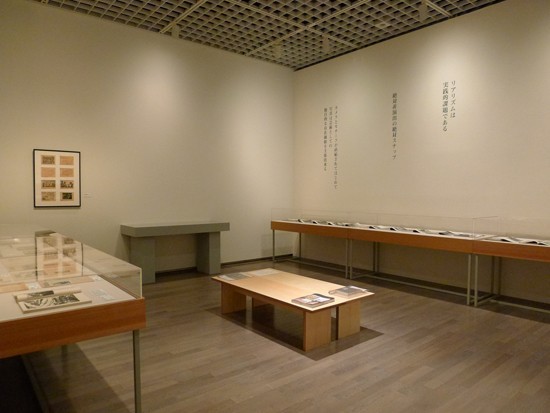 Installation view of "Experimental Ground 1950s," part of "Art Will Thrill You! The Essence of Modern Japanese Art" at the National Museum of Modern Art, Tokyo, 2012. Photo ART iT.
Chambres d'Amis: Collection Presentation
An exhibition that will remain in the history of contemporary art, "Chambres d'Amis" was organized in 1986 by Jan Hoet, who invited artists to produce and exhibit installation works outside of the museum at private homes across the city.
After the exhibition's conclusion some of the works were acquired by SMAK, where they were recently displayed in an exhibition of the same name as part of the citywide project "Track." However, putting into relief the difficulties of working with archives, even with Daniel Buren's recreation of the apartment in which he exhibited, the display in the museum radically departed from the original plan, raising questions about how to document events that occurred outside of institutions, and how to preserve works that depart from established formats of conceptual art.
Details: March 16 to November 4 at SMAK, Ghent.
A Year from Monday. 365 Days Cage
Beginning September 5, 2011, on what would have been John Cage's 99th birthday, and continuing for an entire year, this energetic project commemorating Cage's centennial provided a multi-faceted introduction to his works through concerts, exhibitions, performances and other events incorporating not only Cage's music and art works but also those of the artists who influenced him, as well as his friends and peers and his students. Although not directly related, this also extended to works strongly influenced by Cage, such as Tacita Dean's Merce Cunningham performs STILLNESS (in three movements) to John Cage's composition 4'33" with Trevor Carlson, New York City, 28 April 2007 (six performances; six films) (2007).
Details: September 5, 2011, to September 5 at Akademie der Künste, Berlin.
The Deconstruction of the "I": An Experiment by Kashihara Etsutomu
This was both a solo exhibition and yet not a solo exhibition, an archive and also an actual exhibition. The underlying idea of Etsutomu Kashihara's work has been to question what is art, and one can see through him that the interesting part about his brand of conceptual art lies in the artistic character that emerges, against his will, from the artist's attempt to deny his artistic character. In contrast to the participants of the museum's concurrent large-scale survey of young artists, "Real Japaneseque," who despite all the variety of materials they used were ultimately concerned only with a kind of self-exhibition, "The Deconstruction of the 'I'" left a strong impression in the way that Kashihara distanced himself from the urge to self-expression, working almost exclusively with paper and in a small space, even as he exercised detailed control over the display and catalogue. Along with the display of in the collection gallery of works by Yoshihisa Kitatsuji, Katsuro Yoshida and Jiro Takamatsu, this was an exciting opportunity to see one aspect of what artists in the 1970s were thinking about.
Details: July 7 to September 30 at the National Museum of Art, Osaka.
Experimental Ground 1950s
Organized as part of MOMAT's 60th anniversary festivities ("Art Will Thrill You! The Essence of Modern Japanese Art"), "Experimental Ground 1950s" was a deeply thought-provoking and carefully constructed depiction of not only the art but also the society and culture of Japan in the 1950s. Compared with the Museum of Modern Art Saitama's concurrent exhibition, "Japan in the 1970s: 1968-82," organized by curators who had lived through and wanted to recreate the atmosphere of the period they were addressing, this exhibition was organized by curators working from archival materials to produce an overview of the 1950s grounded in historical methodology, with the result that they were able to build a wholly new perspective on the era. Starting with Ken Domon's photographs of Hiroshima, the display began with the social realism that marked the start of the 1950s, and then, as suggested by the title, went on to consider new artistic forms of expression that developed as the decade progressed. In particular, the arrangement of displays of magazines and ephemera from the period alongside short films like Toshio Matsumoto's Long White Line of Record (1960) provided a strong sense of the inter-disciplinary experimentation taking place at the time. In this sense it is unfortunate that there was minimal English text prepared for the exhibition, which would have opened this impressive research up to international visitors, which is surely what one would expect of one of Japan's national art museums.
Details: October 16 to January 14, 2013, at the National Museum of Modern Art, Tokyo.
From the launch of the performance art biennale Performa in New York in 2004 to the production of the art on stage event Il Postino in 2007 and 2008 Yokohama Triennale, performance works have been receiving an increasingly high profile in the context of contemporary art. This year was no different. With Tino Sehgal creating projects for documenta 13 and the Tate Turbine Hall, and Jérôme Bel collaborating with the dramatic ensemble Theatre Hora to create the performance Disabled Theater, while for Festival/Tokyo Jean Michel Bruyère converted the entire Nishi-Sugamo Arts Factory into a concentration camp, the convergences between visual arts and theatre were memorable.
The Tanks at Tate Modern, London

Unveiled on July 18, the Tanks is Tate Modern's dedicated space for performance art, hosting not only installations and screenings but also performances by contemporary dancers such as Anna Teresa de Keersmaeker and Yvonne Rainer. The inaugural event featured Lis Rhode's Light Music (1975) and Suzanne Lacy's Crystal Quilt (1985-87), both from the Tate collection, as well as a newly commissioned site-specific installation by Sung Hwan Kim. The Tanks (the name deriving from the oil tanks used during the building's days as a power station) is ideal for presenting works for which sound is essential or which incorporate numerous media, and yet completely distinct from typical theatre spaces, adapting to the necessities of each new presentation. After the successful conclusion of its first season in October, the Tanks suggests a response to the long-standing questions about how to collect, preserve and exhibit performance art and films.
Image Credit: (Left) The Tanks at Tate Modern, Photo Tate Photography; (Right) Anne Teresa De Keersmaeker's Fase: Four movements to the Music of Steve Reich at Tate Modern, 2012, Photo Hugo Glendinning, © Anne Teresa De Keersmaeker.
14 Evenings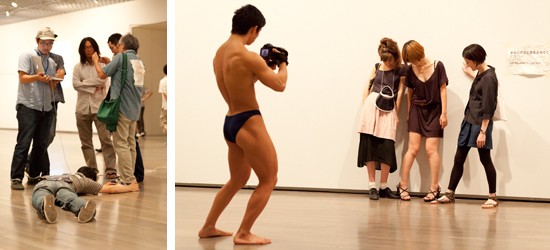 This summer, while its collection galleries were undergoing renovations, MOMAT opened its rotating galleries for a special program of 14 events organized across 14 days. Focusing on forms of performance, these events included both new works and restagings of existing works selected from across the fields of art, theatre and music.
Regarding performance in the space of the museum, curator Kenjin Miwa was concerned primarily with two points. The first was the idea that in using performance to link art and its related fields, it might be possible to elucidate the commonalities between these fields, while also reflecting upon each field's defining characteristics. On the other hand, Miwa was also interested in the concept of the "score" in performance. While performance is distinguished by its ephemerality, materials such as scripts, musical notation, dance notation, notes and instructions are what preserve it in memory. Miwa had all the participants prepare scores in advance, which were compiled in a pamphlet for distribution. In so directly linking the score with its obverse, documentation, Miwa provided an alternate perspective for considering the ephemerality of performance. Considering the score as a documentation of a performance that has not yet been carried out, and documentation as a kind of retroactive score for a performance that has already happened, this initiative suggests one approach to dealing with performance works in museum collections.
Whatever misgivings one might have about whether this experimental program actually realized its goal of interdisciplinary dialogue, it is certainly worth continuing in some fashion.
Details: August 26 to September 8 at the National Museum of Modern Art, Tokyo. Image Credit: Satoshi Hashimoto (14 Evenings, 7th Nov 2012, the National Museum of Modern Art, Tokyo). Photo Hideto Maezawa.
Festival/Tokyo 12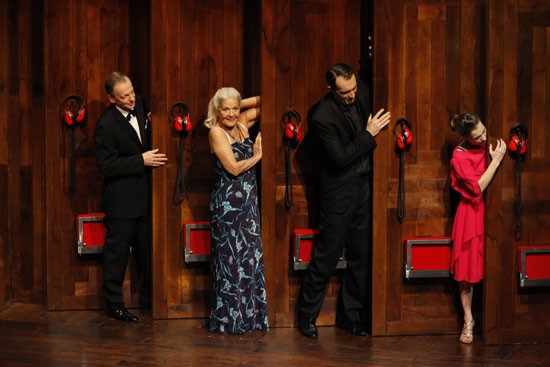 The programming of Festival/Tokyo only gets stronger with each year. Following last year's theme, "What can we say?", this year's edition was titled "Beyond Words." Why and how do people conform or respond to the self-restrictions that have been spreading in society since the Great East Japan Earthquake and Tsunami? The program forcefully confronted audience members with the reality that they are both participants and observers, and yet never agents.
Aside from Jean Michel Bruyère/LFK's Le Préau d'un Seul, the successive staging of three plays by Elfriede Jelinek was powerful. Even with the difficulty of reading subtitles, director Jossi Wieler extracted a provocative and moving performance from the actors in Jelinek's Rechnitz (Der Würgeengel) (2008). Although it required one's full attention to keep up with the subtitles, this staging was presented in counterpoint to the documentary Wall of Silence (1994), by Eduard Erne and Margareta Heinrich, which investigates the massacre of Jews in the village of Rechnitz, and provided the inspiration for Jelinek's play. With the dialogue relentlessly unfolding on stage in the former, even the roles that the actors were playing became ambiguous, as did the "us" of the viewers being scrutinized from the stage.
There was also the reimaginging by Port B's Akira Takayama of the two plays Kein Licht (2011) and Kein Licht II (2012), both of which were written by Jelinek after March 11. The "us" addressed in these works is unambiguously we Japanese people. We are being addressed as both those who are implicated and yet also as those who are not. In the former, the repeated calling out of the different forms of "us" brings into relief the multiplicity and ambivalence of the word itself. In the latter, viewers were asked to wear a radio device, from which they received instructions for walking around the Shinbashi area, combining the sounds of the words with one's own experience of searching. Each location on this tour featured something like an installation, or rather a stage setting, in front of which viewers would tune their radios to the right frequency and then listen to the voices that emerged. Who is the "us" being addressed by the radio? One feels a distance from those voices, and yet, walking through the unfamiliar streets of Shinbashi, walking among the people who live there, one feels an intractable distance from those lives as well, so that ultimately one begins to depend on the "us" emanating from the radio.
Not only with the three plays by Jelinek, but with many of the other works at F/T12 as well, the audience was almost physically forced to question how we understand the existence of the "I." Even as fiction, these works carry with them the same problems born by contemporary society and history, and while they confront the expectations of the audience, they also ask the viewers to coolly recognize that they are not the actors. It's a blessing even to be able to see such productions, even as they elicit a complex feeling of both relief and yet a sense of responsibility at the realization they prompt that in contemporary society there is nothing so dangerous as to be merely an observer.
Details: October 27 to November 25 at multiple venues in Tokyo. Image Credit: Rechnitz (Der Würgeengel), script by Elfriede Jelinek, directed by Jossi Wieler. © Jun Ishikawa.
Return to Index
Things Worth Remembering 2012