REVISITING THE YEAR'S MOST MEMORABLE EXHIBITIONS
The Editors
Lina Bo Bardi
The Watari Museum of Contemporary Art, Tokyo
December 4, 2015 – March 27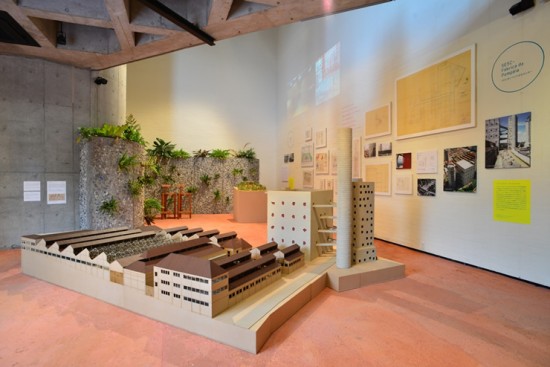 This compact overview of the work of the Italian-born Brazilian architect Lina Bo Bardi was vintage Watari-um, presenting a timely yet substantial subject through a mix of models, documents and audio-visual materials. Among the projects on view were the São Paulo Museum of Art, the Glass House, and the "Roadside Chair" strapped together out of wood and rope, while biographical information on Bo Bardi's time in Italy was also revelatory. Although it was by no means a definitive exhibition, the "10th Anniversary Retrospective of Nam June Paik," held in two parts starting from July 17 and continuing to January 29, 2017, was also worth a visit. Covering the years 1956-2006, it featured videos and installations made with collaborators and subjects like Joseph Beuys, John Cage, and Allen and Allan, Ginsberg and Kaprow. Image courtesy: Watari-um, the Watari Museum of Contemporary Art.
Koki Tanaka: Possibilities for Being Together. Their Praxis.
The Contemporary Art Gallery, Art Tower Mito
February 20 – May 15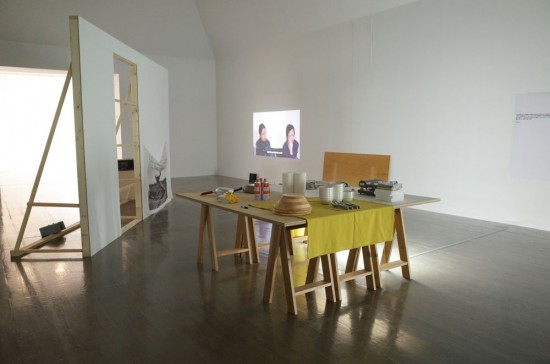 With some 240-minutes' worth of new videos on view alongside the older works A Piano Played by Five Pianists at Once (First Attempt) (2012) and A Pottery Produced by Five Potters at Once (Silent Attempt) (2013), this was as dense as any exhibition held in Japan this year, and it elicited a wide range of responses, from praise for its thoughtful staging and attempt at creating a polyphonic space, to criticism of Tanaka's methodology and the self-selected nature of the participants. In her review for ART iT's Japanese site, Natsuko Odate pointed out some of these contradictions, noting, "There was also something off about the role of the facilitators, who were necessarily positioned as instructors, in a project that presents itself as striving to create a flat community." She continued, "There was also the presence of those who were on site but not included in the community…the assistants to the film crew and the curator, or perhaps the [facility] staff, who were quietly removed from the community within the frame…were these people who were absent from the video some kind of interfering noise for the work?" While acknowledging the exhibition as an important development in Tanaka's practice, Odate concluded with a word of caution about how building communities can also lead to the creation of barriers. (Full text: JP only) Photo: ART iT.
MOT Annual 2016: Loose Lips Save Ships
The Museum of Contemporary Art Tokyo
March 5 – May 29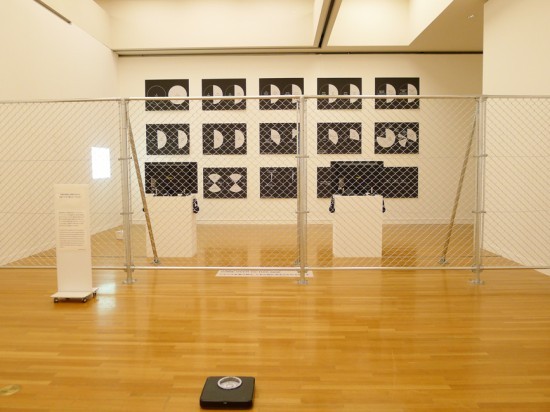 Co-curated by the independent artists' co-operative Artists' Guild and MOT, this was perhaps the year's most talked about exhibition. Responding to increasingly frequent incidents of censorship at Japanese museums, it was conceived as a kind of self-referential institutional critique, insinuated by the Japanese exhibition title, "Kisei no seiki," and its allusions to authority and control (written in ambiguous phonetic script, instead of specific Chinese characters, the title also evokes images of parasites, readymades, machines and genitalia, among other things). A disaster all around, the exhibition exposed both the naiveté of the artists and the repressive tics of the museum administration, exemplified by Satoshi Hashimoto's installation featuring a knife jammed into the wall for viewers to use as they wished, which ended up being covered by a protective Plexiglas case, and a chain-link fence with a sign encouraging visitors to climb over it, which was countered by a sign from the museum warning visitors not to attempt to climb the fence. For the general public, "Loose Lips Save Ships" was largely overshadowed by the massive success of the "Pixar: 30 Years of Animation" exhibition taking place concurrently on the upper levels of the museum, which had throngs of visitors lining up around the block to enter. Photo: ART iT.
Roppongi Crossing 2016: My Body, Your Voice
The Mori Art Museum, Tokyo
March 26 – July 10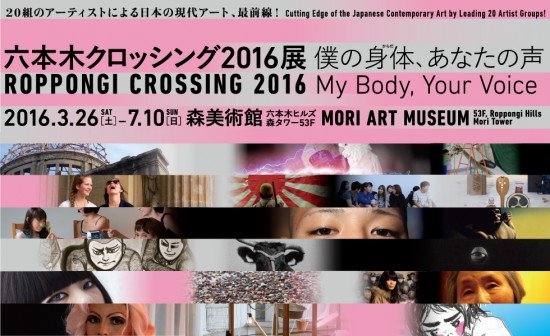 Where the MOT Annual 2016 was full of contradictions and mishaps, but still had a vital energy, this year's edition of the triennial Roppongi Crossing survey of Japanese art was an over-produced and anodyne vision of corporate-style diversity. With four curators working together – Natsumi Araki, Sunjung Kim, Keisuke Ozawa and Wu Dar-kuen – the exhibition lacked a coherent vision, and many of the works felt like perfunctory efforts. Not an encouraging look for young Japanese art, but worth noting as a reflection of the current scene. Image courtesy: The Mori Art Museum, Tokyo.
The Self-Portraits of Yasumasa Morimura: My Art, My Story, My Art History
The National Museum of Art, Osaka
April 5 – June 19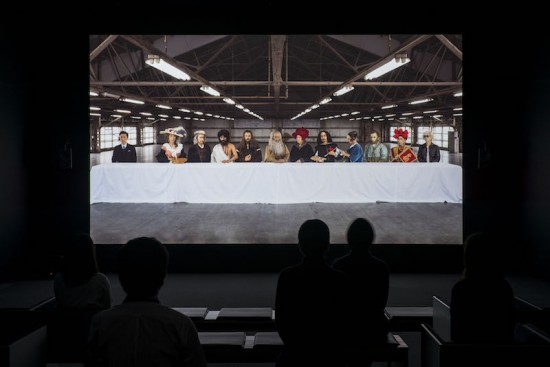 One of the year's best exhibitions, this was Morimura's first show at an institution in his hometown. It combined both old and new works, including a feature-length film, My Art, My Story, My Art History – A Sympósion on Self-Portraits (2016), in which Morimura brings together Da Vinci, Caravaggio, Velázquez, Rembrandt, Jan van Eyck, Dürer, Elisabeth Le Brun, Vermeer, Van Gogh, Frida Kahlo, and Andy Warhol (with an absent Duchamp), all, of course, played by himself. For those already familiar with Morimura's work, there were no real surprises here, just confirmation of his quality as an artist who combines thoughtful observation with playful daring. Photo: Kazuo Fukunaga, ©Yasumasa Morimura 2016. Courtesy: The National Museum of Art, Osaka.
Hisachika Takahashi by Yuki Okumura
Le Forum at Maison Hermès, Tokyo
June 4 – September 4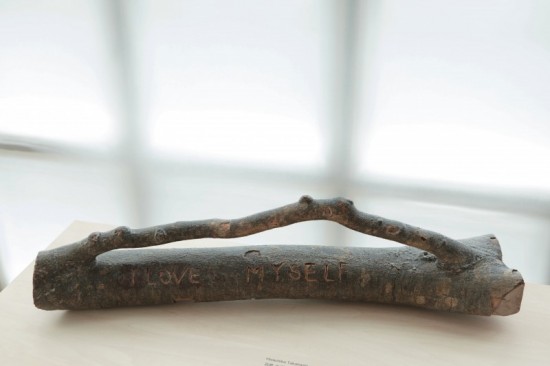 Along with Koki Tanaka's outing at Art Tower Mito, this was one of the better exhibitions over the past year by a cohort of artists who are now coming into their own in Japan – with a catch: somewhat parasitically, Okumura incorporated into his own practice the work of another artist, Hisachika Takahashi, employed for 40 years in the studio of Robert Rauschenberg, while among the works by Takahashi on display was the project From Memory Draw a Map of the United States (1973), for which Takahashi asked 22 artists, from Rauschenberg to Gordon Matta-Clark and Lawrence Weiner, to perform the titular action. With both Okumura and Takahashi putting themsleves in a vulnerable balancing act, this exhibition and its nesting-doll effect of mixed identities and mythical invocations cast an always welcome wrench into the sanctities of art history. Hermès did well to support an unusual project. Photo: Atsushi Nakamichi / Nacása & Partners Inc. Courtesy: The artists and Maison Hermès Le Forum, Tokyo.
Miyako Ishiuchi: Frida Is
Shiseido Gallery, Tokyo
June 28 – August 21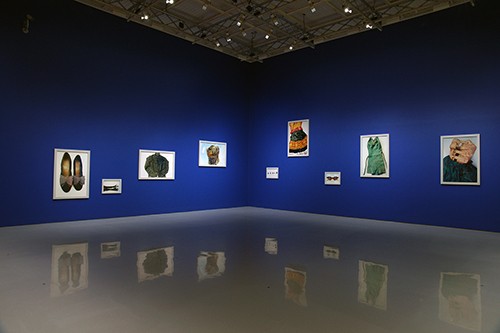 Shot in color with natural light against neutral backgrounds, the works in "Frida Is" documented the personal effects of Frida Kahlo, held in the collection of the Frida Kahlo Museum in Mexico City. Almost conceptual in nature, Ishiuchi's stark compositions draw out the faded brilliance of Frida's garments and belongings – with their array of magentas, mustards and turqoises, or complex patterns and textures – simultaneously prompting viewers to imagine how they must have dazzled the eye when they were still new, and took volume and vivacity from the artist's body and movements, and yet unflinchingly examining their transformation by the ravages of time. The gallery's painted walls both evoked Frida's home, Casa Azul, and complemented the dyamic arrangement of large and small prints. Image courtesy: Shiseido Gallery, Tokyo.
Charlotte Posenenske
Take Ninagawa, Tokyo
October 1 – November 19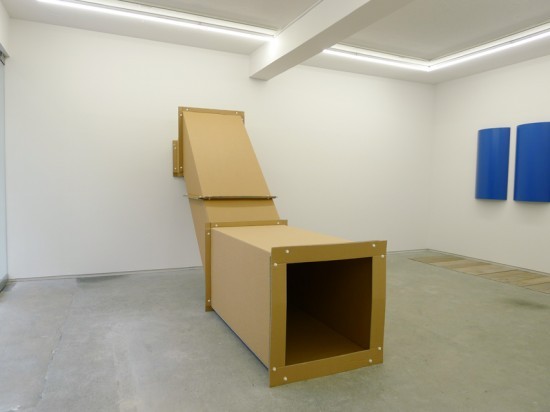 Inaugurating Take Ninagawa's newly expanded gallery space, this exhibition nevertheless seemed to go under the radar among Tokyo art viewers. The first presentation of Posenenske anywhere in Japan, it featured reconfigurations of the signature air-ventilation-like modular installations in steel sheet and cardboard, Series D Vierkantrohre (Square Tubes Series D, 1967) and Series DW Vierkantrohre (Square Tubes Series DW, 1967), respectively, as well as historical works. Seen up close, Posenenske's tubes, with their not-quite monumental scale, warp the space around them, evoking portals to alternate realities. The artist's decision to ultimately abandon art to devote herself to social issues would have been an instructive topic for debate during this year of political setbacks both in Japan and abroad. Photo: ART iT.
Kanransha (1980-93): Daniel Buren/Tony Cragg/Imi Knoebel
Gallery Koyanagi, Tokyo
October 12 – November 19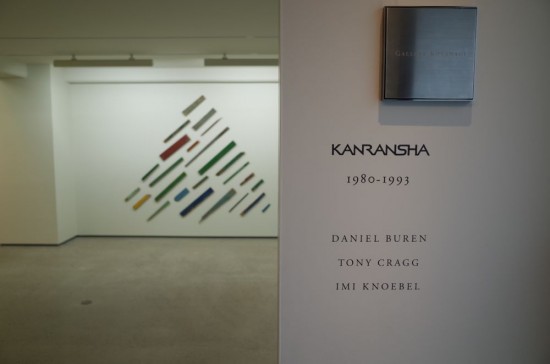 Quietly shutting down its long-time space and moving to smaller quarters one floor up in the same building, Gallery Koyanagi seems to be scaling back its program, but that's all right as long as it continues producing exhibitions like this one – a modest collection of works, by Daniel Buren, Tony Cragg and Imi Knoebel, that were made for the legendary Kanransha gallery, an outpost for contemporary art from Europe during the height of the bubble economy period. Buren's installations of shards of striped glass panels rearranged on the walls suggested a spatio-temporal puzzle while obliquely referencing Duchamp's Large Glass. Photo: ART iT.
Chim↑Pom: So See You Again Tomorrow, Too?
Kabukicho Promotion Association Building, Tokyo
October 15-31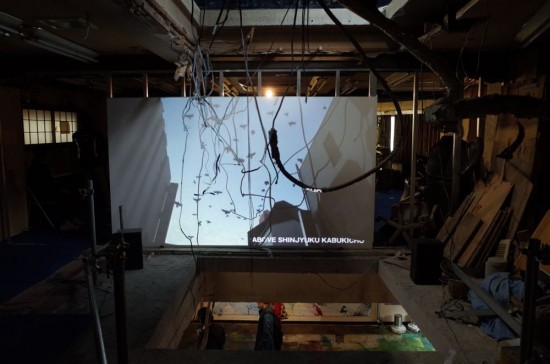 Combining curating and squatting, Chim↑Pom took over a derelict building to orchestrate this immersive installation/experience. As usual with this group, the works on view had a hodgepodge quality, short on contemplative nuance, but the project was impressive for its sheer muscular energy, embodied by the holes cut into the floors of the exhibition's three upper levels. Although it was not realized to full effect, the use of the building's basement as an event space suggested the potential for the project to develop more horizontally across multiple art circles. Ostensibly addressing the scrap-and-build cycles of Tokyo real-estate, and the development boom getting underway in advance of the 2020 Tokyo Olympics, the exhibition continues with a second part in 2017 to be presented at Chim↑Pom's alternative space, Garter, after the building, and the works in it, has been demolished. Photo: ART iT.
GOOD GRIEF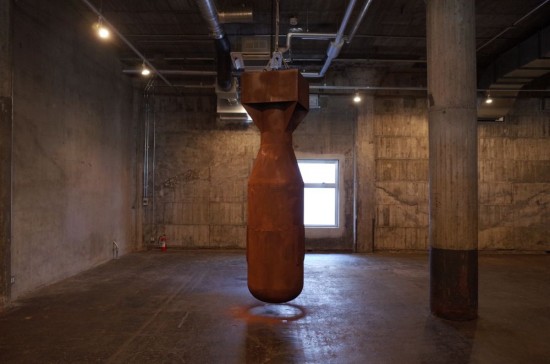 Takashi Murakami's Superflat Collection (Yokohama Museum of Art, January 30-April 3); Hiroshi Sugimoto: Lost Human Genetic Archive (Tokyo Photographic Art Museum, September 3-November 13); Okayama Art Summit 2016: Development (Multiple locations in Okayama, October 9-November 27); Yukinori Yanagi: Wandering Position (BankArt 1929, October 14-January 7, 2017)
In different ways, each of these exhibitions seemed to play to a subtext of macho posturing. In Yokohama at the start of the year and in the newly refurbished Tokyo Photographic Art Museum later, Murakami and Sugimoto showed off their collections of (inflated) contemporary art and (admittedly impressive) historical artifacts, respectively. In Okayama, most of the works seemed to either come from or be destined for the collection of local fashion magnate Yasuharu Ishikawa, a fact which undermined the trappings of having an artistic director (Liam Gillick) and theme ("Development") that had the promise for more subversion. Yanagi's exhibition at BankArt was a valuable opportunity to assess the work of a reclusive artist, but the latent-nationalist-transgression shtick of works like Project Red White and Blue – Wandering Mickey, which envisions a Japanese tank eternally spinning in place in a giant hamster-wheel like contraption painted in the hinomaru colors, and Icarus Cell, a maze-like installation inspired by the writing of Yukio Mishima, now seems all-too complicit with the worldwide resurgence of right-wing populism. Photo: ART iT.
UPCOMING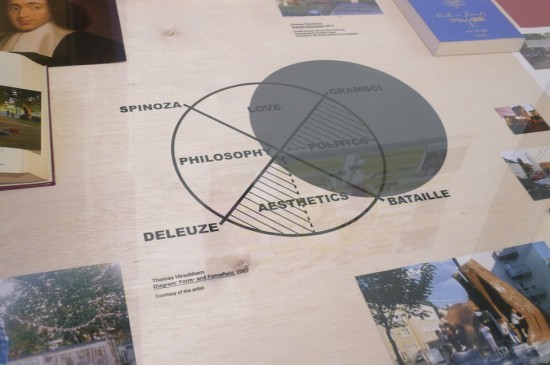 statements – Nobutaka Aozaki: at the moment (May 14-June 26); Asakusa – Radical Democracy: Thomas Hirschhorn & Santiago Sierra (July 21-August 21); Satoko Oe Contemporary – Makiko Masutani: Whose Sleeve (October 1-November 5); Komagome SOKO – Mario Navarro: Aesthetical Irregularities (November 16-December 16)
For a while it seemed as though the godfather of Tokyo's galleries, SCAI the Bathhouse, was inching toward retirement, but over the past year it has spread its influence across the city, both directly and indirectly, through spin-offs and project spaces run by former and current staff. Opened in October 2015, Asakusa is the most ambitious of these, organizing exhibitions like "Radical Democracy," with Thomas Hirschhorn and Santiago Sierra, and November-December's "Acting Together," with Yoko Ono and Rirkrit Tiravanija. Also branching out of the SCAI network is statements, which launched with a solo show by New York-based mixed-media artist Nobutaka Aozaki, and Komagome SOKO, whose lineup included Mario Navarro's "Aesthetical Irregularities." In the meantime, former director Maho Kubota opened her eponymous new gallery with photographer Yurie Nagashima's "about home" in March. Also of note is Satoko Oe Contemporary, whose owner cut her teeth with ShugoArts. Photo: ART iT.
Things Worth Remembering 2016: Exhibitions