From the Forest to the Bangkok Streets
By Gridthiya Gaweewong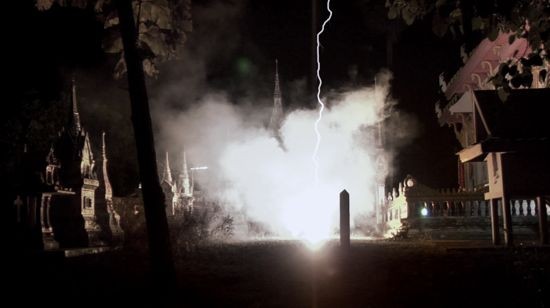 Still from Phantoms of Nabua (2009), from the project "Primitive." © Chaisiri Jiwarangsan.
One week after the government crackdown on the opposition UDD Red Shirt mobs at Bangkok's Rachaprasong intersection on May 19, the news that Apichatpong Weerasethakul's latest film, Uncle Boonmee Who Can Recall His Past Lives (2010), had won the Palme d'Or at the Cannes International Film Festival brought great joy not only to the Thai cultural community but also to the nation's society at large. The news headlined the front pages of the national papers and was featured in other mainstream media outlets.
Only one component of the multi-part project "Primitive," Uncle Boonmee follows a man who returns to his rural home to spend his dying days, and then encounters his dead wife as well as his long-lost son, who has been turned into a mythical Monkey Ghost after mating with a Monkey Woman. Set in northeastern Thailand, where Apichatpong was raised, the film suggests a powerful allegory of the history of the country and of film itself.
Despite Apichatpong's international reputation as one of the world's leading young filmmakers, the majority of Thailand's domestic audience still seem disinclined to appreciate his works. Few even know that he also maintains a video art and installation practice in addition to making films, and has been widely exhibited at galleries and institutions in Japan, Europe and the US. Bangkok-based curator Gridthiya Gaweewong recently interviewed Apichatpong for ART iT, asking him for his thoughts on contemporary Thai society and politics in relation to his art and films.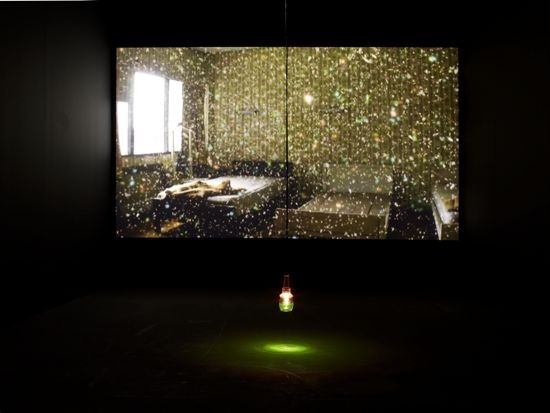 Installation view of Morakot (Emerald) (2007) at ArtUnlimited, Art 39 Basel, 2008.
Courtesy SCAI the Bathhouse, Tokyo.
ART iT: For the past 10 years you have been making both feature films and video art installations. You are one of only a few artists in Southeast Asia who work across such disciplines. And it seems that you often choose to blur the lines between art and film, especially in your short pieces, which can both be screened in a cinema and in a gallery context. Why did you decide to work in this direction?
AW: For me, both filmmaking and art echo each other. The subjects of my works usually revolve around the ideas of duality and transformation, and I feel that this carries over into my methodology as well, whereby I attempt to transform cinema by taking it outside of the theater.
In my works the themes of duality and transformation variously appear in both content and structure. For example, I might explore the dualities of darkness and light, man and animal, or even the idea of a film with a split personality. In terms of transformation, the characters in my works might undergo a change from one identity to another. This could happen on a metaphoric, social level, but sometimes it is also a physical change – like a man becoming a monk, or a tiger, or a kick-ass heroine, or a Monkey Ghost, and so on.
ART iT: In both your art projects and films, you tend to work with non-professional actors and actresses. Some critics praise your casting as one of your strengths, because you are able to achieve a dramatic naturalism that contrasts with the over-acting common to many mainstream films. Why do you work with non-professional casts?
AW: I like working with non-professional actors because they can devote their time to the production and because they don't bring personalities from other films into my own films.
ART iT: Another point that strikes me about your films is their representation of subcultures – the under-privileged or the marginalized communities in Thailand. This comes to mind when considering the characters in Mysterious Object at Noon (2000), or the Burmese migrant worker in Blissfully Yours (2002), or the Shan boy in your short film Vampire (2008). Is this a conscientious evocation of the tradition in video and avant-garde art of engaging with the margins of society?
AW: Yes. I feel that I am marginalized myself, because I work outside of the mainstream production system and have this awkward "experimental" label here in Thailand, and because of my sexuality as well. The power of cinema can be amplified by non-conformity. I feel that cinema in Thailand should try leaving behind Bangkok, its stars, its modernity, and exploring other territories and approaches.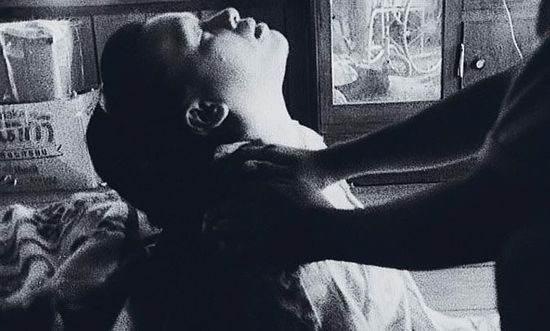 Still from Mysterious Object at Noon (Dokfa nai meuman, 2000), 35mm film, 85 min.
ART iT: Many of your films play with narrative structures and the history of filmmaking. For example, your feature films are often broken into two distinct parts, which can sometimes confuse viewers. Does this rupture of narrative structure also play a vital role in your video art?
AW: The videos do not have the same noticeable rupture effect as the films, although a trace of it is still present in some of them – in works such as thirdworld (1998), Malee and the Boy (1999) and Luminous People (2007), for example.
ART iT: What's the difference for you between the two processes of making video art and of making films?
AW: For me, the idea of time is different in different contexts. Yet, what interests me is the point where those differences begin to disappear or merge. The audience's perception of time when they are in a fixed position, and aware of the social "rule" of cinema-going, is more or less linear. But when viewers walk around a gallery space, adjusting the distance to the screen through their own movements, then their subjective sense of time becomes dispersed and, interestingly, more intimate because they have a sense of control. What I try to do with time in my works, films and videos is to provide the audience this openness and intimacy from within the linear characteristics of cinema.
ART iT: Do you have a preference for either film or video?
AW: It depends on my mood. Sometimes when I'm making a short film for a gallery, I get inspired to move on to my next feature film, and vice versa.
ART iT: Do you feel that way because of the differences in the production processes? Perhaps with feature films you have to rely on crews, and require a big budget and a long schedule, whereas video art may offer a more personal and immediate approach. Do you consider making video art to be a healing process after filmmaking, or simply a break in the rhythm of making features?
AW: I consider video art to be a break in the rhythm of making features. Actually, I tend to use the same crew, and sometimes even the same cast, when making both videos and films. It is a stimulating pattern.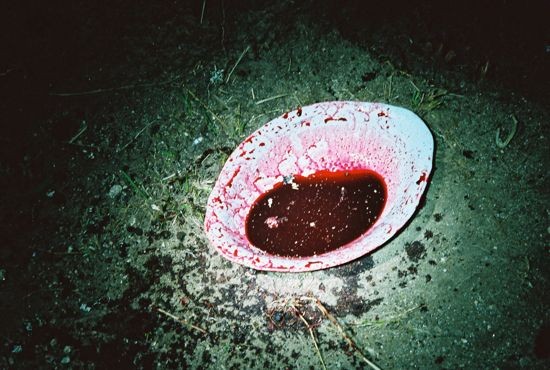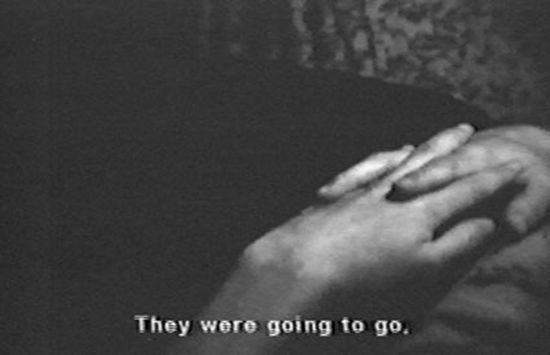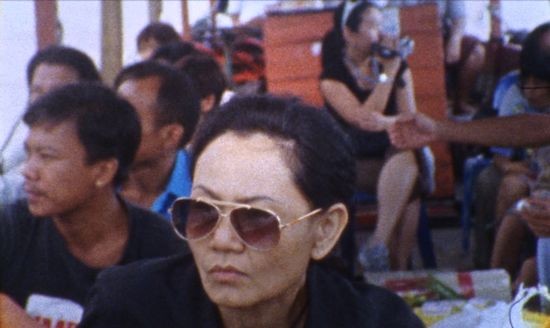 Top: Still from Vampire (2008), single-channel video, 19 min. © Kick the Machine Films / Louis Vuitton Malletier, courtesy SCAI the Bathhouse, Tokyo. Middle: Still from Thirdworld (1997), 16mm film, 17 min. Bottom: Still from Luminous People (2007), 35mm film, color, sound (Dolby SRD), 15 min 22 sec.
ART iT: What is the major source of inspiration for your art and film works?
AW: I am inspired simply by living here, in Thailand. The country's enduring "developing nation" tag provides with me all kinds of inspiration. It is a push-and-pull, love-and-hate relationship.
ART iT: Is that why you always work in Thailand, particularly in the northeastern region, Isan?
AW: Thailand is a treasure trove of filmmaking possibilities, and Isan is the most precious treasure of all. I grew up there but only noticed this recently. Because of the region's poverty, people from Isan migrate elsewhere in search of employment, bringing with them their spirits. Because of this, the casualness and the animist nature of the northeastern culture have spread across the country, and I have this idea that the northeastern energy is the backbone of contemporary Thai society and culture.
ART iT: Yet, even though people in Bangkok enjoy the food, music and culture of the region, they have long maintained deep prejudices against the northerners. Do you think this kind of prejudice still exists in Thailand? Where do you think this notion originates?
AW: Bangkok is still the premier city in Thailand, and the Chinese are still the country's dominant ethnicity in terms of socio-economic influence. The Sino-Thai merchants, authorities and military have created conditions of dependency for the people from the country's agricultural regions. They produce the mainstream culture and have rebuilt the "nation" with their economic power. They have a latent fear of the farmer revolution, and prejudice is one means by which they protect themselves.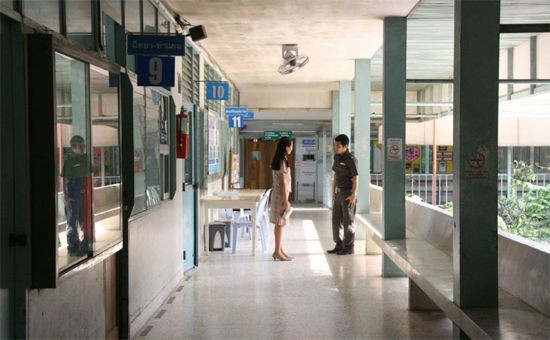 Still from Syndromes and a Century (Sang sattawat, 2006), 105 min.
ART iT: We were both born and currently live in one of the most interesting periods in Thai history, having witnessed both successful and failed revolutions and reforms over the past 40 years. But the socio-political situation is still uncertain, and many people are frustrated with and anxious about this instability. Every time I witness the Thai government's lack of regard for basic human rights and the freedom of expression, I think of the titles of your films, such as Syndromes and a Century (2006) or Tropical Malady (2004). Now the country is undergoing a "color war" between the UDD Red and PAD Yellow factions, and people are judged according to political stereotypes. If you were to express an idea that differs from mainstream or ruling-party sympathies, you might be labeled as anti-establishment and could even be investigated by the Department of Special Investigation. Thai society has come to resemble that which was depicted in Orwell's 1984. As an artist and filmmaker, how do you feel about this situation?
AW: The situation in Thailand is on the one hand an inspiration for me, and yet on the other hand I wonder how long we can endure it. I sometimes question myself: Can artistic inspiration come only from oppression? Or am I addicted to being oppressed?
ART iT: I anticipate a major shift in sensibility for the younger generation of Thai artists and filmmakers, who generally have not expressed an awareness of socio-political issues. But today, as you have said before, we can't avoid politics, because it's everywhere. Do you think the aftermath of the April 2009 and May 2010 crackdowns will affect artists' and filmmakers' perceptions of society? And will it be a call for them to wake up to the reality?
AW: Certainly. The people go out onto the streets and display their frustration and anger at the incompetent system. It is time for artists and filmmakers to do the same through their creations. We have been disregarding the socio-political issues because of our ignorance, and because of the laws controlling expression. But I feel that we are now learning how to deal with these issues in our works, using the model of the underprivileged. We need to challenge the system to be able to feel more human. Of course, not all artists share the same political points of view. But it is time for some of us to present our own "realities."
ART iT: You've been quite involved with activism in Thailand. After your film Syndromes and a Century was censored by the government, you spearheaded a group of young artists and filmmakers in a campaign against censorship through an online petition entitled the Free Thai Cinema Movement. Can you explain more about this experience?
AW: My campaign against censorship was part of a process of trying to understand the system and how to live here. The problem is that we not only have state censorship, but self-censorship as well. I would like to share my own experiences, and listen to others about how they deal with these issues. The government is increasingly using the law to enforce its righteousness on the public, and I feel that infringes upon my daily activities, my personal beliefs and my filmmaking practice. So I am currently trying to educate myself about Thailand's political and social history. Looking back is the art of the future.
ART iT: But could you say that the visual arts, especially video art, have not been as affected by censorship as film and the mainstream media?
AW: I agree. But looking at it from another angle, that freedom to experiment in visual arts can complement and affect the mainstream media.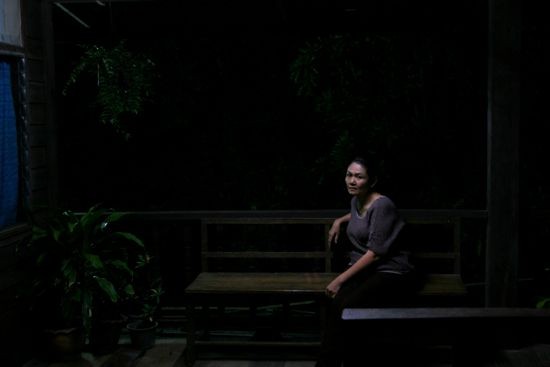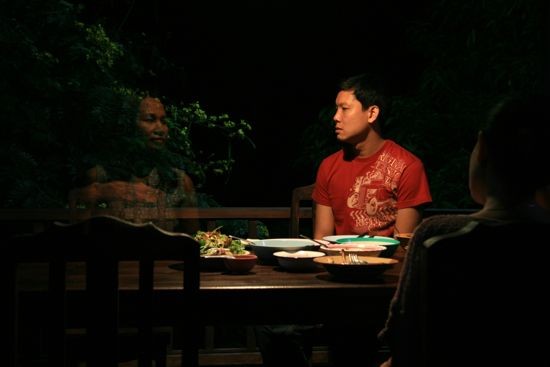 Both: Still from Uncle Boonmee Who Can Recall His Past Lives (Loong Boonmee raleuk chat, 2010), 114 min.
ART iT: I understand that Uncle Boonmee is actually part of a multipart project. Can you explain more about this project and why you wanted to pursue such a strategy?
AW: Uncle Boonmee is part of a project called "Primitive" that also includes an eponymous installation (2009), two short films – A Letter to Uncle Boonmee (2009) and Phantoms of Nabua (2009) – and an artist's book, all focusing on memories of the northeast. I felt that I had yet to really explore the region when I began the project in 2008. Earlier, I mentioned my interest in transformation. The ideas behind the project mutate and revolve around these different forms.
ART iT: How has life been for you winning the Palme d'Or at Cannes this year? Have there been any changes in your lifestyle that have affected the pace of your work?
AW: Winning at Cannes has stopped me like a stun gun. I will remain frozen until early next year.
ART iT: There has been much positive and negative feedback about the award. One rumor that has been widely spread in the Thai media is that the exiled former Prime Minister Thaksin bought it for you, based on his attendance at the festival. How does it feel to be in the middle of this political debate?
AW: When this kind of thing happens to you, you start to look at the history of Thailand, and how the media have played a major role in shaping this country. The people's discussions on the Internet reflect how we have experienced a dumbing-down of the media. Next we will buy the Oscars for all the Thai films!
ART iT: This year you were nominated for many important awards in both film and the visual arts, many of which you also received. What do you think distinguishes your work from other artists?
AW: Maybe the themes of my past works have come into focus with my recent work, and people now understand the broader concerns of what I am doing. And maybe the right stars are simply aligned for me.
ART iT: After Cannes it seems that there was a noticeable increase in attendance figures for Uncle Boonmee in Thailand. How do you feel about this?
AW: It's a positive thing. I am happy if I can inspire the audience. The situation reignites my old dream to build a specialized cinema house – a sort of cinematheque – in Chiang Mai, where I live.
ART iT: Don't you think we should start with Bangkok first? It's quite paradoxical that in contrast to its neighbors Thailand is quite advanced in terms of film history, having been introduced to cinema at almost the same time as the rest of the world, and possessing a national film archive, yet the country still does not have a cinematheque.
AW: We are not that advanced. The films at the archive are deteriorating. There are initiatives now to bring in public and private funds to build a better archive facility, which will include a cinematheque, but I'd like to do it in Chiang Mai because Bangkok will be underwater soon – that's what I believe.
ART iT: There's a social network group called, Support Thai Cinematheque spreading on Facebook right now. Some of the members have suggested that we should encourage the government to turn the Siam, one of the oldest theaters in Bangkok and the venue for the premiere of your film Tropical Malady, into such a facility. It was burned down by the Red Shirt mobs during the May 19 crackdown. Do you think it's feasible to resurrect this theater as our cinematheque?
AW: That would be an ideal location.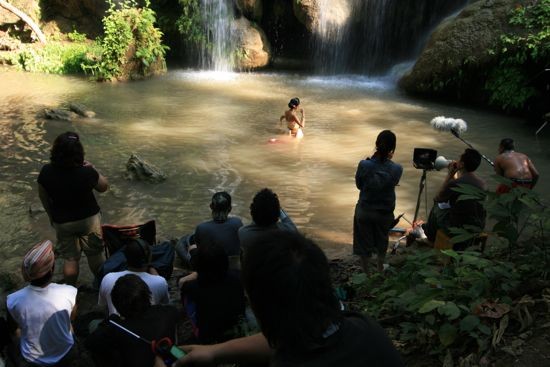 Production still from Uncle Boonmee Who Can Recall His Past Lives (2010).
ART iT: What's your next project?
AW: I'm producing two features, one by my editor Lee Chatametikool, and the other by Sompot Chidgasornpongse. Lee's project, set in the 1990s, is about a man who is haunted by his past and is witnessing the changes in Thai society during that decade's Asian financial crisis. Sompot's film is very different from Lee's. He is documenting and stitching together numerous train journeys across Thailand to create a dynamic portrait of people and landscape on the move. It will be quite experimental. I've been working with them for a long time, and am confident they will make an impact in the film scene.
ART iT: Are you pursuing any personal projects right now, such as a new video art work or feature film?
AW: I am slowly building towards making a new movie, a tale with many dead animals.
ART iT: Rumor has it that you were approached by a Hollywood studio to direct a blockbuster film. What was that project and why did you reject it?
AW: The proposal did not come from a Hollywood studio, although it had a substantial budget; I was excited by the budget, but not by the storyline! I simply thought that there were filmmakers who were better suited for that project.
Apichatpong Weerasethakul's work is included in this year's sixth edition of Media City Seoul, "Trust," at multiple venues in Seoul from September 7 to November 17.
Unless otherwise noted, all images © Apichatpong Weerasethakul, courtesy Kick the Machine Films.
Gridthiya Gaweewong is the artistic director of the Jim Thompson Art Center, Bangkok. In 1996 she co-founded the nonprofit art space Project 304 and the Bangkok Experimental Film Festival.