III. Interview with a Cat
Cerith Wyn Evans on his admiration for Marcel Broodthaers and artistic hypertext.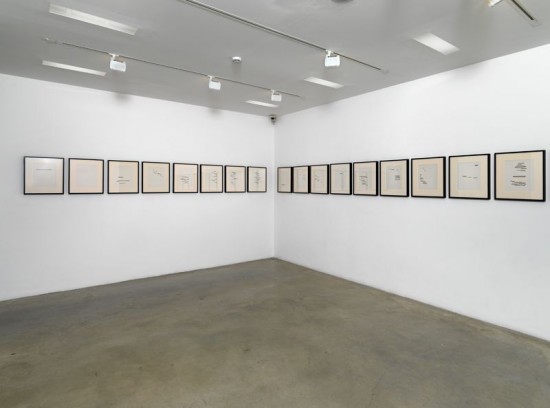 F=R=E=S=H=W=I=D=O=W (2010), 22 framed prints, each 48.7 x 40.8 x 3.8 cm. Photo Todd-White Art Photography, © the artist. All images: Courtesy Taka Ishii Gallery, Tokyo, and White Cube, London.
ART iT: In your exhibition earlier this year at White Cube in London you presented a new work, F=R=E=S=H=W=I=D=O=W (2010), that references Marcel Broodthaers' graphic version of Stéphane Mallarmé's poem "Un coup de dés jamais n'abolira le hasard," notorious for its untranslatability. Can you explain more about this work?
CWE: Mallarmé is one of the great language poets. What Marcel Broodthaers did with Mallarmé's work was to change the meaning into a picture somehow, because he just blacked out the language to highlight and foreground the poem. The poem exists; it is available to everyone who can find it. But what Broodthaers did that was special to me was that, in a way similar to my use of encryption and Morse code, he entered into a territory where the immediate communication of language – which is already so highly developed and complex – was eradicated.
What I chose to do in reference – in reverence – to Broodthaers was to take it a step further and actually cut the language out completely, so that it would be possible to look through the paper to the wall and then, in a very Warholian sense, bring the very fabric of reality back into a recognition of structural material: we are made of flesh and blood, the world is something that is physical, present, temporary. In that way, it was an attempt to address the return of the real.
I have a print of Broodthaers' "Carte du Monde Poétique," a Belgian map from the 1960s on which he changed the names of the seas and crossed out various words, all of that. That was a real turning point for me, a very significant piece. Also hugely significant to me was Broodthaers' exhibition "Decor: A Conquest" at the ICA in 1975. I came to London and saw the exhibition. That was an epiphany for me because I hadn't realized that you could do something like that. I thought art was about drawing pictures and making good likenesses of the things. If you made a good likeness, then you would be congratulated. So it was the moment at which I realized you could actually go against the dominant hierarchies and introduce some problems.
ART iT: What is complex about Broodthaers' ideas behind "Decor" is that he turned to the large-scale installation because he was attempting a redefinition of the space for art, or rather attempting to sabotage the way that space defines art, in that the exhibition itself was also a set for a film, The Battle of Waterloo (1975).
CWE: I am participating in a big exhibition at the Kunsthalle Dusseldorf, "Real Presences: Marcel Broodthaers Today," which focuses on artists who reference Broodthaers in their own works. Can you imagine being that 16-year-old boy and then thinking that when you are 52, you will be in a show with Marcel Broodthaers? I think of that as a major achievement actually, I'm very proud of myself in that respect. I'm exhibiting the Mallarmé piece as well as a new work, Has the film already started?, which is a variation on a piece I made many years ago. It's a film projected onto a large, white helium balloon installed alongside a group of potted Kentia palms, which are the signature palms that Broodthaers returned to again and again in his own works. I owe an enormous amount to the influence of Broodthaers in my thinking. You constantly find new things and new depths in the things that he made. He also had a very dry sense of humor. When Benjamin Buchloh talks about Broodthaers, you can forget that he was also this amazing clown. He really must have been extraordinary, constantly teasing people, pushing against the boundaries of authority. That to me has been hugely influential, I love it.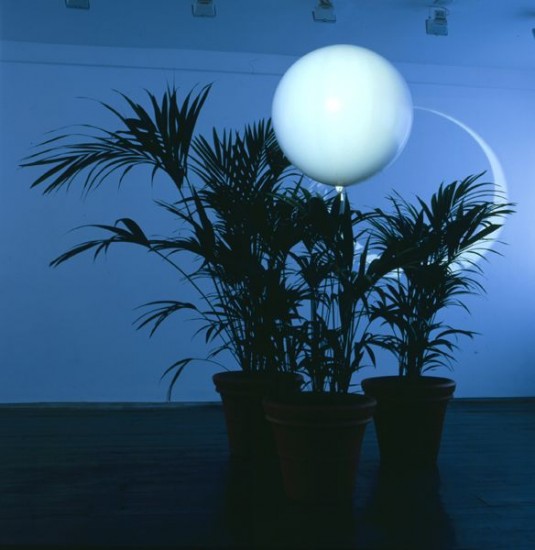 Has the film already started? (2000), DVD, projector, CD, CD player, helium balloons, brick, string and plants, dimensions variable. Photo Stephen White, © the artist.
ART iT: It's interesting that you have only gained respect for Broodthaers after encountering him at such a young age, because so often someone that is impressive to you at 16 becomes less so as you gain perspective.
CWE: Yes. I don't want to even tell you about the music I was listening to at 16 that I don't listen to anymore. Certain things just remain with you. They are just there. They inspire you. But if we're talking about the radical interrogation of language and its meaning and possibilities, then Broodthaers is quite high up on my list of important people to reference. That's for sure.
ART iT: One last question about Broodthaers. When he used the palms, they were a specific reference to the Belgian colonization of the Congo. What happens when you make a work using these same palms?
CWE: In a sense, it becomes what we could call – and what we haven't talked about but which is great place to end the conversation – a hypertext. I am referencing Marcel Broodthaers' referencing of another situation. I don't have direct access to the meaning whereby I feel I can own his critique of Belgian cultural imperialism in the Congo. So what I'm talking about here is art for art's sake. You know what it's really like – and this is going to come across as really embarrassing – this is as close as I get to cos-play. It's true.
ART iT: So you're conscious of that complex relationship of references when you enter into it?
CWE: Yes, otherwise you're going to end up looking like a jerk. You have to live to earn the right to own it. I have seen many students and artists who are desperate to feel authentically within that subjective territory. I'm very fortunate to have come this far, and to have a degree of recognition and to be able to speak in this way with a certain amount of confidence and authority – a certain amount. I don't want to come across as arrogant, but so many of my students over the years just wanted to hear from me that I could give them the accreditation to consider themselves authentic artists. I think there is a pervasive problem where a lot of people just want to be rich and successful. Over the years I have come to think that rich and successful does not necessarily a good artist make.
ART iT: Is that what distinguishes hypertext from quotation?
CWE: No, it's not. A hypertext is a quotation that is self-aware. I mean, I'm just going to be talking into the microphone now because I don't know exactly what I am saying here, so I have to stop at this point because I'm still alive and I'm still trying to work this one out. I haven't got all the answers. Maybe I've got no answers at all. That's being conscious, that's being an artist, that's inquiring. Sometimes it just takes a huge amount of physical and psychic effort to keep doing that. I'm still trying to make new things and I'm still trying to excite myself for the process that goes into that. I'm still trying not to kill myself.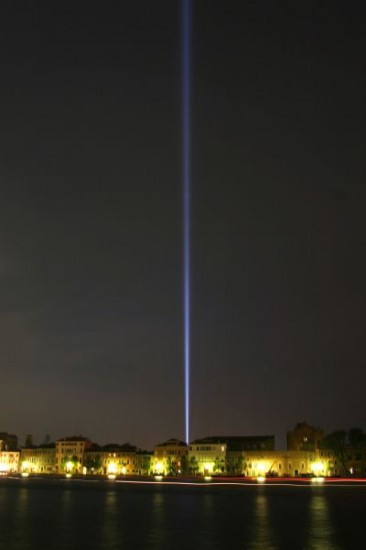 Cleave 03 (Transmission: Visions of the Sleeping Poet) (2003), World War II
search light, shutter, computer, Morse code controlling device, text by
Ellis Wynne, dimensions variable. Photo Polly Braden, © the artist.
Cerith Wyn Evans's work is currently on view in the exhibition "Real Presences: Marcel Broodthaers Today" on display at the Kunsthalle Düsseldorf as part of the Quadriennale 2010 through January 16, 2011, well as in the 12th Venice Architecture Biennale, "People Meet in Architecture," through November 21, and the inaugural Aichi Triennale, at multiple venues in Nagoya through October 31.
Part I. We Turn in the Night, Consumed by Fire
Hic et Nunc; or, The Delirium Beyond Translation