The COVID-19 pandemic and "Don't Follow the Wind" – and then there were only "exhibitions that no-one can see"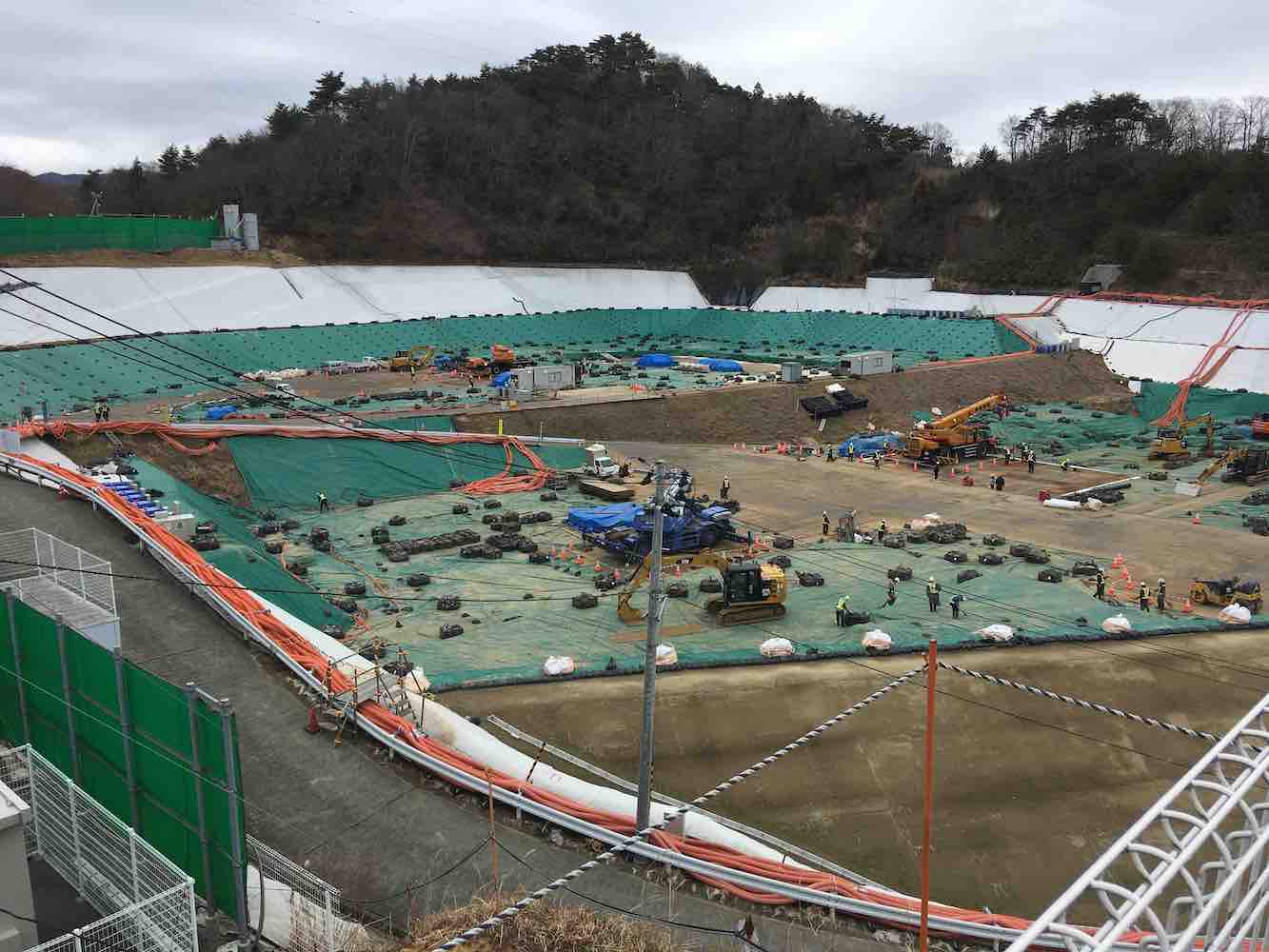 Current state of the Designated Waste Landfill Disposal Center (former Fukushima Eco-tech Clean Center), Tomioka, Fukushima. All photos: The writer.
Whoever would have imagined that the world would descend so quickly into such a situation due to the spread of an infectious disease caused by a novel coronavirus? But it is not as if there were no signs at all. The risks of a crisis stemming from a pandemic that can occur at any time turning into something catastrophic have been pointed out repeatedly for some time by way of the mutability of avian flu viruses. In fact, in 2009, a novel influenza did spread around the world. I remember it clearly, because I had to deal with the drawing up of new questions for the supplementary exams for students who could not come to school to sit the university entrance exams at the designated time in February the following year, because they had been infected with the novel influenza. But the fact that that is the only kind of memory I have suggests that the impact was limited compared to this occasion. I do not remember the wearing of masks being enforced to the extent it is now, for example. Neither were people unable to get hold of masks. And it was unimaginable that there would be a scramble for toilet paper (something that has not happened since the oil crises of the 1970s). As far as medical treatment goes, because fever clinics for outpatients were established, I think the government response was also quicker. And because the existing anti-influenza drug Tamiflu was to some extent effective, while it is true there was a temporary shortage, affected individuals who took it recovered steadily, so at no time was everyday life seriously affected.
Who would have imagined that in such a short space of time things would have come to this? The infectivity of this coronavirus is that extraordinary (menacing?). Because it is transmitted not only from people to people directly, but from people to people via objects (doorknobs, handrails, etc.), the number of people infected increases exponentially, and medical facilities fill up in an instant, leading to the collapse of medical care systems. Despite this, there are neither vaccines nor specific medicines. And as yet there are no truly effective preventives or remedies. It was originally thought that the elderly and those with underlying health problems were at greater risk, but young people with no health problems have also died. The incubation period is long and asymptomatic patients, who are said to be the majority, are the perfect carriers, enabling the virus to attack unrelentingly. And breathing, the thing that is most indispensable to humans for the continuation of life, is completely ensnared. Moreover, this happens suddenly. People can survive to a certain extent without food or water. But if they cannot breathe they are beyond hope. The causal relationship determining who ends up becoming a severe case is unclear. Cases where people have recovered only to be reinfected and test positive again are numerous. Such is the fear of infection that friends and family can neither stay to look after patients nor attend their deathbed, neither touch the body nor pay their last respects. Because touching another's face or one's own face with one's hands plays an important role in the transmission of this virus. But is not touching the face one of the most important actions in terms of recognizing the self and others? Now it is forbidden. Moreover, are not our hands the organ that gave rise to civilization in that they gave humans access to tools? Not being able to trust one's own hands will no doubt have a harmful influence not only in terms of self-perception, but also in terms of self-pacification. Truly, there is no end to the harmful characteristics of this virus.
The calm days before this virus spread already feel like the distant past. So much so that my memory of responding to reports of cases of human-to-human transmission in Wuhan, China, by hoping it would not turn into something like the AIDS disaster is dim. When exactly was that? At the least, I was still out and about doing research and interviewing people last December, until eventually at the end of the year, together with my wife and son, I visited my parents in my hometown of Chichibu. On New Year's Eve, we all gathered in the living room with members of my siblings' families, sharing familiar food and drink and laughter as we saw in 2020 as if we had been reborn. Of course, none of us was wearing a mask. However, such pleasures are now things of the distant past. My parents are elderly, with my father having turned 88 last year, and in December we took a short holiday together as a family by way of celebration. Now, though he is healthy, as long as there is no way of knowing who is an asymptomatic carrier of the virus, if he were to be infected, he could fast became critically ill, with a great chance that he might even die. And if it turned out that I was the one who infected him, it would mean that I had indirectly killed him. Given such a possibility, the only option is to not meet him any more.
Even the quiet intimacies that we all took for granted are now subject to scrutiny as activities to be avoided under the curious designation of the "three Cs" (closed spaces, crowded places, close-contact settings). Just when will intimacy be freed from this ban on the "three Cs" and restored equally to everyone? A year from now, said to be the soonest estimate for the development of an effective vaccine? Or, if we wait until the virus quiets down after producing many victims, will it be in two years time? Or, if the virus becomes even more virulent, will it be even further down the track? Then again, perhaps new, unknown viruses will appear incessantly, in which case it will never happen in my lifetime. Considering that in the last few years, not only a novel influenza and a novel coronavirus (COVID-19) but SARS, MERS, Ebola and the Zika virus have appeared and are continuing to spread uncontrollably around the world, it would be no surprise if things turned out this way (or rather, we should assume they will). For now at least, the only effective measure humankind can implement is to stay home and prevent the virus spreading. Despite the fact that until just a few months ago, expanding civilizations were connected on a global scale, their rate of growth continuing to increase daily, the greatest contribution each of us can now make to humankind is to stay home. It was not so long ago that "estrangement" or "separation" was regarded as a key to thinking about the world in the 21st century. However, what is happening now is completely different. Whereas estrangement or separation was once a bad process leading people towards mutual animosity, the estrangement or separation demanded of us now is willingly being recommended. Moreover, staying at home is no longer even estrangement or separation. Rather, it is confinement or, to put it even more plainly, seclusion. In other words, what is being demanded on a global scale is "isolation." In such a world, even meeting one's parents, siblings, lovers, acquaintances or friends triggers a faint premonition of death. This gives rise to hesitation and doubts and fears. People are even hesitant to shake hands or embrace one another. And at present, there is no indication of when this might end.
But let us go back slightly. On January 26, I joined the throng at Saitama Super Arena to watch Queen perform as part of their Japan tour. Illuminated by the light from countless smart phones, we all joined together as a fevered crowd to sing. It was something that would be utterly impossible today. On January 31, I had a meal with my family as usual at Kikunoi, a restaurant in Akasaka. I have no memory whatsoever of being concerned about the novel coronavirus. However, on February 1, when I went to university to prepare for the entrance exams, masks were being handed out at the entrance, indicating that concerns about infection were steadily beginning to grow below the surface. On February 13, I attended the Taro Okamoto Award for Contemporary Art awards ceremony, where I took to the rostrum to help present the awards. Though I had heard about other ceremonies being cancelled, at that point the trend towards refraining from holding such events was not all that strong. However, in the car on my way home, I heard the news about the taxi driver who was found to have been infected (part of the so-called yakatabune pleasure boat cluster), and soon afterwards the first death from COVID-19 in Japan occurred. It was probably from around this time that the situation suddenly began to deteriorate. When I went to a talk event on the topic of "Astrorama and the Butoh exponent Tatsumi Hijikata" held at Takashimaya department store in Nihonbashi that weekend, almost everyone was wearing a mask. However, despite the venue being a perfect example of the "three Cs" in that many people were crowded together in a closed space with a large number of presenters, there was still not the kind of sense of crisis that led one to fear for one's life. As evidence of this, other events concerning Astrorama at Osaka Expo 70 also scheduled to take place at Takashimaya were later cancelled one after another.
It was amid this apprehension that "Implications of the Scenery," a retrospective exhibition of photographs by Katsumi Sunamori (see installments 89–91 of this column) and the first show I had planned and supervised (curated) for some time, opened at the Maruki Gallery for the Hiroshima Panels (Higashi-Matsuyama, Saitama) on February 22. The talk event on the opening day attracted a large number of people. Unfortunately, however, though the period of the exhibition was extended midway through, in the end it was temporarily suspended following the declaration of a state of emergency in Saitama Prefecture on April 7. Even so, the Gallery was one of only a handful of art museums in the Tokyo metropolitan area that remained open for so long. Because there is still the possibility that it will reopen, the displays have been left in place. But with the exception of those involved, no one can go and see this exhibition. In fact, even those involved are currently being requested to exercise maximum restraint with regard to going out and moving between Japan's prefectures. In effect, it has become an "exhibition that no-one can see."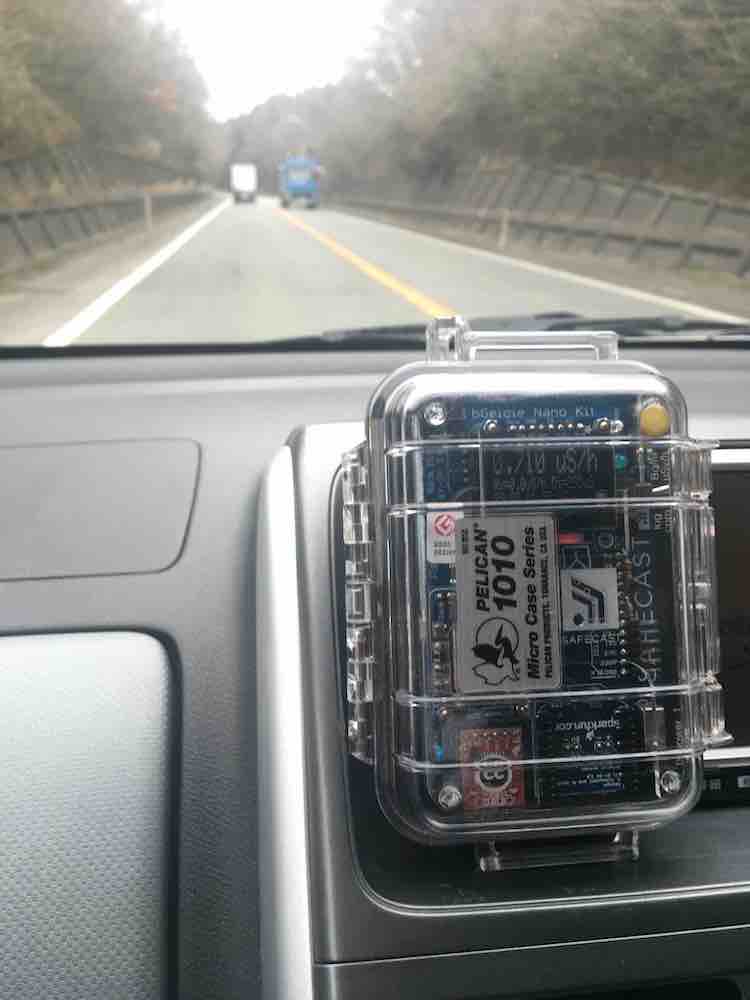 Inside the car with Grand Guignol Mirai on National Route 6 heading to the Interim Storage Facility Information Center (Okuma-machi Futaba-gun, Fukushima), the Geiger counter affixed to the dashboard read 0.71μS/h.
Which at last brings me to the subject of this installment of Notes on Art and Current Events, for it was amid this maelstrom on February 28 that the members of Grand Guignol Mirai, the art unit to which I belong together with Shuji Akagi, Norimizu Ameya and Fuyuki Yamakawa, set off together by car for Hamadori in Fukushima Prefecture. On several occasions in the past (see installments 52, 64–66, 74), I have mentioned in this column this unit's participation in "Don't Follow the Wind" (from March 2015, hereinafter referred to as DFW), the project that turned into an "exhibition that no-one can see" due to its being held inside the difficult-to-return zone that was closed off because of contamination by radioactive material spread as a result of the meltdown of three reactors at TEPCO's Fukushima Daiichi Nuclear Power Plant. In fact, it was in the car while traveling from Tokyo to Fukushima that I experienced a sense of crisis regarding the novel coronavirus as something that concerned me personally.
Incidentally, before March 11 this year, which marked nine years since the Tohoku disaster, the project reached its most important turning point since its inception. Because in accordance with the government's policy of promoting the 2020 Tokyo Olympics as the "Recovery Olympics," a "recovery base" was newly established inside the difficult-to-return zone, and by investing in intensive decontamination operations, in March an area free from barricades was established despite being inside the difficult-to-return zone. This was unexpected. Because from the beginning we thought that the area physically blocked off by barricades and the difficult-to-return zone were the same thing. As well, surely it was precisely because this was a dangerous place where the radioactive contamination was so serious that the government named it the difficult-to-return zone that entry was strictly controlled with barricades. Accordingly, the venue for DFW, being none other than an "exhibition that no-one can see," ended up inside the difficult-to-return zone, which in fact was no hindrance whatsoever. As well, we had made it clear that it was precisely because the DFW venue was inside the difficult-to-return zone that we ourselves could not "go and see" it, or to look at it another way, if the difficult-to-return-zone designation was lifted and the works we (the executive committee, of which I am a member) installed inside the newly freed zone were still on display, we would have to make them available for viewing as the occasion allowed, meaning DFW would become "an exhibition that anyone can see." However, in March, while it remained inside the difficult-to-return zone, the barricades around the above-mentioned recovery base were removed. Thus, a completely new situation arose in which an area remained part of the difficult-to-return zone despite it no longer being blocked off by barricades and people being able to go in and out freely day and night (although people were not able to "return" to live or engage in commercial activity). In addition, one of the works we installed was inside this recovery base.
Fortunately (or rather, unfortunately), the work concerned had already been destroyed when the house that served as its venue was demolished. At the same time, however, despite it having been destroyed, it is an indisputable fact that an artwork once existed there, and at the least, for when in the future it is possible to visit the exhibition, we needed to inform people who bought tickets in advance of this fact. Accordingly, we updated the website for the first time since we launched DFW on March 11, 2015, to reflect this. For more details, I encourage readers to visit the DFW website. At this point, however, DFW was no longer "an 'exhibition that no-one can see' inside the difficult-to-return zone." To the extent that an area that was part of the difficult-to-return zone but was not blockaded had been created in the form of the recovery base, it was no longer possible to simply inform people that "the venue is inside the difficult-to-return zone," an expression that had been used in describing DFW. And because from the beginning the crucial thing was the effect arising from people not being able to visit this exhibition, in fact the thing preventing people from visiting the exhibition was not the difficult-to-return zone designation but its implementation in the form of the physical barricades. Thus, as far as DFW was concerned, from that point the "blockade" itself became an even more important condition determining the viability of the project. There is no causal relationship between this re-conditioning and the "blockading" of cities becoming a reality due to the novel coronavirus pandemic. Nevertheless, the two became closely tied together through the single word "blockade."
But this partial relaxation is the consequence of a recovery policy accelerated by the government in preparation for the 2020 Tokyo Olympics. In which case, to the extent that DFW was premised from the outset on the very fluid, non-transparent future of the exclusion zone in Hamadori, Fukushima, this kind of thing could have happened at any time. In this regard, the very definition of the difficult-to-return zone could disappear at any time. However, the spread of the novel coronavirus and its consequences were an unknown situation completely unrelated to such government recovery policies. In fact, this spread forced the government to postpone the Tokyo Olympics, a state project expected to become a symbol of the recovery, and looking at the present situation, even the new date of July 2021 seems extremely questionable (the IOC has already confirmed their position that a second postponement is impossible). To begin with, the creation of a peculiar place through which people were able to pass freely despite it being in the difficult-to-return zone was the kind of by-product only possible due to the Olympics, which hastened the recovery. But the novel coronavirus has blown away the very Tokyo Olympics that gave rise to such a peculiar place. If the Olympics were held, the "recovery base" inside the exclusion zone was expected to become an indispensable base for the Olympic torch bearers to run and for people to cheer them on. But now this base is not functioning. Following the postponement of the 2020 Olympics, only the peculiar place that emerged as a result of speeding up the decontamination process remains inside the difficult-to-return zone. Although on this occasion DFW was unable to open its exhibits to public viewing, through voices, together with providing evidence that there had been an artwork there, we were able to notify people that such a peculiar place had come into existence through our website (a "non-site," or perhaps a "remote site").
But let us return to the topic in hand. It was in the car while traveling from Tokyo to Fukushima with the other members of Grand Guignol Mirai that it first occurred to me that we ourselves may have been transmitters, or carriers, of the novel coronavirus. At the time, Fukushima Prefecture had yet to record a single person infected with the virus. With the possibility that even asymptomatic hosts of the virus are highly infectious, there was a possibility that we ourselves en route from Tokyo, an infected area, to Hamadori, a contaminated area, would end up passing the disease on to people there. At one time there were cases in which, due to prejudice, inconsiderate people discriminated against refugees from Fukushima, claiming they would "spread radioactivity," but now the situation was reversed and it was visitors from Tokyo who were possibly spreading a virus to the people of Fukushima. Moreover, because the virus actually spreads by using people as hosts, there was a reasonable scientific basis to this fear. The person we were visiting on this occasion was one of our benefactors, as it were, who turned the difficulties associated with experiencing a nuclear accident into willpower and worked on our behalf to secure a venue for our exhibition. On no account could we risk spreading the virus to him, even by accident. Then again, meeting him wearing protective clothing to prevent transmission was out of the question. Since the nuclear accident, protective clothing had become a symbol of radioactive contamination. In fact, in Fukushima directly after the nuclear accident, there were even politicians visiting from the metropolitan area who wore protective clothing. I am reminded of how the installation in front of Fukushima Station of Kenji Yanobe's giant monument in the form of a human figure wearing protective clothing, Sun Child, elicited such an angry response. However, in terms of preventing the spread of the novel coronavirus, wearing protective clothing when meeting someone is undoubtedly one of a range of conceivable countermeasures. Which means that at some point between the Fukushima nuclear accident and the novel coronavirus turmoil, the significance of protective clothing changed without us noticing it.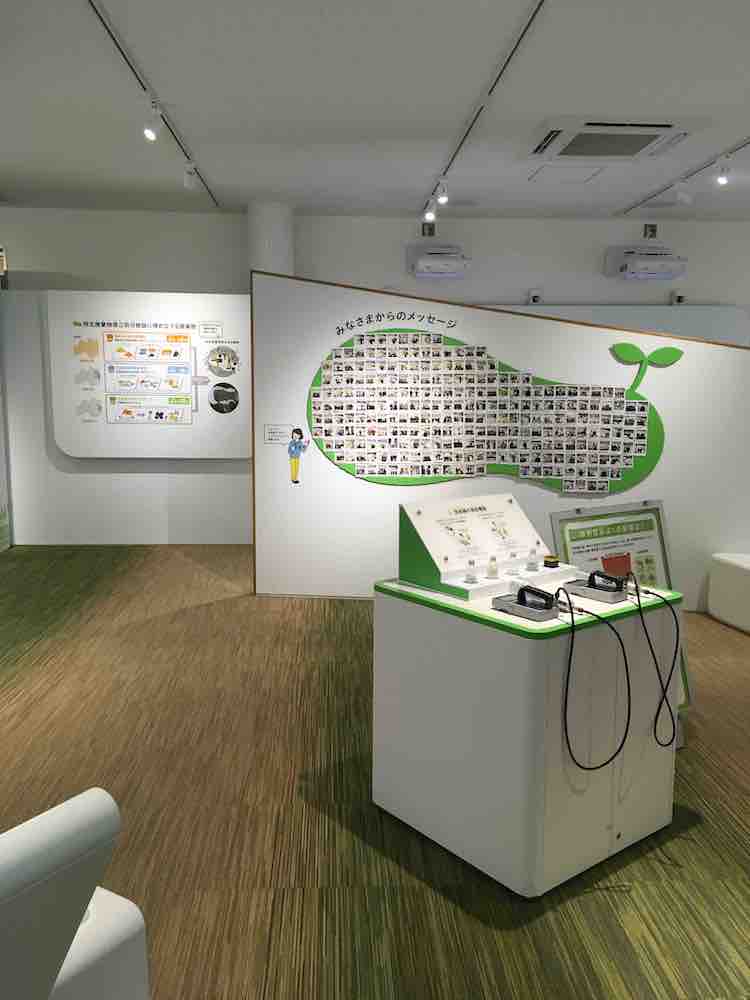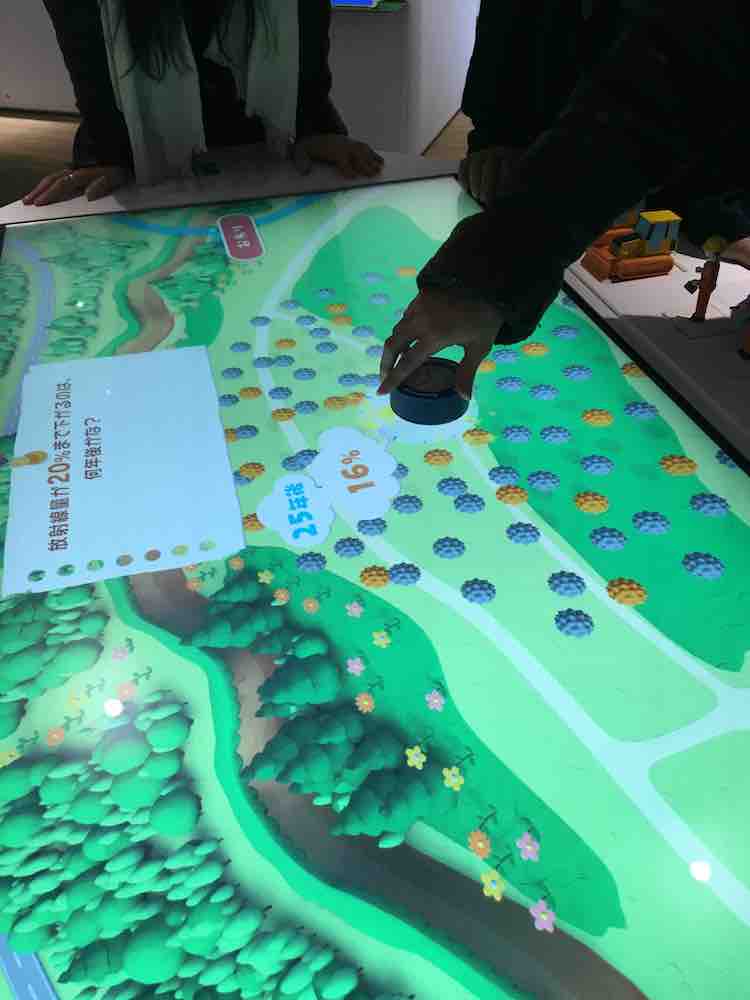 Exhibits at the Designated Waste Landfill Information Center "Reprun" Fukushima (Tomioka-machi, Fukushima). The center was established to provide information on efforts to dispose by landfill of specified waste including radioactive material emitted into the atmosphere during the accident at TEPCO's Fukushima Daiichi Nuclear Power Plant. According to the center's official website, the name "Reprun" was coined by adding "un" to the first part of the English word "reproduce" to give it a friendly feeling, but I cannot help associating it with nuclear fuel reprocessing and plutonium. The second photo shows an exhibit in which visitors can experience hands-on like a videogame how the radiation level of contaminated waste falls over several years.
*The center is currently (April 2020) closed to prevent the spread of the novel coronavirus.

During a nuclear power disaster, protective clothing is needed to avoid radioactive material raining down outside from entering the body. However, as is the case with a mask, protective clothing for preventing viral infection is thought to be effective in reducing the risk of a virus lurking inside one's body from spreading outside the body and infecting others (though of course it is also necessary in medical facilities, for example, for preventing the virus from entering the body from outside). Perhaps "exposure to radiation" and "infection" are two terms that best represent the two catastrophic situations in 2011 and 2020 respectively. However, the day-to-day countermeasures concerning each are polar opposites. In a nuclear disaster, while protective clothing is certainly useful, the most important thing is to "escape" to a place the radiation cannot reach. However, in a pandemic, there is no place in the world to escape to. And, while in a nuclear disaster people are told to "shelter indoors" only when they cannot escape, the call to "shelter indoors" during a pandemic, as alluded to above, is for far more positive reasons. Ultimately, after arriving at a parking lot at our destination, we were unable to leave our car. But self-isolating inside our vehicle meant we could not move forward. After thinking about the situation, we decided to telephone our contact and inform him that since we had traveled from Tokyo there was a risk in meeting us. But while such a risk of infection did exist, at the same time we had qualms about leaving the decision on whether to meet with us or not to the other party. Because leaving such a crucial decision to them was a kind of abdication of responsibility, and could only result in shifting the responsibility onto them. If something did go wrong, responsibility would shift largely to the party that demonstrated the voluntary intention to accept it. In the end, faced with a difficult-to-resolve dilemma, we decided to meet our contact wearing masks and after carefully disinfecting our hands. However, we hastily cancelled the nighttime drinking party we had planned to attend with him. In fact, we should have thought about such things sooner. At that stage, however, we (or at least I) were unable to predict such things. Somehow it was somebody else's problem. That is why I wrote above that for me, this was the first chance I had to truly think about the novel coronavirus, that I "experienced a sense of crisis" regarding it as "something that concerned me personally."
Speaking of cancellations, the main objective of our visit on February 28 was to take part in a tour of an interim storage facility construction site, permission for which had been granted for that day following our application. However, this tour, too, was suddenly postponed the day before our visit, as a result of which we were only able to view the exhibition room at the Interim Storage Facility Information Center. A short while later, however, it was reported that this exhibition room was also closed to visitors to prevent the spread of the novel coronavirus.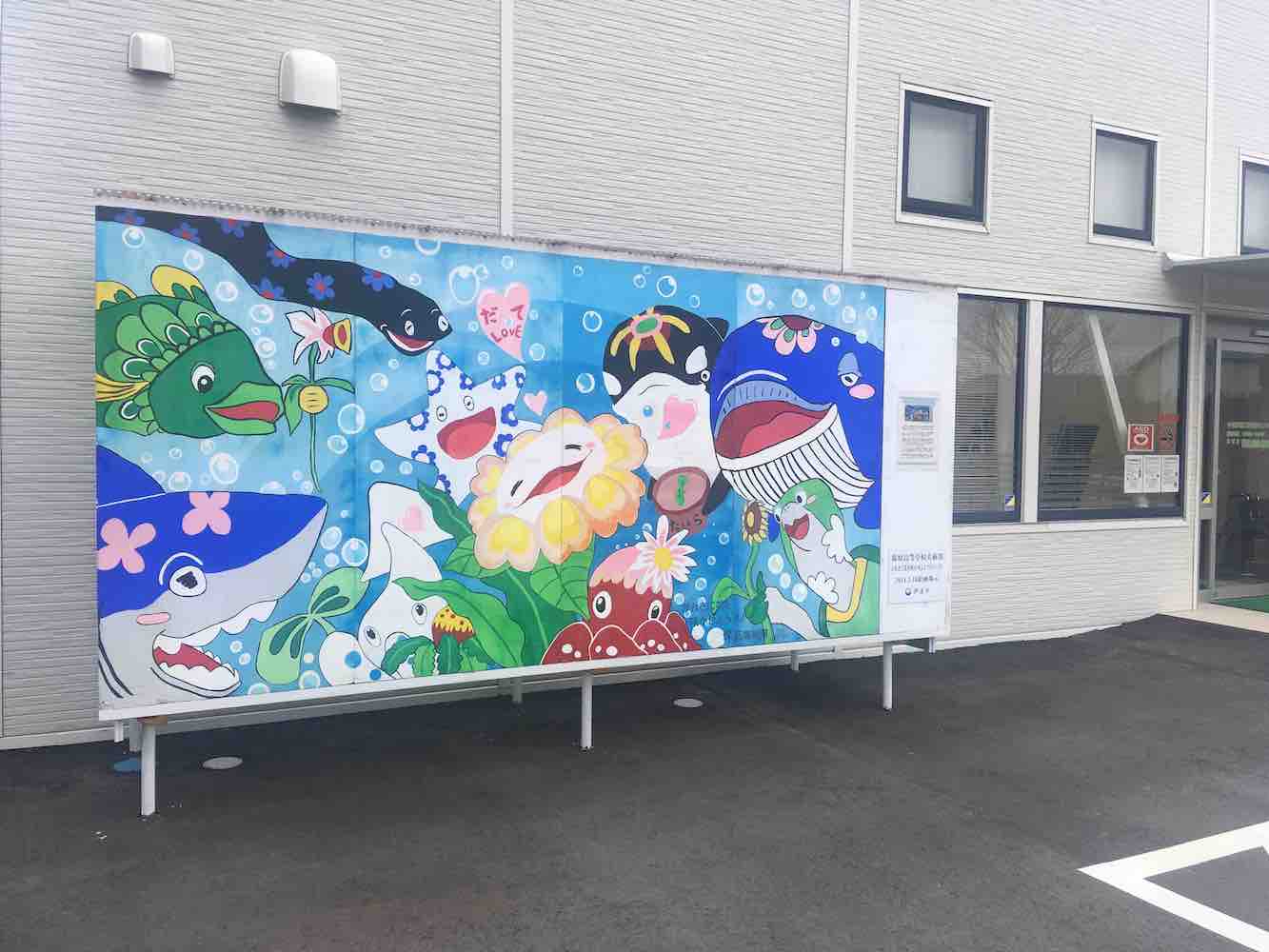 A painting by members of the Hobara High School art circle displayed by the entrance to the Interim Storage Facility Information Center (Okuma-machi, Fukushima) as part of the Make Flowers Bloom in the Rubble Project on February 10, 2014. The Interim Storage Facility is a facility for safely storing in a centralized location soil and other waste material generated as part of the decontamination process until its final disposal.
*The center is currently (April 2020) closed to prevent the spread of the novel coronavirus.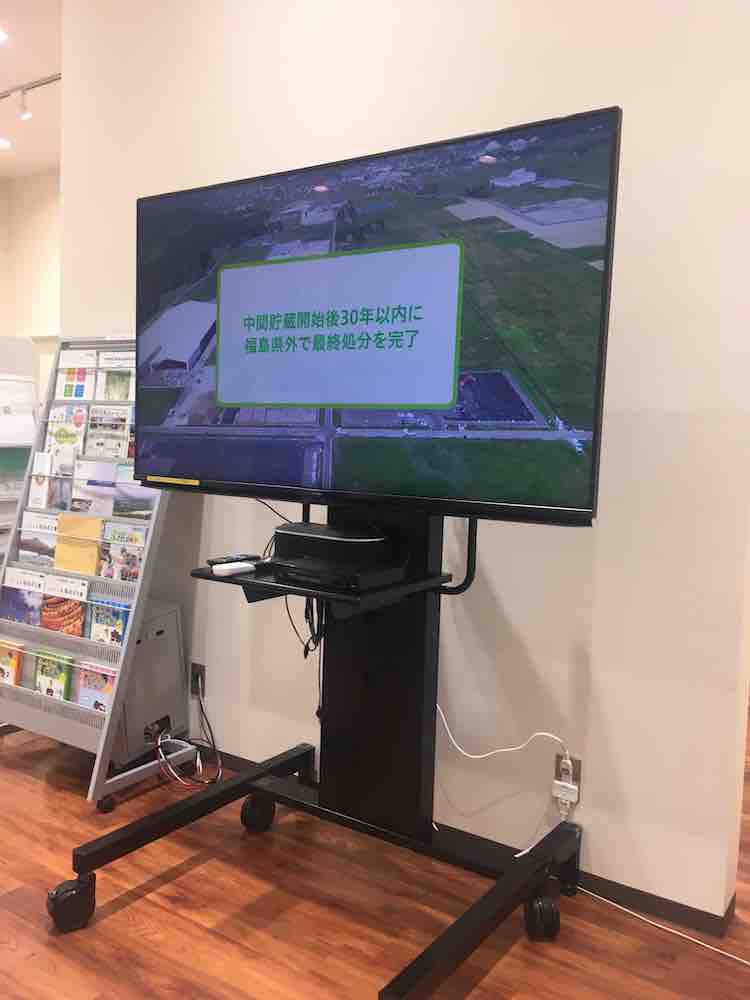 Displays at the Center.
Thinking about it now, this was like a portent of the closure of art museums and other cultural facilities in Tokyo upon our return. Exhibitions that "no-one can see" were no longer peculiar to the difficult-to-return zone (exclusion zone). And ironically, the current exclusion zone in Hamadori, Fukushima, has become the area most protected from the novel coronavirus. Because while there are streets, there are no people living there to carry the virus. And while there are people working there during the day, from the outset they wore masks and protective clothing. The protective clothing they wear is to prevent radiation entering their bodies, but ultimately it also serves to prevent the transmission of the virus to others. As for Tokyo, while openings have been suspended, the city is full of "exhibitions that no-one can see." But it is not only Tokyo. On the evening of April 16, the state of emergency was expanded nationwide. Everywhere throughout Japan was filled with "exhibitions that no-one can see." However, of these "exhibitions that no-one can see," only DFW remains an "exhibition that no-one can see" that is still being "held" just like before. So the novel coronavirus pandemic dramatically changed the meaning of DFW, which was not expected to undergo any major changes over the ultra-long term. However, that such things occur is also at the heart of DFW. No-one can predict its future with any certainty. Certainly not the executive committee, and not even the state. It is in a realm of unreadability almost on a par with nature itself.
---