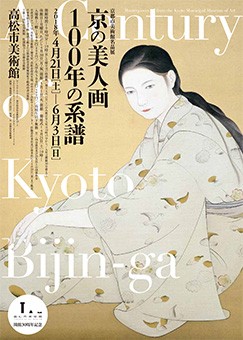 Kyoto Municipal Museum of Art was established as Grand Ceremony of Accession memory Kyoto art museum in 1933 (Showa 8) and became the current name in 1952 (Showa 27). The hall played a big role as one of the West Japan that displayed close contemporary art's greatest facilities to this day. Much collection around Kyoto after the Meiji era is appreciated as art, a thing to tell about an industrial flow of Japanese modern times.
I pay my attention to "a painting of beauties" by the book exhibition in the collection. The image for women has been drawn for a long time, but, after the Meiji era, diversifies in the society which a flower opens as the central subject of the art, and fluctuates. The modern girl symbolizing the times appears over the Showa era from the Taisho era, and the Japanese-Western style coherent clothing and the rich life of the woman among the modern furniture are described. It may be said that the description of the woman projected the times without curing taking it.
Through Shoen Uemura <>, Bakusen Tsuchida <<平牀>>, 前田青頓 <>, approximately 70 points of perfect gems including Keigetsu Kikuchi <> which I selected carefully from a Japanese painting of the Kyoto Municipal Museum of Art possession by the book exhibition, I introduce various expression and changes of the woman image reaching Meiji, the Taisho era, the Showa.
A venue: The second floor of Takamatsu City Museum of Art exhibition room
A session: From Saturday, April 21, 2018 (Heisei 30) to Sunday, June 3 opening time: From 9:30 to 19:00 (but on Sunday as for 17:00 closing / admission until 30 minutes before closing) closed day: Monday (but, in the case of a holiday, Monday is closed on Tuesday, the following day) viewing charges: General 1,000 yen (800 yen), university student 500 yen (450 yen) *() are advance sale and more than 20 groups rates
Sponsorship = Takamatsu City Museum of Art
Special cooperation = Kyoto Municipal Museum of Art
The details from this
http://www.city.takamatsu.kagawa.jp/museum/takamatsu/index.html