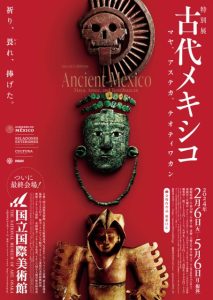 Mexico's ancient civilization flourished for a period of over 3,000 years, from the 15th-century BCE to the Spanish conquest of the 16th-century CE. This exhibition consists of some 140 myriad artifacts derived primarily from the Mayan, Aztecan, and Teotihuacan cultures. Located in a harsh natural environment plagued by volcanic eruptions, earthquakes, and droughts, these civilizations constructed magnificent monuments. And with their worship of universal deities and nature, and a unique worldview and formative beauty that emerged from the diverse environment, the cultures remain deeply captivating.
Period 

February 6–May 6, 2024

The National Museum of Art, Osaka
4-2-55 Nakanoshima, Kita-ku, Osaka 530-0005
https://www.nmao.go.jp/
Opening Hours
10:00-17:00 (10:00-20:00 on Fridays and Saturdays).
*Last entry 30 minutes before closing.
Closed
Mondays (except February 12, April 29, May 6) and February 13
Admission
Adults: 2,100 (1,900) yen
University students: 1,300 (1,100) yen
High school students:900 (700) yen

・( )admission for groups of more than 20 people.
・Admission free for Children up to Junior high school students (proof required).
・Students MUST present their student ID cards.
・Admission free for visitors with disabilities and one attendant (proof required).
・Tickets for this exhibition also include admission to collection exhibition.
Organized by The National Museum of Art, Osaka, NHK Osaka Station, NHK Enterprises Kinki Branch Office, The Asahi Shimbun
With the sponsorship of Nissha Co., Ltd.
With the cooperation of Aeromexico, Daikin Foundation for Contemporary Arts
With the support of Embassy of Mexico in Japan
With the co-planning and co-coordination of Secretariat of Culture of Mexico, National Institute of Anthropology and History (INAH)