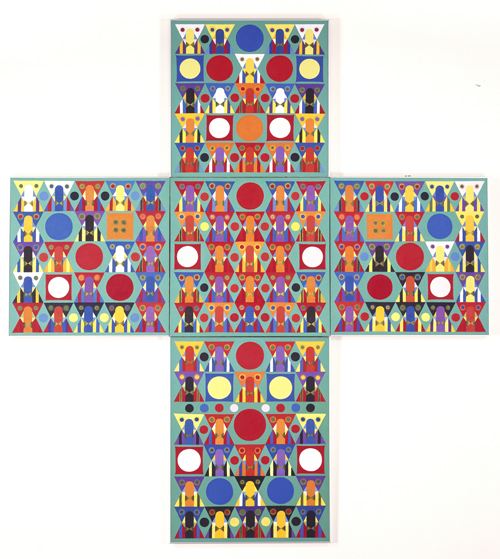 The exhibition is made up of two sections: "Collection Highlights,"and the special feature, "Like a Face."
In the first, we focus on artists who, as leaders in a number of important trends, are indispensable to any discussion of 20th century art. These include European artists from the first half of the century who, while associated with cutting-edge art movements, established their own unique styles; and Japanese artists who embraced Anti-art as a means of deviating from existing forms of artistic expression in order to create their own original art. There are also artists who were aligned with the Art Informel movements, known for its freedom and abstract approach, and avant-garde abstract paintings by members of the Gutai group and others, as well as artists who evolved new trends in painting in the wake of Abstract Expressionism, which had emerged in postwar America. In this exhibition, we present a collection of masterpieces by outstanding artists whose names have gone down in contemporary art history.
In a special feature titled "Like a Face," we focus on two- and three-dimensional works using the face as a motif. Since ancient times, facial features have been a popular subject in art. Many of the works in the museum collection also feature elements that might be identified as faces. But unlike conventional portraits and statues, these works do not necessarily set out to create a realistic or idealistic human image. In that case, what aspect of the face are contemporary artists pursuing in their work? There are as many answers to that question as there are artists and works, but ultimately, you might say that they are searching for a way of dealing with the face (and its complexity).
Artists:
Leon Golub, Henry Moore, Ushio Shinohara, Atsuko Tanaka, Morris Louis, Masuo Ikeda, Tatsuo Ikeda, Yoshitomo Nara, Teppei Ujiyama, Andy Warhol, Taro Okamoto, Yayoi Kusama, and more
——————————————
DATE November 3, 2018–February 3, 2019
OPEN HOURS 10:00 – 17:00 (Last entry 16:30)
CLOSED Mondays (unless Monday is a national holiday and Aug.6, in which case the museum will be closed on next ordinary day.)
ADMISSION Adults 300 (250) yen, University students 200 (150) yen,
High School Students 150 (100) yen, 65 and over 150 (100) yen
——————————————