Tatsuo Miyajima
Tatsuo Miyajima
For 1,957 years, I was born in Tokyo.
I am known by expressing an original view of the world by the work which flashes on and off so that light emitting diode ticks away a number.
In this museum, I install pillar 《 Opposite Vertical on Pillar 133651series 》 of the light to symbolize the beating of the art museum by the blinking of the light emitting diode in the center of the entrance lobby.
The pillar of this LED which I tie a ceiling and a floor that is the sky and the place of art museum, and goes through the whole building expresses "the tree of the life" as a, so to speak, new world source.
As for the red as the artery which continues ticking away beating without the end and the green LED as the vein, intention to life breathes in an art museum, and a raw sign to overflow tells the city about what is given off from there.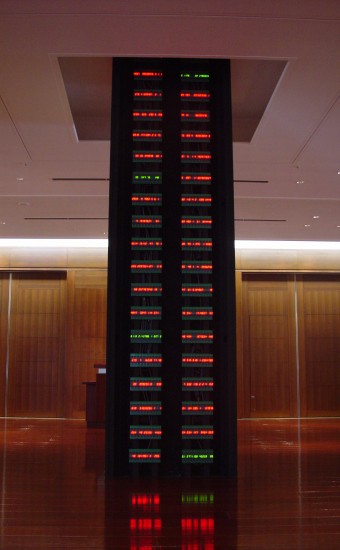 For Tatsuo Miyajima 《 Opposite Vertical on Pillar 233651series 》 2,002 years, it is Kumamoto-shi Museum of Contemporary Art