The sense of harmony is probably more a sense of uncertainty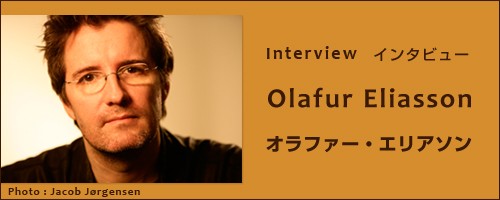 Conjuring up a blazing orange sun in London's Tate Modern, and giant artificial waterfalls in New York Harbor: with his delicate manipulations of light and shadow, mist and breeze, Olafur Eliasson allows location and audience to take center stage as alternative stars of the show. Now he brings the major solo exhibition Your chance encounter to the 21st Century Museum of Contemporary Art, Kanazawa. We asked the artist about the ideas behind this project, in which a plethora of elements 'encounter' each other in the setting of an 'open museum'.

Exhibition information and installation views on video > http://www.kanazawa21.jp/exhibit/olafur/
Interview/text: ART iT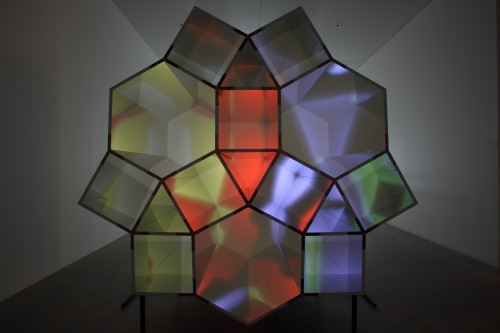 Colour shadow theatre 2009
Photo Kioku Keizo Courtesy the artist and Gallery Koyanagi, Tokyo © 2009 Olafur Eliasson
– Word has it this show was conceived in line with the 21st Century Museum of Contemporary Art, Kanazawa's 'open museum' concept. In both you as an artist, and SANAA, the architectural unit of Sejima Kazuyo and Nishizawa Ryue that designed the museum, one perceives a desire to build connections between people, and people and the environment. To do so you seem to make frequent use of mutable elements, for instance light and fog. Can you tell us more about the idea behind this?
First of all, I don't work in an empty space; I cannot make my art without also taking into consideration what people know about art already. So I stand on the shoulders of art history, and in doing so I've focused on trying to dematerialize the traditional objecthood in art, to emphasize that it can be important to blur the boundaries between the traditional art object and space – the architecture in which it is shown – and to raise the importance of the user of art – the spectator in the museum.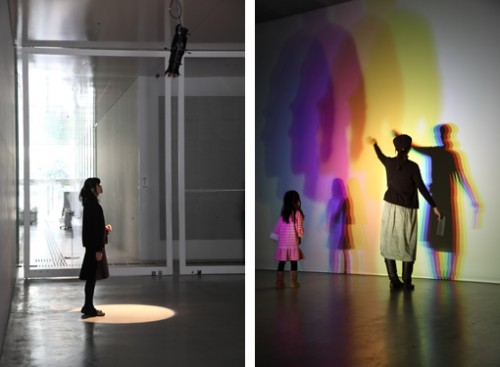 Left: Wannabe 1991
Right: Slow-motion shadow in colour 2009
Photos Kioku Keizo Courtesy the artist and Gallery Koyanagi, Tokyo © 2009 Olafur Eliasson
Together these three trajectories have led me to a number of materials including light. The truth is I'm not particularly interested in light; it just seems for now to be the most usable tool for me to work with. In other words, I'm not so interested in the materials I work with: I'm interested first in why I do it – and later, in how I do it. And light and fog are more 'how' than 'why'.
Uncertainty as the wellspring to connectivity
– At the talk* held to coincide with the show, a Japanese member of the audience noted that your works evoke the spirit of the tea ceremony. I suspect reactions of this sort are linked in some measure to your philosophy that the audience are also contributors to works of art, that they could also be described as artists. In terms of that connectivity I mentioned earlier, as someone exhibiting all over the world, do you find audience responses like this influencing your practice?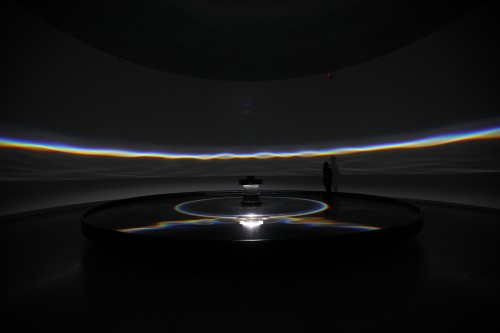 Your watercolour horizon 2009
Photo Kioku Keizo Courtesy the artist and Gallery Koyanagi, Tokyo © 2009 Olafur Eliasson
Yes. Everything has an impact on it. I've changed by working on in this exhibition, and my works will develop differently now compared to if I'd not had a show here. The 'once in a lifetime encounter' of the tea ceremony is a beautiful idea. I will think about this idea when I go home, I'm sure. But in thinking about my work, it's probably best to think of something a little less 'once-and-for all' and a little more casual. I like that my works have a degree of everyday life to them. They are accessible and non-spectacular in a way. They might look spectacular at first glance, but if you look again, you can demystify the work quite easily. And I find it attractive that the works are really about a relationship rather than a timeless, once-and-for-all encounter.
– I see. In the same talk, you used the term 'uncertainty'. Your works are intricately detailed, and at times almost seem to achieve a kind of perfection. When it comes to connectivity, how do you view the interaction between harmony and uncertainty?
I don't believe in harmony as a state of being or as a way of being. I think you can have a feeling of successful negotiation and perhaps you would call this a feeling of harmony. But we should be careful about making rules for harmony, and for right and wrong, in terms of shapes and forms. For example, your relationship with certain shapes probably has very little to do with my relationship with those shapes, and this I think is very good – that we can't take for granted that there are universal rules for shapes. So this is why I think the sense of harmony is probably more a sense of uncertainty. I think with good art you have the successful feeling of a productive and precise uncertainty. And I find this very interesting, especially as the rest of the world seems to be obsessed with eliminating uncertainty and doubt. I feel happy to have introduced uncertainty. And if some people think the uncertainty has a degree of harmony on top of that, I am even more happy.
'Conversation' that makes viewer part of the artwork
– In one corner of the exhibition is an area consisting solely of an HMI lamp on a tripod, a glass cube and fog. One is seized by the urge to stand there and bathe in that light. And in Your atmospheric colour atlas, in which viewers walk through colored mist, there is an even stronger sense of being part of the installation. These are works perceiving art not as something to be viewed with detachment, but as forcing us to question the nature of our own presence in this world. Tell us, where does all this come from: what, if you like, is the wellspring of your practice?


Left: Your making things explicit 2009
Right: Your atomospheric colour atlas 2009
Photos ART iT
Normally I don't think of the works as being about something finite or defined. I think about each as a sentence in a conversation. So I am both interested in the actual sentence and the broader conversation. With this particular work (Your making things explicit, 2009) I was interested in trying to show something we normally do not see. Normally inside the glass case there is always the more precious, and this particular experiment was to reverse this: to take the precious from inside and put it outside, and have the glass box contain the spectator. So you are perfectly right when you say that you are becoming a part of piece when you stand in the light or the mist. To some extent, I've worked with these kinds of experiment for long time now, but I still feel that I've only just started. Because there is as lot I can still improve. I can still make it more precise… this sentence.
*19 November 2009 at the 21st Century Museum of Contemporary Art, Kanazawa. Guests: Olafur Eliasson, Eve Blau (Adjunct Professor of Architectural History, Harvard University) and Sejima Kazuyo (SANAA).
Olafur Eliasson
Born 1967 in Copenhagen. Studied at the Royal Danish Academy of Art from 1989 to '95. Currently based in Copenhagen and Berlin. He has made skillful use of simple elements to produce numerous installations with a major impact on their exhibition spaces and audience. Previous exhibitions in Japan include Your light shadow (2005-06, Hara Museum of Contemporary Art) and Sunspace for Shibukawa (2009), a permanent installation outdoors at Hara Museum ARC. His solo exhibition, Your chance encounter marking the museum's fifth anniversary is currently showing at the 21st Century Museum of Contemporary Art, Kanazawa (21 November 2009 to 22 March 2010).
http://www.olafureliasson.net/
All photos: Installation view at Olafur Eliasson: Your chance encounter 2009-10
Organized by 21st Century Museum of Contemporary Art, Kanazawa