Octavio Zaya is a writer, curator and editor based in New York since 1978. He is director of ATLANTICA journal (Centro Atlántico Arte Moderno, CAAM), and curator-at-large at Museo de Arte Contemporáneo de Castilla y León (MUSAC), Spain. What follows are his Things Worth Remembering for 2012:
WHAT REMAINS…
Despite the broad dissatisfaction spreading everywhere through the drought-ridden fields of our so-called democracy, and even though we are weighed down by the ever more pervasive evidence of cultural leveling – from the globally standardized economic influence on art trends and priorities to the terrifyingly uniform opinions we find in contemporary culture – we have managed to pull out a few exemplary works and remarkable events in the past year that have brought us much hope within this ever-spreading sea of disquiet, and helped pull contemporary art from the brink of irrelevance.
La Triennale 2012: 'Intense Proximity'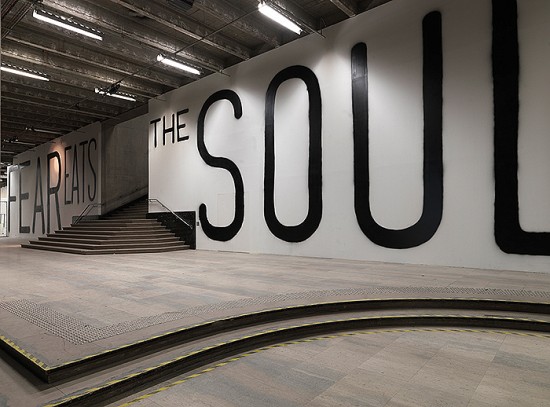 This monumentally ambitious triennial had as its organizing premise the assumption that distances are collapsing between the near and the far, the visible and the invisible, or, more precisely, between the colonizer and the colonized. Such was the basic framework in which "Intense Proximity" unfolded: in Enwezor's words, "The degree of nearness in which cultural, social, and historical identities and experiences share and coexist within the same space, while exposing the fault lines of cultural antagonism." While the exhibition was grounded in the production of contemporary artists, one of its central and more engaging curatorial efforts was devoted to the critical legacy of French ethnography in the first half of the 20th century. Reflecting upon such legendary figures as Marcel Mauss, Claude Lévi-Strauss, Michel Leiris, Léopold Sédar Senghor, and Marcel Griaule, this colossal event featured more than one hundred contributors across a range of disciplines and interests, including artists, filmmakers, photographers, writers and even institutions. As a whole, "Intense Proximity" was nothing less than a curatorial speculation on the relationships and exchanges between ethnographic poetics and modern and contemporary art; a challenging reflection on enriching cultural and political transferences and implantations beyond difference.
Details: April 20 to August 26 at multiple venues, Paris. Curated by Okwui Enwezor with Mélanie Bouteloup, Abdellah Karroum, Emilie Renard and Claire Staebler. Image Credit: Rirkrit Tiravanija – Fear Eats the Soul (2012), installation view, La Triennale, Palais de Tokyo, Paris, 2012, Photo André Morin, courtesy the artist and La Triennale, Paris.
Michael Haneke, Amour
ff2-X9BeKk8
We have seen too many films, and have read too many stories, about failed love, but I believe this is my first about a love lived out until its last days. I'm not going to tell you the whole story. But I think you should know that, for me, there was no other film that came close to this one in 2012, perhaps in many years. Amour is a simple film with great depth of emotions. Unusually for Haneke, what inspired the story was autobiographical: the suicide of his aunt. The narrative centers on Anne and Georges, a couple in their early 80s, who are retired music teachers with a daughter living abroad. When Anne suffers a stroke that paralyses her on one side of her body, we watch her husband tending to her as she faces the final stages of the ensuing dementia. Haneke portrays the suffering as unflinchingly as possible, so as to make sure he achieves and projects true compassion.
Chantal Akerman, Almayer's Folly
PcjSkjiyCXc
Almayer's Folly is a loose adaptation of Joseph Conrad's overlooked debut novel of the same name. It plays with numerous ideas, from colonialism to racism to identity, through the attentive eye for which Akerman is well known – although this time we are facing a somewhat heavier than usual story. From beginning to end, Akerman holds our attention, even though the work is rather elliptical and intricate. Nevertheless, Akerman's great new work is not so much about the complex melodrama of its somber story's forbidden love as it is about being caught in a suffocating mental environment. Even when we can't access or understand what the characters are going through, this tension created between knowing and opacity allows Akerman to get us closer to Almayer's madness, and the place where, we suspect, the unconscious works.
'Ends of the Earth: Land Art to 1974'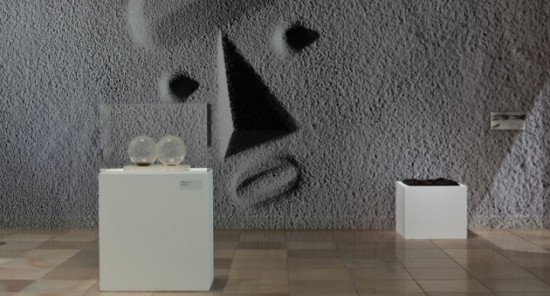 It seemed provocative to propose an exhibition of art that operates within the actual landscape, but the MoCA show managed to expand our understanding of Land Art as it has been conventionally considered to date. Beyond the exclusively American territory represented by the iconic works of Michael Heizer, Robert Smithson and Walter de Maria, this major survey showed Land Art to be a more heterogeneous and experimental set of practices, articulated and proliferated around ideas of nature and land, and a more international development, with relevant works in Japan, South America and Europe. De Maria and Heizer were not even included in the exhibition, supposedly because some of their major works were produced after 1974. The curators went so far as to entertain the stimulating notion that Land Art was a museum and gallery-based phenomenon, offering us several examples for this assertion, while assembling a remarkable exhibition that approached the subject with an expansive and internationally inclusive vision.
Details: May 27 to September 3 at the Geffen Contemporary at MoCA, Los Angeles; October 11 to January 20, 2013, at Haus der Kunst, Munich; curated by Philipp Kaiser and Miwon Kwon. Image Credit: Installation view at Haus der Kunst, photo Maximillian Geuter.
Pierre Huyghe, Untitled, at documenta 13, Kassel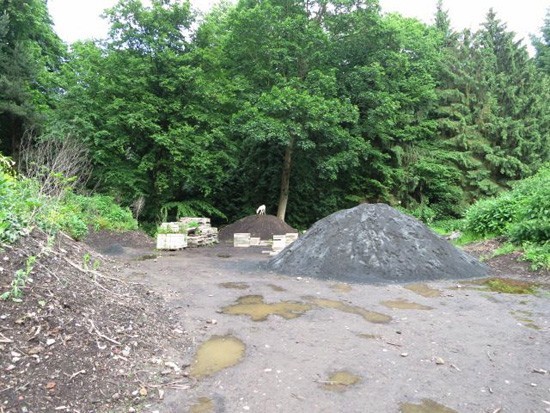 …The discovery of a marijuana plant, a couple of emaciated dogs silently striding up beside you, a human being who was at once indifferent and vigilant . . .There seemed to be no certain point at which this world/compost began and ended. Pierre Huyghe's environmental creation was a discovery trip, and an ongoing hallucination not so different from a Tarkovsky film. Penetrating outwards, it took hold of you, rendering you helpless. . .Huyghe created the entire site (with bushes, a beehive, a mountain of ants, Beuys' fallen oak tree, etc) within the environment of the Karlsaue Park, one of the main areas – and perhaps my favorite – at a dispersed and mostly disjointed documenta 13. Huyghe's site was rather big, with many layers of meanings and readings that unfolded while experiencing the place, and through your own engagement with the "live entities and inanimate things, made and not made" (subtitle of the work).
Image Credit: Photo ART iT.
Lara Almarcegui, 'Madrid Subterráneo'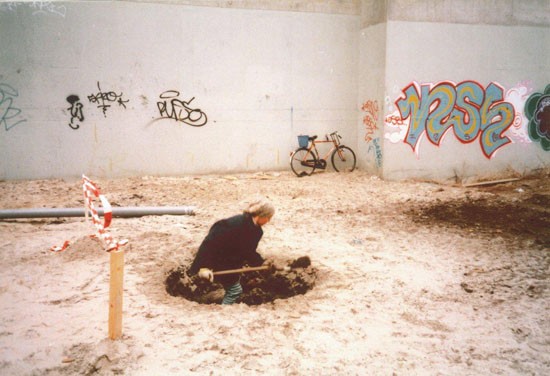 Almarcegui has been working within the borders between urban regeneration and decay, and devising exhibition projects that render visible what escapes our attention and even our awareness. Since the mid-1990s, she has been researching and studying the transitional spaces where the urban and the natural orders meet: the processes of urban planning and transformation of the peripheral wastelands of the cities brought on by economic, social or political interests and changes. At the same time, she has been analyzing urban and architectural landmarks and features that we hardly notice or upon which we rarely, if ever, focus our consideration. Operating as an archeologist of the present, conducting field research, Almarcegui documents her investigations by way of guides, maps and brochures, in an effort to concentrate on marginal elements or areas within the complexity of our urban reality, revealing the connections that inform us about the relationship between our past and our future. Likewise, in deconstructing buildings and other landmarks and constructions, Almarcegui unravels our understanding of inhabiting, by showing the inarticulate, bare materials of which the buildings are, or uncovering the products of recycling that they use and that they themselves, in turn, end up being, to get us closer to the inherently entropic nature of civilization. Ultimately, these works connect the outdoors with the indoors, and the inside with its awareness of itself, in a dialectical process of knowledge. In Madrid, Almarcegui included a publication that revealed what lies beneath the ground of the city, usually unknown to all except urban planners and architects: the historic and archeological layers of Madrid, its transportation networks and its energy grids, its water pipes and its communication lines. . .
Details: June 28 to October 28 at Centro de Arte 2 de Mayo (CA2M), Madrid, curated by Manuel Segade. Image Credit: Courtesy Centro de Arte 2 de Mayo.
Lars von Trier, Melancholia
wzD0U841LRM
Even though I should admit that most of my friends felt this was just a clunky, tiresome film, at every turn, I begged to differ. Even if you could not find passion in this apocalyptic scenario, you cannot deny the arresting, dramatic, and provocative imagination of the film. And this for me is already an achievement amid the formula-induced and numbing boredom we must suffer every time we have to endure a commercial film. Whether it is pretentious or "faux" is irrelevant. How many works of contemporary art would escape that judgment? Perhaps it surrendered to romanticism, which, for von Trier himself, is the lowest of cinematic common denominators; yet, ultimately, this is a great work of a depressed man, grappling with a savage despair within, who might believe that "Life on Earth is evil." Perhaps you might roll your eyes at the implausibility of the physics and of the film script, but none of that will take away from me the magic of this absorbing and hypnotic film.
Aïm Deüelle Lüski, 'Residual Images. Documentary Photography in Dark Times'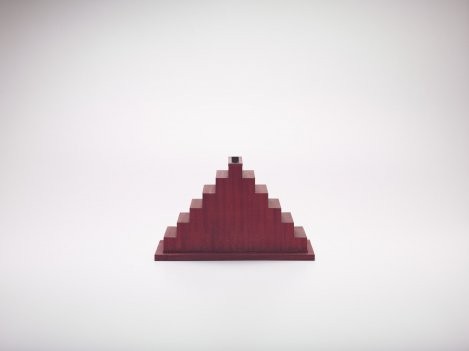 Since the 1970s, Aïm Deüelle Lüski has invented a wide range of different cameras, each one specially designed to document a given phenomenon or event at a specific moment in time: "I work more like a painter than a classical photographer," says this masterful Israeli photographer. He has built over 30 different cameras, because, for him, documenting reality is not a mechanical process, and each and every situation calls for a different approach. These cameras have helped him answer the questions he raises every time he is about to take a photo: What is the best tool for a specific situation? What is it that he should use to convey to the viewer the certainty that he was really there, with all his senses, invested in a reality that is as elusive and incommensurable as is Israeli life today? For me, this exhibition was one of the unexpected jewels of the year.
Details: October 25 to January 13, 2013, at La Virreina-Centre de la Imatge, Barcelona, curated by Ariella Azoulay. Image Credit: Double staircase wooden camera, courtesy La Virreina-Centre de la Imatge.
Kader Attia, Repair from Occident to Extra-Occidental Cultures, at documenta 13, Kassel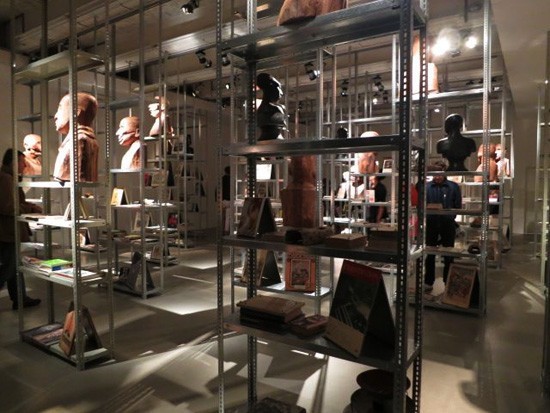 Assuming the roles of a historian, an archaeologist, an ethnographer and an anthropologist, Kader Attia set up a collection of objects, utensils, sculptures, documents and films to show us how societies and cultures survive, rebuild, and transform themselves while engaging, responding and relating to one another and, in the process, learning from each other.
On the one hand, we encounter the devastating onslaughts of colonization and the imperial war machinery, its appropriation of natives' experiences and cultures, and the ways the latter repair themselves from this catastrophic encounter. Facing this display, on the other hand, we examine the terrible effects of Europe's Great War and the modern advances of "restorative" medicine and plastic surgery. The result is not only a simple constellation of different contexts but also the comparative display of two fundamentally different instances of human existence. Through these juxtapositions and encounters of disjoint and parallel realities, Attia built a narrative of relations and connections to expose the complexities of our influences and our exchanges, our copying and our appropriation of ways and means for change, reparation and survival. Attia developed an ambitious work that served to create the possibility of "face-to-face encounters between Western and Outer Western worlds, at emblematic times, cruel or glorious, of their history." Beyond these juxtapositions, the work sought to present a reading of existences through universalities, instead of what Attia understands as the stereotypical "bipolar confrontation between West and Outer Western worlds."
Image Credit: Photo ART iT.
'Rise and Fall of Apartheid: Photography and the Bureaucracy of Everyday Life'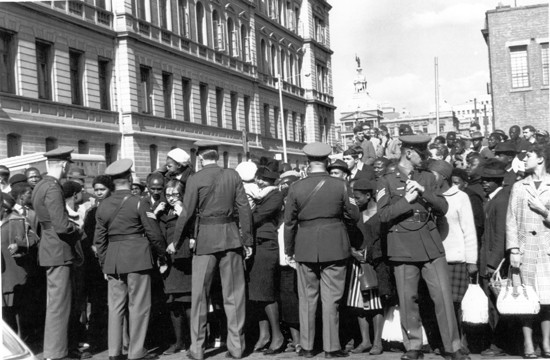 Even for those of us already familiar with established figures such as David Goldblatt, Guy Tillim, Santu Mofokeng and Roger Ballen; South African photojournalists, including Peter Magubane, George Hallett, Ernest Cole and Gideon Mendel; and others who participated in the legendary Drum magazine; this immense, historical and breath-taking exhibition goes well beyond any previous presentation of South African photography to focus its attention and its exceptional research on the legacy of the Apartheid system and the history of oppression and resistance in South Africa, documenting the atrocities and absurdities of life in the Apartheid era, and how that system penetrated even the most mundane aspects of South Africa's economic, social and political existence. Through some 500 pictures, films, magazines and related ephemera, this monumental exhibition documents how photographic output exploded after the institution of Apartheid in 1948, especially in the contested spaces of South Africa's cities, and how quickly South African photography was transformed from an ethnographic practice to an engaged and activist one. At times heroic, at times overwhelming, this engrossing exhibition expounds a complex understanding of photography and the aesthetic power of the documentary form, while celebrating the remarkable achievements of South African photographers. The exhibition also includes the works of outsider artists, such as Hans Haacke and Adrian Piper, whose contributions helped expose the evils of Apartheid and support the international struggle against it.
Details: September 14 to January 6, 2013, at the International Center of Photography (ICP), New York, curated by Okwui Enwezor and Rory Bester. Image Credit: Alf Khumalo – South Africa goes on trial. Police outside the court. The whole world was watching when the three major sabotage trials started in Pretoria, Cape Town and Maritzburg. Outside the palace of Justice during the Rivonia Trial (1963), courtesy of Baileys African History Archive, © Baileys African History Archive.
Return to Index
Things Worth Remembering 2012