February 9 – May 9, 2011
The National Art Center, Tokyo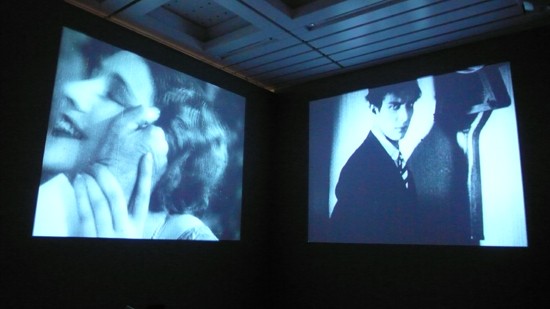 Installation view, projections of Luis Buñuel's L'Âge d'or (1930) at left and Un chien andalou (1929) at right, on display in "Le Surréalisme" at the National Art Center, Tokyo, 2011. Photo ART iT.
Having gone to the lengths of creating a unique website with interactive Twitter-feed features and a tie-in with the French puppy characters Gaspard et Lisa to make the content more accessible to a broader audience, Tokyo's National Art Center clearly has blockbuster expectations for its just-opened exhibition of works from the Centre Pompidou collection, "Le Surréalisme." However, these bells and whistles do nothing to detract from the exhibition itself, which with its impressive selection of 173 pieces and polished installation balancing intimate, spotlighted hangings with expansive gallery vistas more than justifies braving the inevitable crowds.
Beginning with a Dada prelude via a room that includes Marcel Duchamp's readymade Bottle Rack (1914/64) and a stylish 1914 Giorgio de Chirico portrait of Guillaume Apollinaire reimagined as a sunglasses-sporting classical bust tightly cropped against a predominantly green background, the exhibition kicks off in earnest with an almost votive display of an original copy of André Breton's Surrealist Manifesto (1924). It then unfolds chronologically in five-to-10-year periods through to 1966, broken down into themes such as "Le temps menacants" (Threatening weather, presumably after René Magritte's painting of the same name, despite its absence here) and "Surrealism in Exile." In this way, most of the movement's key exponents are represented by numerous works from different points in their careers, with photos by Man Ray, films by Luis Buñuel and canvases by Salvador Dalí, Joan Miró and Magritte, as well as the latter's irreverent life-scale bronze coffin-cum-sofa first depicted in his 1951 painting of the same name, Madame Récamier de David (1967).
To the extent that the organizers have painted Surrealism's history in the broad strokes typical to such a touring show, they have also singled-out for more in-depth presentations works on paper by André Masson and Victor Brauner. The generous time span also allows for the inclusion of more marginal contributions to the Surrealist oeuvre, namely the frenetic, primitivist composition Jackson Pollock made under the influence of Masson, The Moon-Woman Cuts the Circle (1943), while interspersed throughout the galleries, vitrines containing archival materials provide an indication of the volume of the innovative writing and graphics inspired by the movement, as in the case of a pamphlet for a Surrealist exhibition at Tokyo's Nishiginza Nihon Salon in June 1937 – a striking reminder with its bold, green font and rush of information that what goes around, comes around.