'Visions of Constructivism'
April 24 – June 20, 2010
Tokyo Metropolitan Teien Art Museum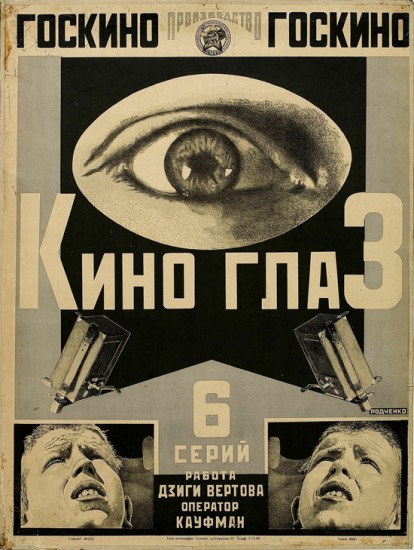 Aleksandr Rodchenko – Kino-glaz (Cine-Eye) (1924), poster for the film Kino-glaz
by Dziga Vertov, lithography. Collection of the State Pushkin Museum of Fine Arts.
© The State Pushkin Museum of Fine Arts, Moscow.
The first comprehensive presentation in Japan for the artists, the Tokyo Metropolitan Teien Art Museum's current retrospective of Aleksandr Rodchenko and Varvara Stepanova is a timely opportunity for local audiences to view firsthand source material that has had an indelible impact on contemporary visual culture. Central figures in the development of early 20th-century Russian Constructivism, Rodchenko and Stepanova – who were also lifelong partners and collaborators – started their careers as painters before moving into fields as diverse as illustration, graphic and industrial design, theater and photography.
The exhibition is organized by category and in roughly chronological order of development. On display are seminal works such as the 1921 triptych Pure Red Color, Pure Yellow Color and Pure Blue Color, through which Rodochenko announced the end of painting (if one of the first artists to do so, he clearly wasn't the last), as well as iconic posters promoting Soviet state cooperatives such as the department store Mosselprom, the airline Dobrolet, the rubber trust Rezinotrest and the publishing house GIZ, many of them done in collaboration with the poet Vladimir Mayakovsky. Stepanova's concept for the 1922 theater production of "Death of Tarelkin," featuring a stage design with austere timber constructions, anticipates current trends combining performance and sculpture. The exhibition concludes with Rodochenko's stylized black-and-white photographs, including those from the 1925 "House on Myasnitskaya Street" series: dramatic compositions that explore the new urban landscape from unique perspectives.
Presenting more than 170 works, the exhibition's straightforward approach shies away from re-interpreting the Constructivist agenda, but provides a serviceable introduction to the ideas that shaped it.