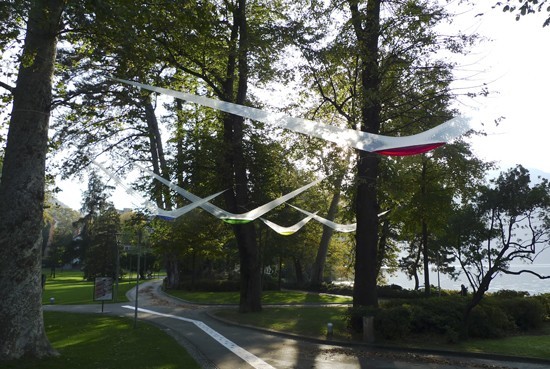 Installation view of Work (Eau) (1956/2010) in "Il gruppo Gutai," Museo Cantonale d'Arte, Lugano, 2010-11. Photo ART iT.
The abstract painter and former member of the seminal Gutai group of postwar avant-garde artists, Sadamasa Motonaga, died Oct 3 at hospital in Takarazuka, Hyogo prefecture, due to complications related to prostrate cancer, it has been reported. He was 88.
Born in 1922 in Ueno (present-day Iga), Mie prefecture, Motonaga first sought employment in Osaka after graduating from trade school and then, returning to his hometown, was variously employed as a postman, factory worker and shop assistant among other positions. Throughout, he aspired to become a manga artist, and started to work on canvas under the tutelage of local Bunten school painter Mankichi Hamabe, who specialized in nudes and landscapes.
His 1952 move to Kobe, Hyogo prefecture, saw Motonaga turn to making abstract objects in addition to two-dimensional works. In 1953 his painting Kiiro no rafu (Yellow Nude, 1953) was awarded the Holbein Prize at the Ashiya City Art Exhibition, and caught the eye of the avant-garde artist Jiro Yoshihara. Yoshihara invited Motonaga to participate in the Gutai group's "Modern Art Outdoor Experimental Exhibition to Challenge the Midsummer Sun" held in 1955 in Ashiya Park, where Motonaga suspended vinyl tubes filled with colored water from the branches of trees as his contribution.
From then on, Motonaga experimented with variations of his "Water Work" and with performance pieces involving smoke, in addition to making paintings and objects. In 1958, inspired partly by the tarashikomi technique of accumulated, pooled pigment found in traditional Japanese painting, Motonaga began to make paintings generated by chance interactions. On tilted canvases that had been prepared with under drawings, Motonaga spilled paint along the outlines of the compositions' formal components to create lively works that earned recognition as part of an international Informel movement, and established him as one of postwar Japanese avant-garde art's representative artists.
On the invitation of the Japan Society, Motonaga spent the year 1966-67 in New York, followed by time in Europe. Returning to Japan, he used acrylic paint and airbrush techniques to make lyrical abstractions, which led in the 1970s to a more whimsical style employing bright, saturated colors and humorous titles, known as "Funny Art." At this time he also branched out into practices as diverse as print-making, film, pottery, illustration, car painting, tapestry and chair design. He became particularly well known as an illustrator through children's books such as the poet Juntaro Tanigawa's Moko moko moko (Bunken, 1977), his own Koro koro koro (Fukuinkan, 1984) and jazz pianist Yosuke Yamashita's Mokera mokera (Fukuinkan, 1990). His most recent collaboration with Tanigawa, Kokoro no hikari (Bunken) was published in September 2010.
Throughout his career, Motonaga earned numerous prizes and distinctions. Notably, in 1983 he was recipient of the Japanese Art Grand-Prix; in 1988 he was made a chevalier of France's Ordre des Arts et des Lettres; and in 1991 he was presented with the Purple Ribbon Medal of Honor for academic and artistic achievement, awarded by the Government of Japan. Recent solo exhibitions included the Hiroshima City Museum of Contemporary Art in 2003 and Mie Prefectural Art Museum in 2009. Individually and as a member of Gutai, he exhibited extensively in international exhibitions, including at the Venice Biennale in 1993 and in 2009.