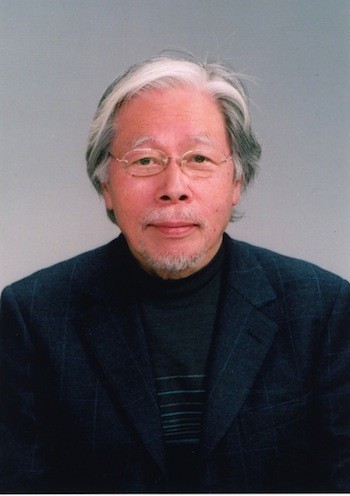 Photo courtesy Hyogo Prefectural Museum of Art.
On Mar 3, the pioneering art critic and administrator Yusuke Nakahara died of complications related to gallbladder cancer, age 79. A graduate of Kyoto University's Faculty of Science, Nakahara was variously president of the liberal arts school Kyoto Seika University, the artistic director of Art Tower Mito Contemporary Art Gallery and the director of Hyogo Prefectural Museum of Art among other appointments, and authored numerous book-length titles including Nonsense no bigaku (1962, Aesthetics of Nonsense), Miru koto no shinwa (1985, Myths of Seeing) and Brancusi (1986). He is perhaps best remembered for his role as commissioner of the 1970 Tokyo Biennale, "Between Man and Matter," which featured works by international artists such as Daniel Buren, Hans Haacke, Mario Merz, Bruce Nauman, Giuseppe Penone and Richard Serra alongside Japanese peers like Hitoshi Nomura and Jiro Takamatsu. He remained a proponent of conceptual and installation art practices throughout his career.
In an obituary for ART iT, Japan Edition, the art critic Hiroshi Minamishima put Nakahara's passing in the context of the recent deaths of other influential critics from the same generation, including Ichiro Haryu (1925-2010), Yoshiaki Tono (1930-2005) and Shinichi Segi (1931-2011), who died Mar 15 just days after Nakahara. Minamishima wrote that Nakahara's organization of the Tokyo Biennale made manifest his personal philosophy of "criticism that serves creation."
From Minamishima: "The same year that Expo '70 in Osaka came to symbolize the completion of Japan's post-war recovery – amidst a surge to second place in world GNP rankings and extraordinary economic growth – Nakahara's choice of the title 'Ningen to busshitsu' (Man and Matter) for the nation's first truly international art exhibition undoubtedly expressed solidarity with anti-Expo sentiment. As though to prove the possibility of international contemporaneity, Nakahara assembled a trail-blazing presentation of young artists who were then exploring issues related to site-specificity and temporality and are now recognized for their lasting historical significance, representing approaches including Arte Povera, Conceptual Art, Minimal Art and what would come to be called Mono-ha. The exhibition was initially met with harsh reviews but has only increased in esteem over time. However, Nakahara's lifelong regret with regard to the exhibition was that he followed the request of the exhibition sponsor, Mainichi Shimbun, to shorten the title from the originally intended 'Ningen to busshitsu no aida' (Between Man and Matter, which was accepted as the exhibition's English title). As conceived by Nakahara, the word aida (between) would be written in hiragana phonetic script rather than as a single Chinese character, with each individual element of the word stretching out distance and space in an unequivocally critical allusion to obfuscation."
Minamishima also noted that Nakahara was a frequent denizen of Ginza's literary bars.
For Minamishima's full text (JP only), see here.