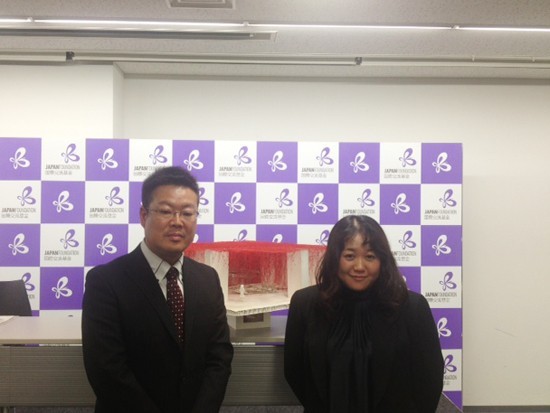 Artist Chiharu Shiota (right) with curator Hitoshi Nakano in front of their maquette for the Japan Pavilion at the 56th Venice Biennale in 2015.
Chiharu Shiota will represent Japan at the upcoming 56th Venice Biennale in 2015, it was announced at a press conference at the Japan Foundation in Tokyo, Apr 29.
Submitted by curator Hitoshi Nakano, Shiota's proposal, entitled "The Key in the Hand," beat out four other contenders in a competition that included the pairing of curator Mizuki Takahashi of Art Tower Mito with media and performance artist Takamine Tadasu, and Arts Maebashi director Fumihiko Sumitomo's two-person plan involving media artist Meiro Koizumi and the experimental theatre director Akira Takayama / Port B.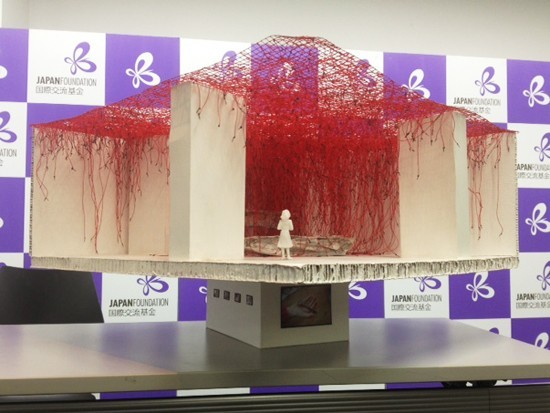 Detail of Chiharu Shiota's maquette for the Japan Pavilion at the 56th Venice Biennale, "The Key in the Hand."
Based in Berlin, Shiota previously worked on a solo exhibition with Nakano at the Kanagawa Kenmin Hall in 2007. For the Venice Biennale, Shiota will transform the entire Japan Pavilion with a large-scale installation that will include 50,000 keys suspended from the building's five-meter high ceiling by scores of red strings. For Shiota, the key is an essential part of our daily lives that accumulates memories through constant use, and also functions as a metaphor for our passages between life and death. She plans to collect the keys from people in Japan, Germany and Italy through an open call for submissions. Her installation will also include videos of young children attempting to recall memories from their time in the womb and of the birth experience, as well as other sculptural and media elements.