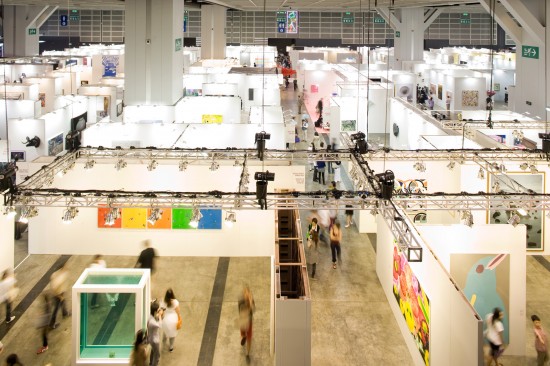 Photo courtesy ART HK 10.
(Hong Kong) Some time during the afternoon of May 25, a loud crash echoed through the third-level halls of the Hong Kong Convention and Exhibition Centre. As soon became clear to exhibitors setting up for this year's third Art HK art fair, that crash was the sound of one of the walls collapsing in the booth of the multinational Gagosian Gallery. However, according to the gallery no works were damaged, and by the next day's VIP preview this potentially calamitous incident was all but forgotten as international collectors, socialites and art professionals filled the aisles of what is rapidly emerging as the Asia-Pacific region's keystone event for the primary contemporary art market.
Hong Kong's sophisticated urban infrastructure, growing collector base and – not insignificantly – zero sales tax have spurred widespread optimism that the city can provide an important entry point into the Asian contemporary art market, reflected in the addition to the Art HK lineup of major US and European dealers such as Hauser & Wirth, Modern Institute, Emmanuel Perrotin and Lehmann Maupin. Although the pace of sales was relaxed compared to established fairs such as Art Basel and Frieze, many participants came away encouraged of the sustainability of the fair, which featured 155 galleries from 29 countries and attracted 46,115 total visitors over the course of its four-day public run from May 27-30.
During the May 26 VIP preview, New York's Lehmann Maupin quickly sold a neon work by Tracy Emin and a painting by Hernan Bas at GBP 65,000 and USD 65,000 to a local and a Singaporean collector, respectively. Taipei's Eslite Gallery had no trouble finding homes for two colorful Michael Lin floral-patterned canvases at $81,000 each, while a Taiwanese collector snapped up Damien Hirst's formaldehyde installation The Inescapable Truth (2005) for £1.75 million from London's White Cube and an American collector spent $950,000 on a Yue Minjun painting at New York's Max Protetch. By the fair's close, London's Pilar Corrias had nearly sold out its booth of Shahzia Sikander works priced from $20,000 to $125,000 and New York's Marianne Boesky had offloaded a billboard-sized Yoshitomo Nara painting for $350,000.
And though the market skewed towards high-end works in more or less conventional media, a majority of dealers who spoke with ART iT over the course of the fair reported sales, many of them to new collectors. With one of the more ambitious presentations at the fair, Jakarta's Ark Galerie sold two multimedia installations by Agustinus Kuswidananto aka Jompet for $7,000 and $10,000 to one local and one international collector, respectively. Manila's Silverlens was doing brisk business with photos, paintings and mixed-media works in the $1,200 to $8,000 range. Seoul's One & J sold a medium-sized Yoo Seungho canvas of scores of miniature Chinese characters arranged to look like an ink landscape for $90,000 to a Hong Kong collector who was making his first purchase of non-Chinese contemporary art. Dealers also noted the presence of substantial contingents of collectors from Australia, Indonesia, Korea, the Philippines, Singapore and Taiwan, with Christie's auctions of Asian modern and contemporary art on May 29 and 30 also helping to draw attention to Hong Kong.
The director of Gagosian's Hong Kong office, Nick Simunovic, told ART iT that the gallery was extremely pleased with the results of this year's fair. He said that the second-time participant had been making sales to more new collectors this year than the previous year, when most sales went to returning clients. With works by artists including Giacometti, Takashi Murakami, Picasso and Richard Prince ranging from $15,000 to $7 million, Gagosian had sold across all price points. Simunovic was unequivocal about the prospects of the Asian art market. "We've been in Asia now for three years and we've been working with collectors at the personal, corporate and institutional levels from Japan to Australia and everywhere in between," Simunovic said. "We're not using Art HK as a litmus test to determine whether there's a regional market for Western modern and contemporary art; there clearly is."
Eslite Gallery's Emily Chao told ART iT that she felt Art HK was now the premier art fair in Asia, a sentiment echoed by many other participants. Noting that the quality of the fair had improved each year since its inception, Chao felt that it had reached a significant turning point. "In past years it seemed like other galleries were catering to a perceived taste in Hong Kong and Asia, but this year the art is more representative of the respective gallery programs, and that's a good thing," she said.
The fair's first time participants were not limited to galleries from outside the Asia-Pacific region. Beijing's Long March Space was making its Hong Kong debut after having participated in fairs including Art Beijing, CIGE, ShContemporary and Frieze. Director David Tung told ART iT, "Hong Kong is growing into a major international and regional platform and we have to develop in line with that; this year all the elements came together." Although Hong Kong-based auction houses have been major movers in the Chinese contemporary art trade, Tung stressed that galleries from mainland China had to put as much effort into sales at Art HK as any other fair. "There are already organizations like Asia Art Archive and Hanart Gallery that are based here, so it's their place," he said. "It's a different environment and we don't have any competitive edge."
There were also signs, however, of the limits of the market. Japanese gallery Wako Works of Art struggled to find buyers for the small-scale, mixed-media "Overpainted Photographs" of Gerhard Richter, which ranged from JPY 2,900,000 to 3,600,000 and had been a hit at January's boutique-style art fair G-Tokyo in Tokyo. Likewise, collectors passed on a rare 1952 drawing on paper by Yayoi Kusama, available for the connoisseur's price of $80,000 at Ota Fine Arts, although the gallery said following the fair that it was engaged in continuing negotiations with a prospective buyer. Also overlooked was a multimedia installation from 1996 comprising TV monitors lined up on the floor by Zhang Peili – considered a pioneer of new media art in China – at Beijing's Boers-Li Gallery.
Even successful dealers from outside the US and Europe were aware that, somehow, the tables had been turned. Glasgow-based Modern Institute's Andrew Hamilton, who had done well with Jim Lambie works priced starting from around £20,000, told ART iT that he felt he was on a learning curve. "It's interesting for us because normally with the few Asian galleries at fairs like Frieze and Basel, it's very hard to see it in the context of Asian art and sometimes it can be quite hard to read the work," he said. "So in terms of our assimilation into the Asian market it's important that there are a group of galleries that are contemporaries who will be represented at the fair so that people start to see the connections and how the art makes sense."
He concluded, "I guess we just have to be persistent and keep coming back to the region and speaking to people."
Related:
Zero Starts from Three: Thoughts on Art HK 2010
Christie's Hong Kong achieves rare white glove sale