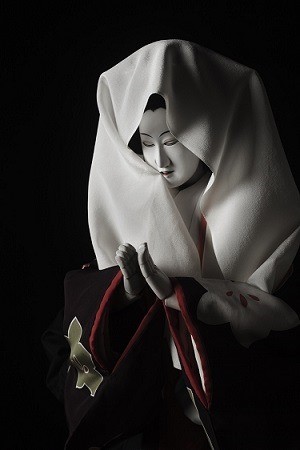 © Odawara Art Foundation.
Japanese photographer Hiroshi Sugimoto's reinterpretation of the classic bunraku puppet play Sonezaki shinju (The Love Suicides at Sonezaki) will be touring Europe with support of the Japan Foundation and the Odawara Art Foundation, it was announced May 15.
First presented in August 2011 at the Kanagawa Arts Theatre Hall in Yokohama, the production Sugimoto Bunraku: Sonezaki shinju tsuketari Kannon meguri ("Kannon Pilgrimage" from the Love Suicides at Sonezaki) was met with wide acclaim in Japan. Incorporating new art and stage design as well as video elements conceived by Sugimoto, and a new score by Living National Treasure Seiji Tsurusawa, the production provides a uniquely contemporary take on the tragic love story scripted by the bunraku playwright Chikamatsu.
With its theme of the "impossible love" between the clerk of a soy sauce merchant and a courtesan being realized in the afterlife, Chikamatsu's play inspired a wave of suicides among young lovers when it debuted in the feudal Edo period. In 1723, the Tokugawa shogunate banned all performances of the production, which would not be revived until 1955. As a result, the original intonations of the lines and the handling of the puppets were almost entirely lost to history, save for the script by Chikamatsu and movement diagrams by the puppet master Tatsumatsu Hachirobei. While adding a contemporary sensibility, Sugimoto has worked as hard as possible to recreate the play's premiere production from 1703, including the use of one-man puppeteering, as opposed to the three-man puppeteering common to today's bunraku.
The Sugimoto production's European tour is being arranged as part of commemorations of the 400th anniversary of relations between Japan and Spain, and will premiere in Madrid on Sep 27-28 of this year. From there it will travel to Rome, Oct 4-5 at Teatro Argentina, and conclude in Paris, Oct 10-19, as part of the Festival d'Automne.